Top 10 Traditional Tapas dishes you must try in Spain
Most families that come to Spain for Holidays do it mainly for the good weather, the country's beauty, and its gastronomy.
It is always challenging to know how will be the food and what can I try new. For that reason, I want to give you some ideas and tips. I made list of food that I think you should try.
It is not easy to make a fair selection with the tremendous gastronomic variety that we have. But I have focused on some of the most traditional recipes.
What are Tapas dishes?
The Royal Academy of the Spanish Language says that "tapa" is a small portion of food that is served as a complement to a drink.
Why do Spanairds eat tapas?
One of the many theories about the origin of Tapas, states that it was King Alfonso X "El Sabio", in the XIII century who gave rise to this way of eating: by medical prescription he had to drink one or two glasses of wine a day, and to avoid the effects of alcohol he accompanied the drink with a few bites of any food.
Today, tapas have evolved and merged in many ways. Sometimes it is difficult to know what you are eating without asking the waiter.
That is why I want to advise you by selecting the Top 10 traditional tapas that you need to try in Spain.
Here you have a little information about each of them and some of the tapas recipes. I hope to help with your "Tapa's" choice.
Que aproveche!
Albondigas con Patatas (Meatballs with potatoes)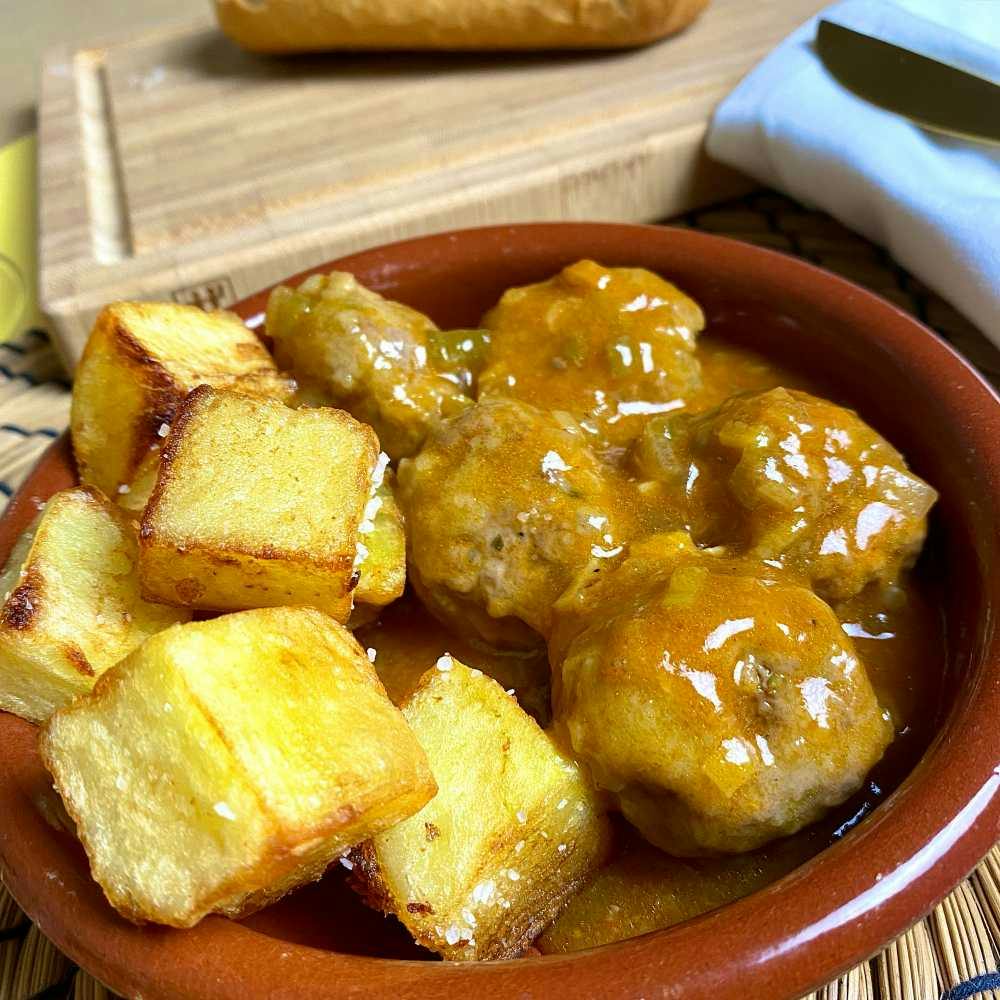 This is my first recommendation. I always ask for more bread to the waiter, I love to soak it in the sauce. This sauce it something wonderful.
One of the oldest dishes that we Know. Already in the ancient Rome, Meatballs have been sold as a street food. But the true origin of the recipe that we know in Spain comes from the time of the most significant rise of the Arabs, Al-Andalus.
Discover its history, ingredients and the complete recipe for my version of Meatballs by visiting this link.
Ensaladilla Rusa (Russian salad)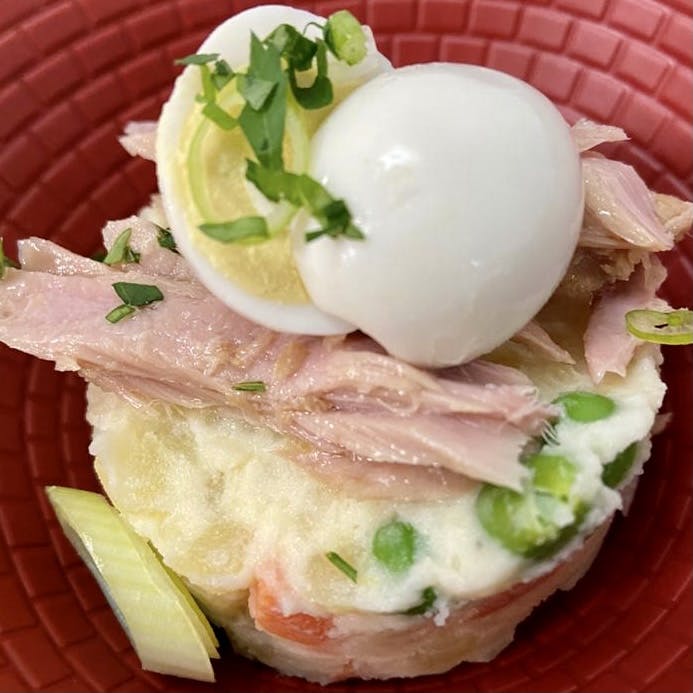 Photo by @buddha83
It is one of the most popular "Tapas" in every corner of Spain. However, it was a Russian chef of Franco-Belgian origin, Lucien Olivier, who popularised it in Russia and Europe.
This rich salad can have various ingredients, but it always includes potatoes, carrots, eggs and mayonnaise as a general rule. Then it depends on the chef or region; you can add elements such as peas, olives, peppers, tuna, prawns.
Garbanzos con Bacalao (Chickpeas with cod)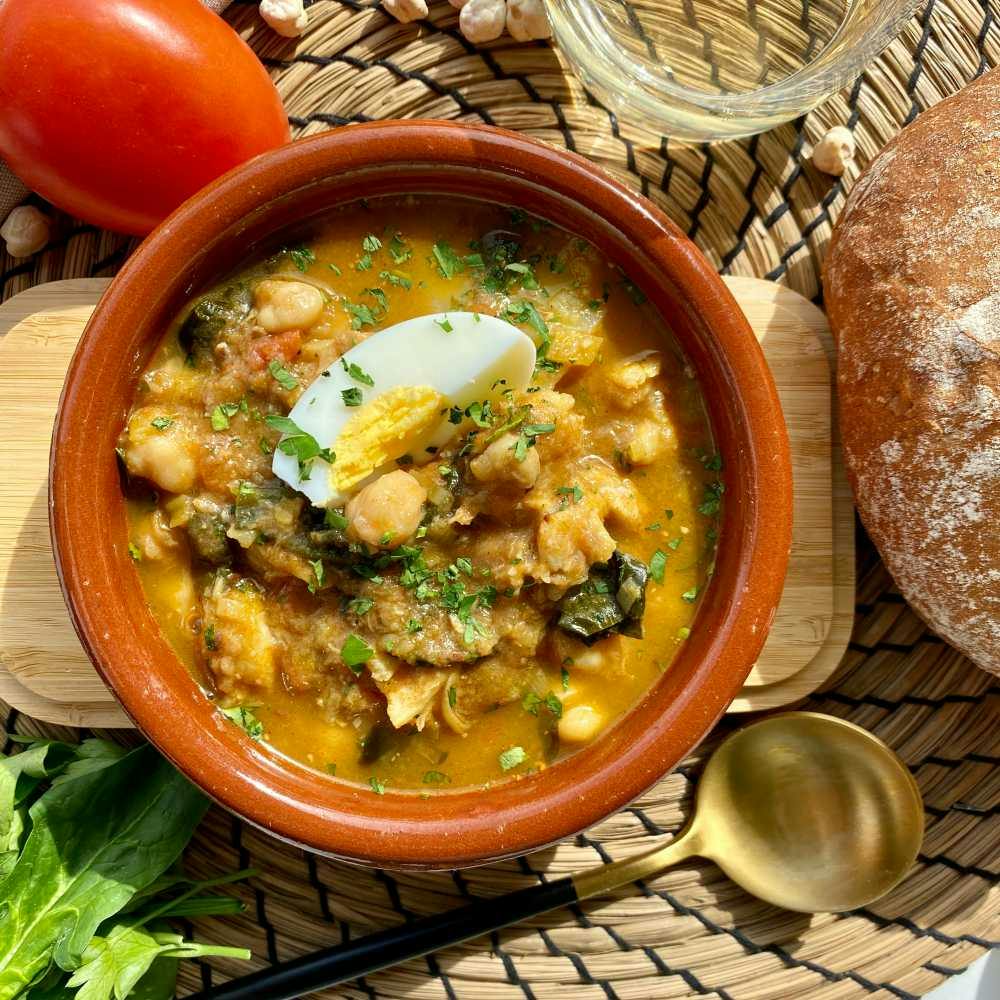 This fish stew is representative of the Lenten season and Easter. An easy recipe to make at home and very healthy that you are sure to like.
Discover its ingredients and the complete recipe by visiting this link.
Calamares Fritos (Fried squid)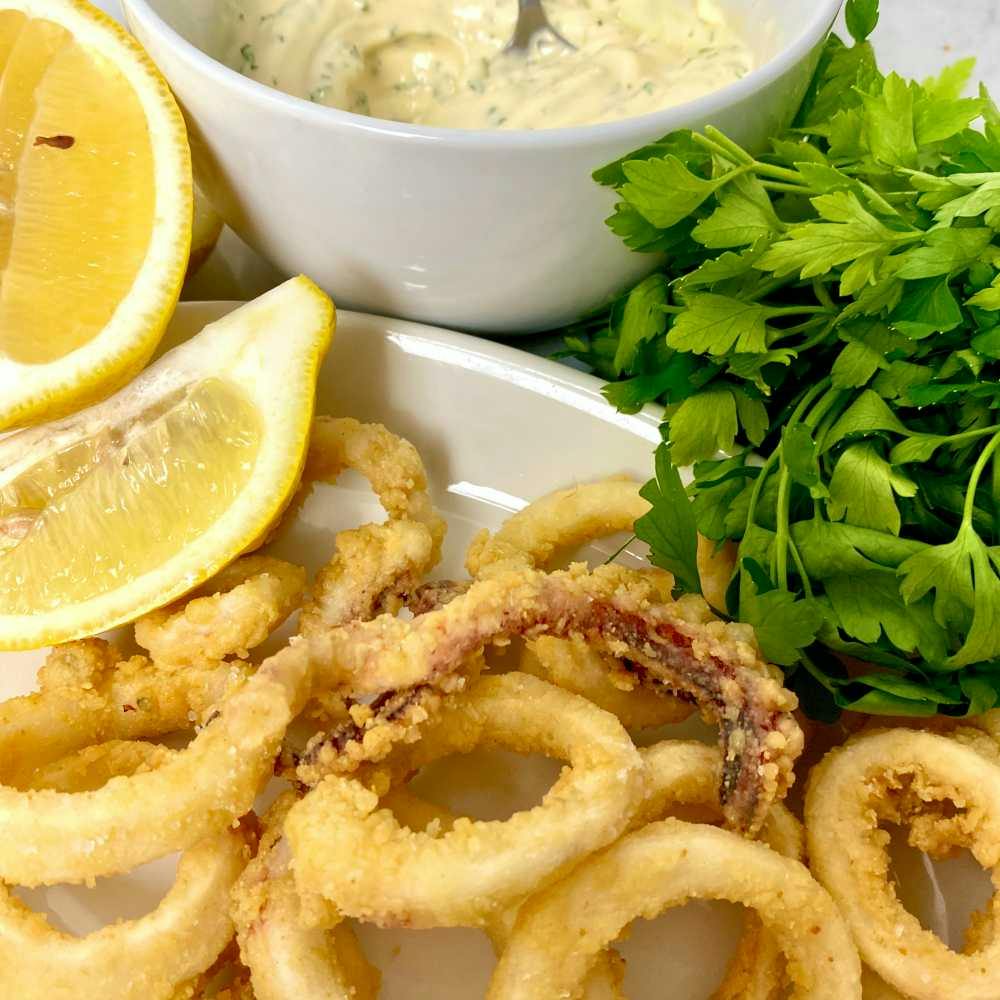 It is another of the delicacies that you will find in all Spanish regions. You have no excuse not to try this delicacy. Don't forget to ask the waiter for aioli sauce and lemon. This contrast of flavours is impressive. Despite being a coastal product, we can say that the Fried Squid sandwich, "Bocadillo de Calamares", is one of Madrid's tapas par excellence.
Gambas al pil pil (Garlic shrimps)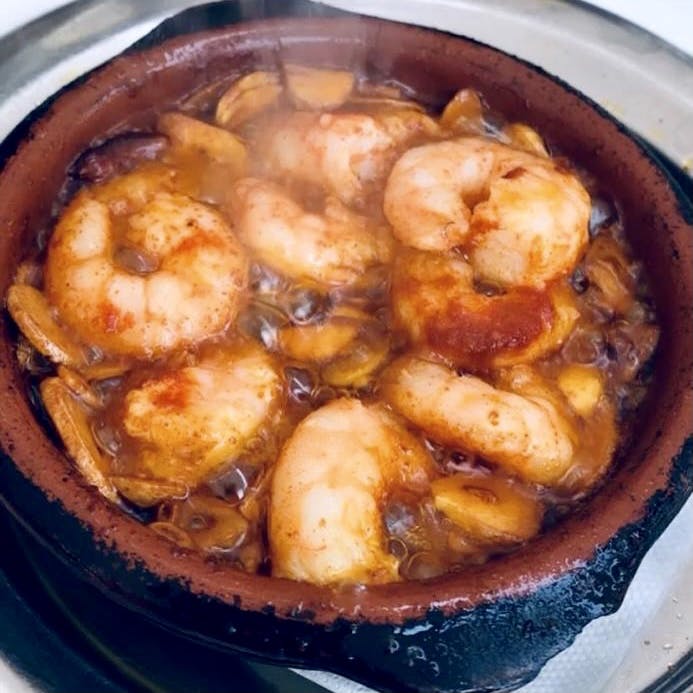 Photo by @dem0nbebi
Another of the best-known tapas. An example from our kitchen. The simplicity and the product are the protagonists of this delight. Virgin olive oil, garlic, prawns, smoked paprika "pimentón" and chili define the flavor of Spain.
Jamón Ibérico (Spanish Cured Ham)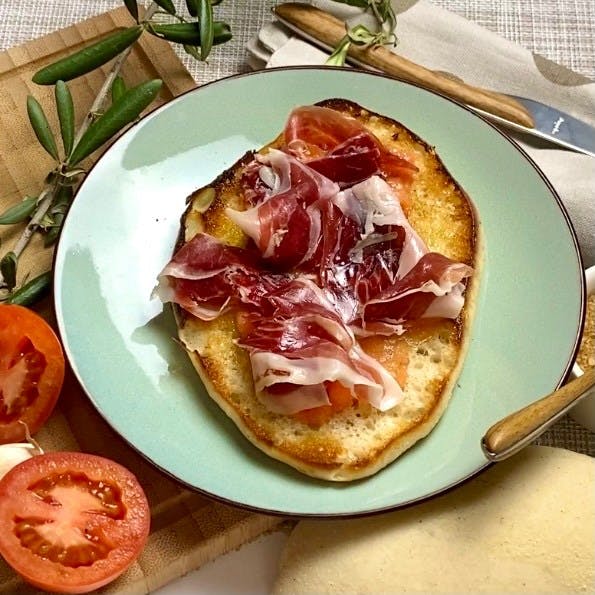 Another product that you can only find in Spain. The art of cutting the ham and the delicacy of its flavor makes the Iberian ham tapa a spectacle in itself.
If you want to learn a little more about this product and know if it is healthy, visit this link.
Salmorejo (Tomato soup)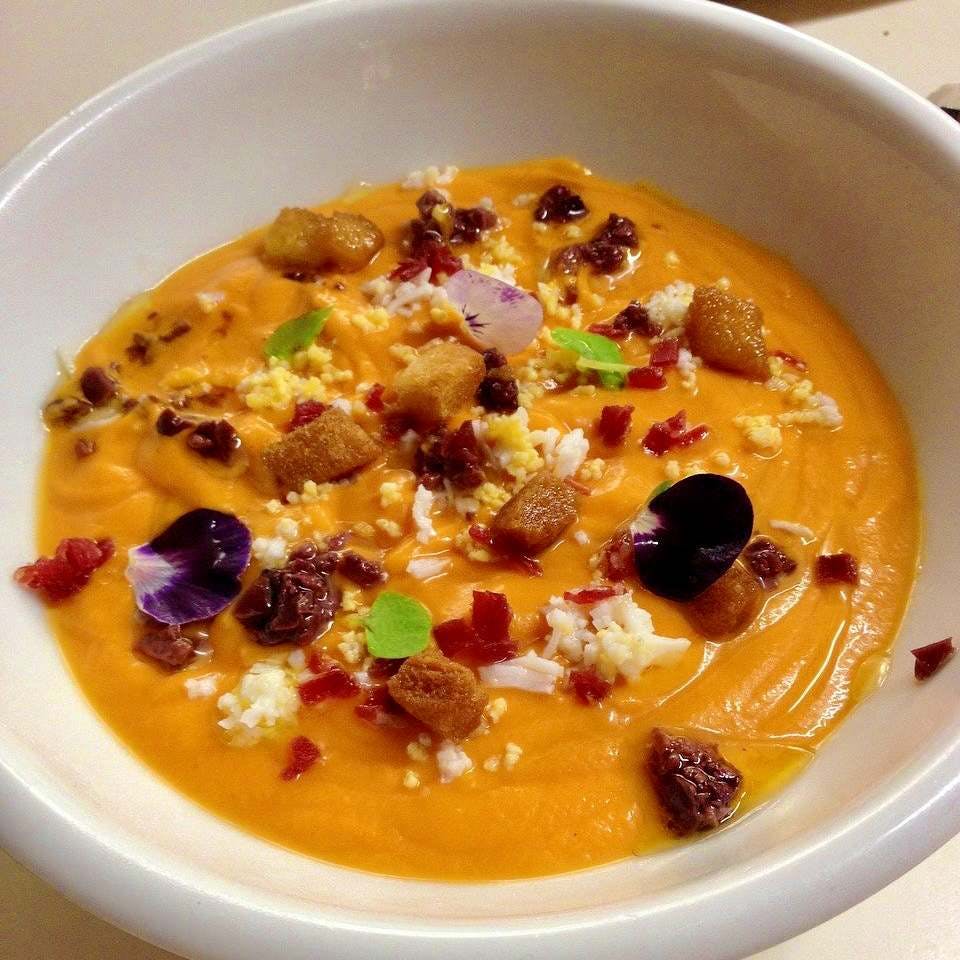 This dish from Cordoba (Andalucia) is something that will surprise you for sure. How can a tomato soup with bread, garlic, oil, vinegar, and salt be just as good?. Perhaps it is because of its typical ham and egg garnish or the taste of Spanish tomatoes. Do not be surprised if they serve it cold because it is the way to eat it, very cold to combat the summer heat.
Croquetas (Croquettes)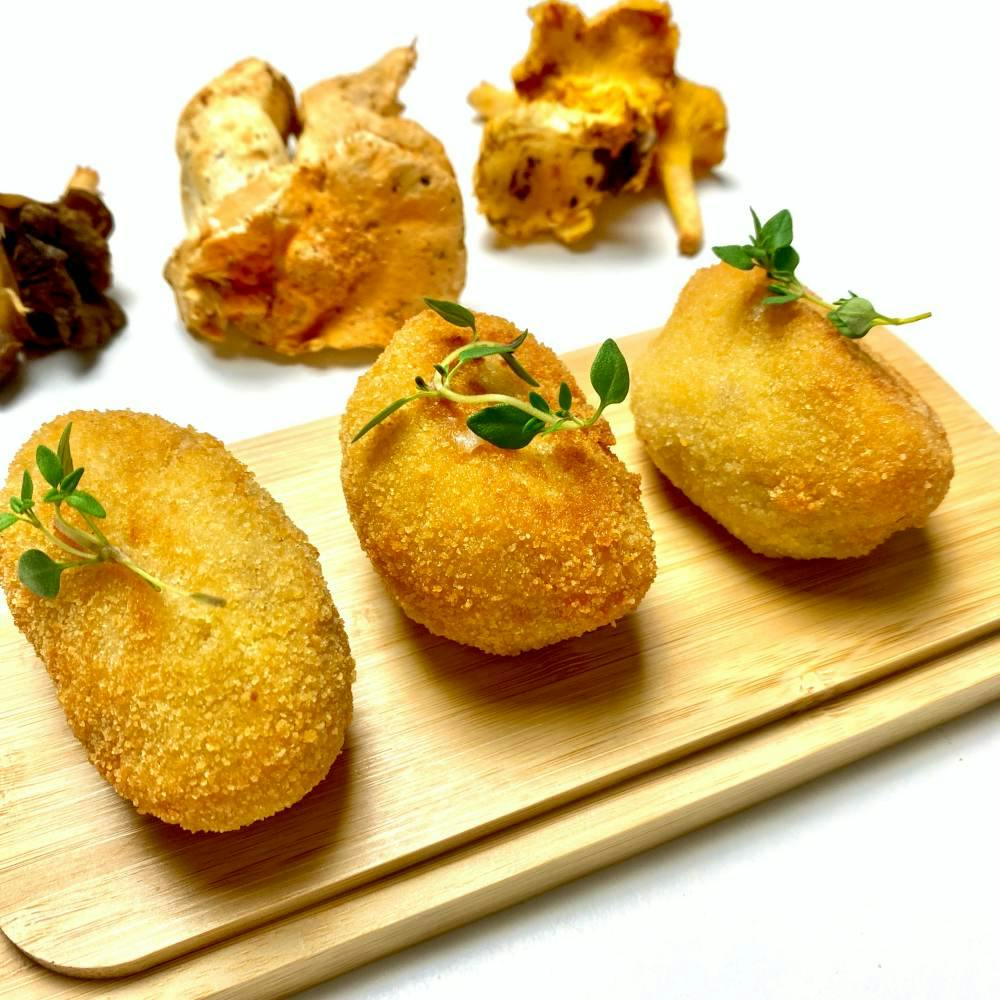 Small portions of breaded and fried bechamel very popular in almost all Spanish regions. You can find innumerable varieties of croquette, the most famous being Ham, Chicken, Squid, Mushrooms, Prawns. The truth is that they are delicious in all their versions.
Here I leave you the last ones that I cook to show you how to make this delicacy.
Patatas Bravas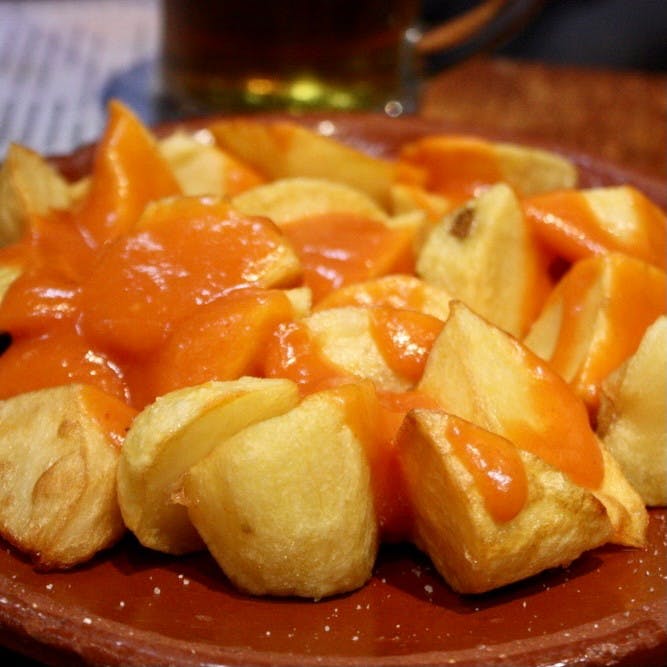 Perhaps the best-known tapa outside of Spain, the literal translation of this tapa is BRAVE POTATOES. These are fried potatoes with a spicy tomato sauce. It seems like a simple recipe, but believe me, there are countless versions of it. It all depends on the cook's technique and the raw material used to make them. It is very typical in some regions to also serve it with Aioli sauce on the top.
Ensalada de Pulpo (Octopus salad)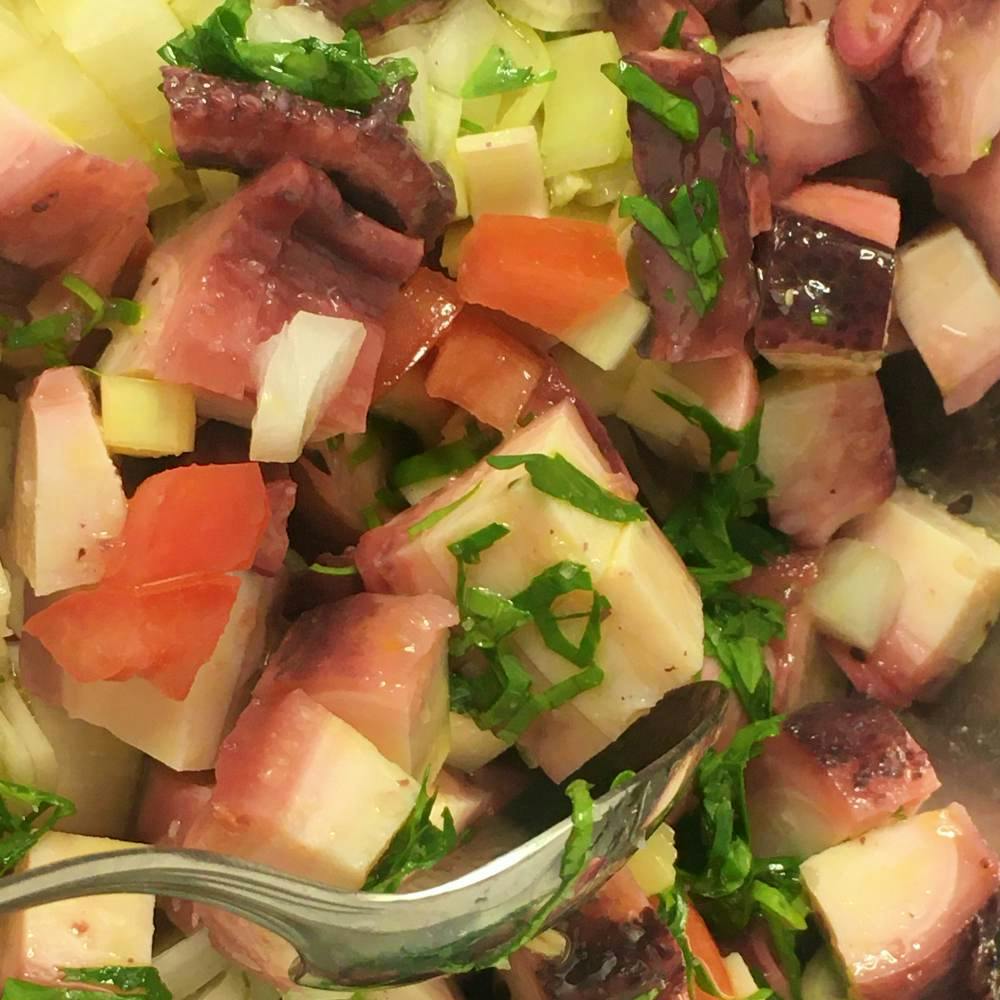 The Octopus is another of our star products. That's why you have to try it in one of its versions. I bring you perhaps one of my favorite version.
Visit the link and learn the full recipe.
Have a Tasty Holidays!