Two delicious ways to eat Wagyu Jerky "Cecina"
Hola Everybody!
As I promised last week, I bring you a couple of delicious tapas dishes using Wagyu Beef Jerky (Cecina) that my friends from Selectiun.com gifted me.
This delicious cured meat is a fusion of one of the best beef in the world and the traditional Spanish method of curing and smoking. If you want to know more about this delicious product, visit this link.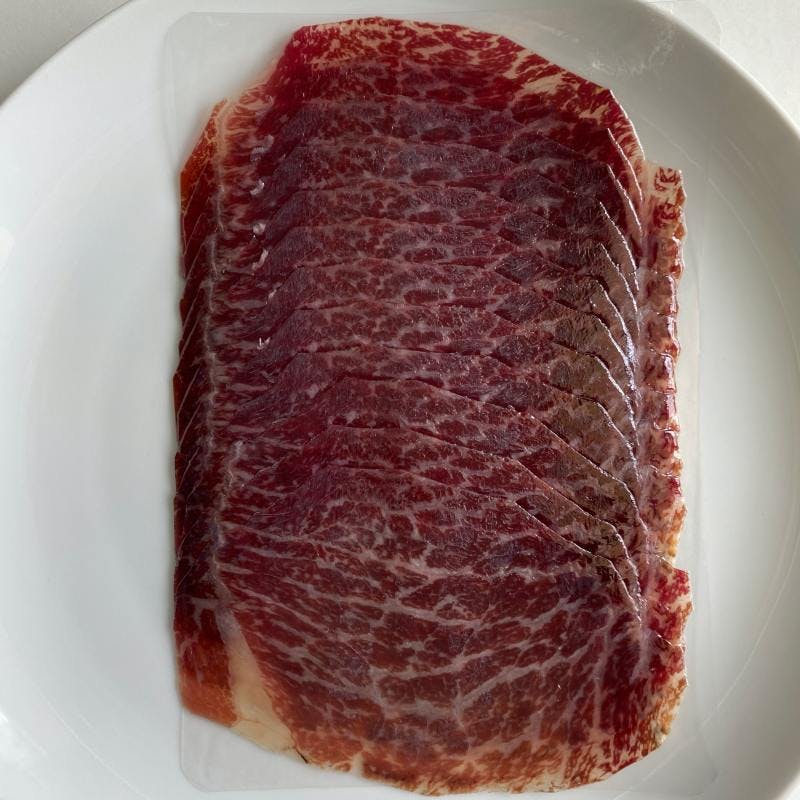 ‍
Wagyu Cecina Selectiun
I have also used an exceptional extra virgin olive oil. It is the Cornezuelo variety from Guardian De Los Trofeos. This young company work hard to obtain the best quality product taking special care in this packaging and presentation. Congratulations guys!
So, here you have my proposals for the Jerky "Cecina" tapa dish. I hope you will try it at home.
Cecina toast with tomato and crunchy green beans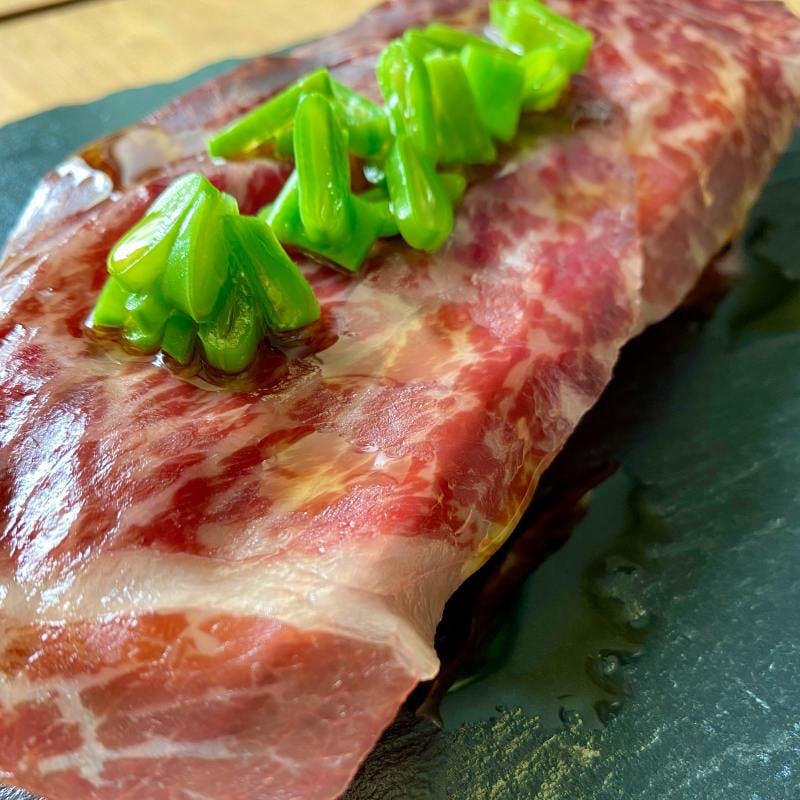 Cecina Toast
Ingredients
Bread. ( Use the bread that you like the most. In my case, I have used Wholegrain Farmhouse bread).
Tomato 3 u
Garlic 1/2 u
Extra virgin Olive oil Guardian de los Trofeos (Cornezuelo Temprano olive) 10 ml
Salt to taste
Wagyu Beef Jerky 100 g
Green Beans 100 g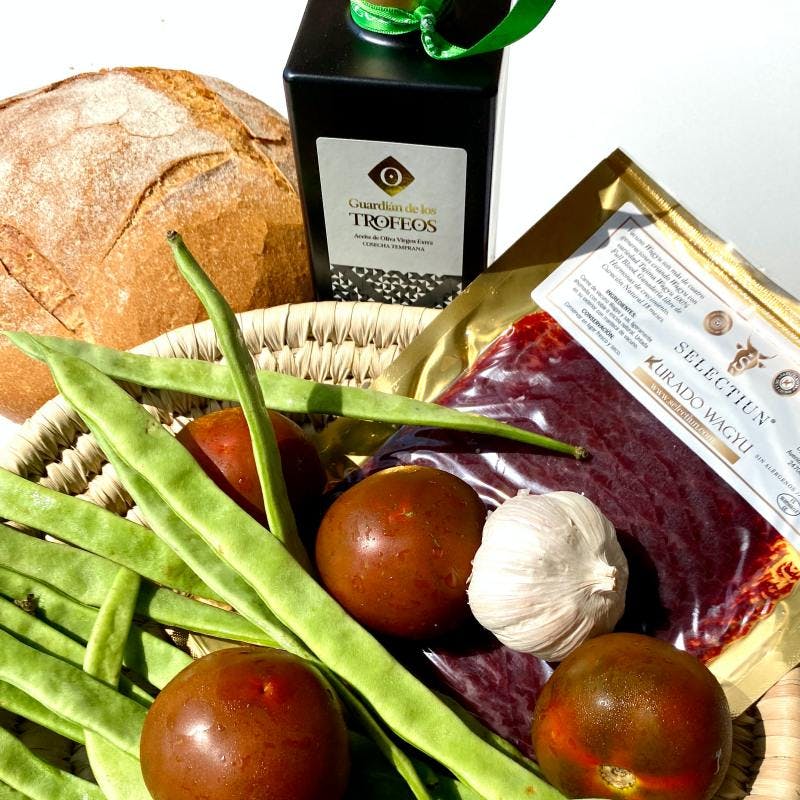 Preparation
In a mixing jar, add the tomatoes, garlic, olive oil and salt. Blend in them until you obtain a puree with pieces, kind of "Salmorejo".
You can pass it through a filter and leave a more refined texture. In this case, I wanted to leave it with small pieces of tomato.
Store it in the fridge for half an hour to give it a tiny body.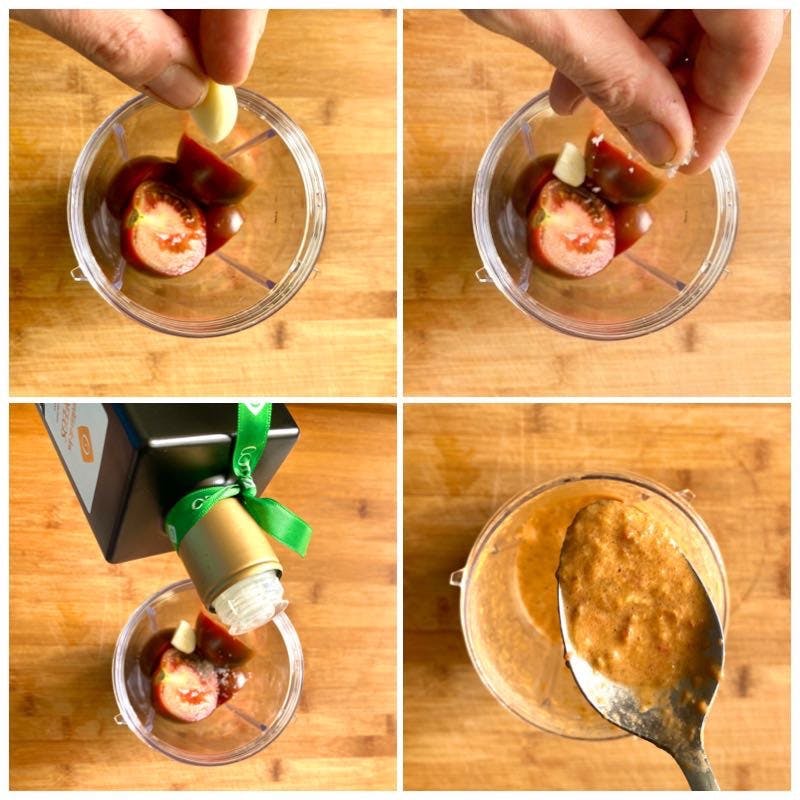 Wash and cut the beans into tiny pieces.
Blanch them and mix them in a bowl with olive oil and salt.
Cut the bread into slices and toast them in the oven or toaster.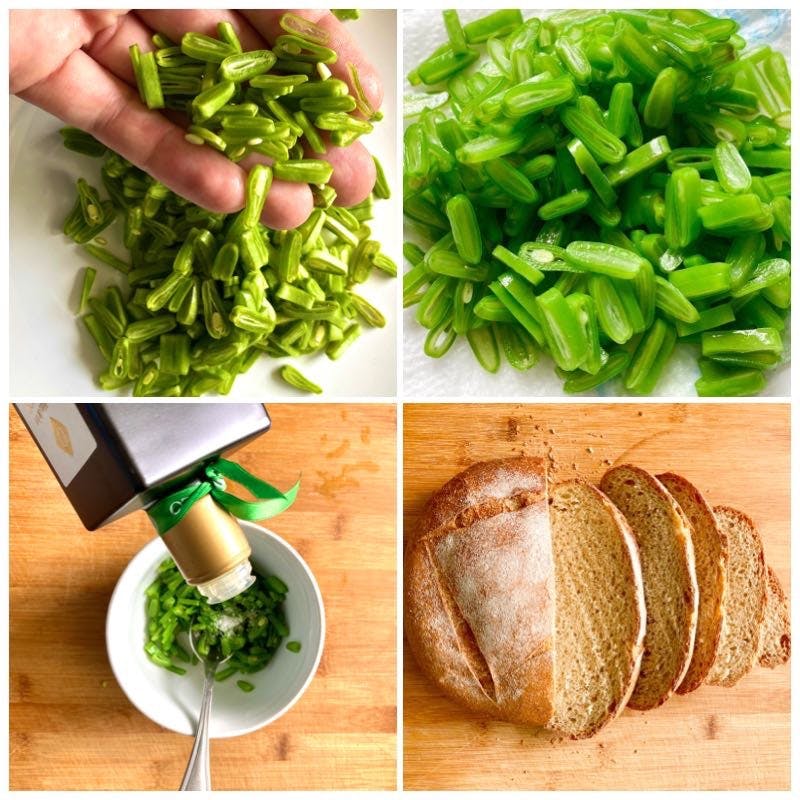 Serving time!‍
Take the slice of bread and spread it with the "Salmorejo" tomato sauce.
Cover the toast with two slices of wagyu jerky.
Finally, add the green beans to the top.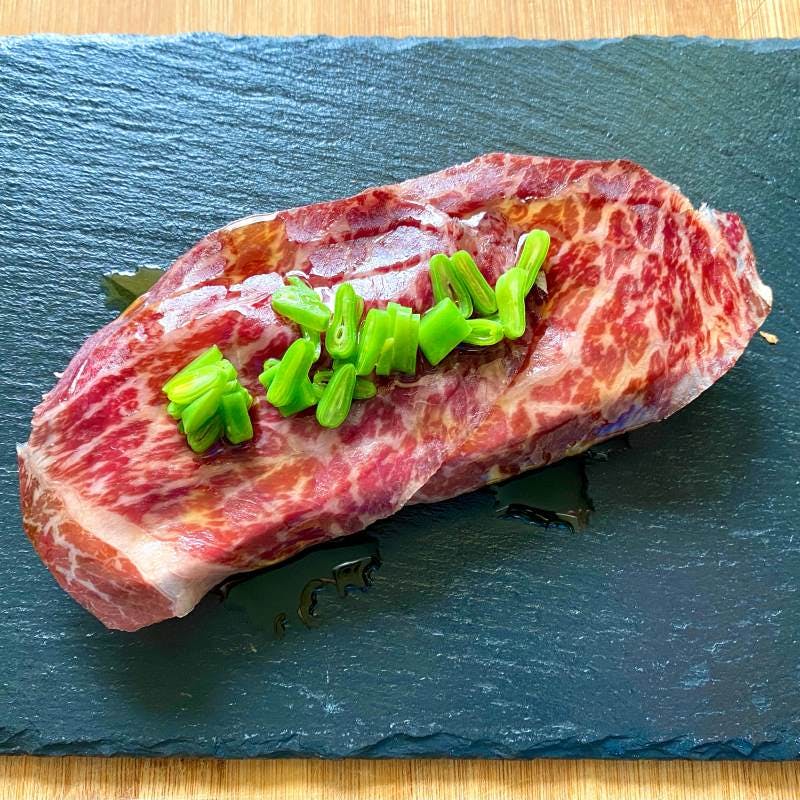 Let your guests know that it is not an entrecôte. With this presentation, they may get confused.
Crispy jerky with green bean salad.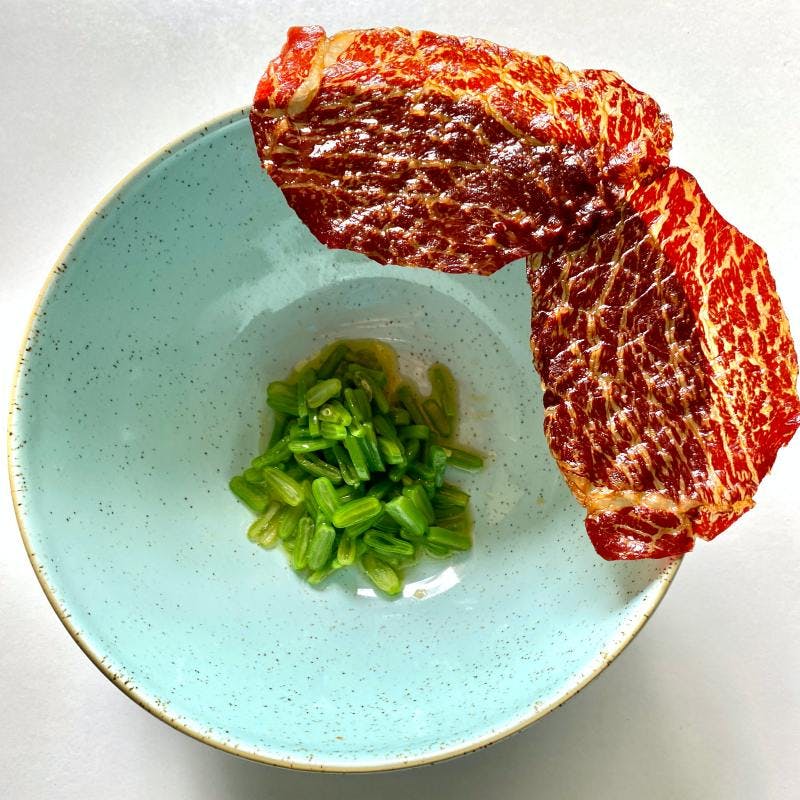 Ingredients
Green beans 100 g
Extra virgin Olive oil Guardian de los Trofeos (Cornezuelo Temprano olive) 10 ml
Sherry vinegar
Salt to taste
Crispy Wagyu "Cecina" Jerky
Preparation
Do the same with beans the the previous recipe, then and added a little sherry vinegar.
Let's prepare the jewel of this recipe!
‍‍Put 4 slices of jerky on parchment paper and cover them with parchment paper.
Preheat the oven to 130 degrees.
Then put the tray with the jerky and let it cook for about 45 minutes.
Take it out of the oven and let it cool.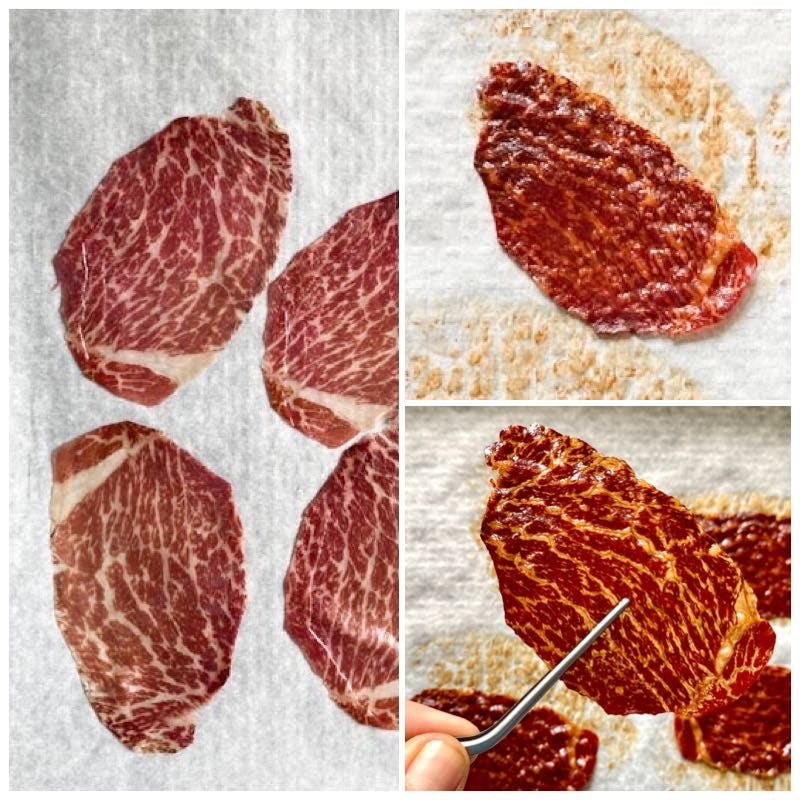 Serve the bean salad and crispy jerky in the way you like best.
This unique tapa can be eaten in different ways. Still, I suggest using the crispy jerky on the top of the salad.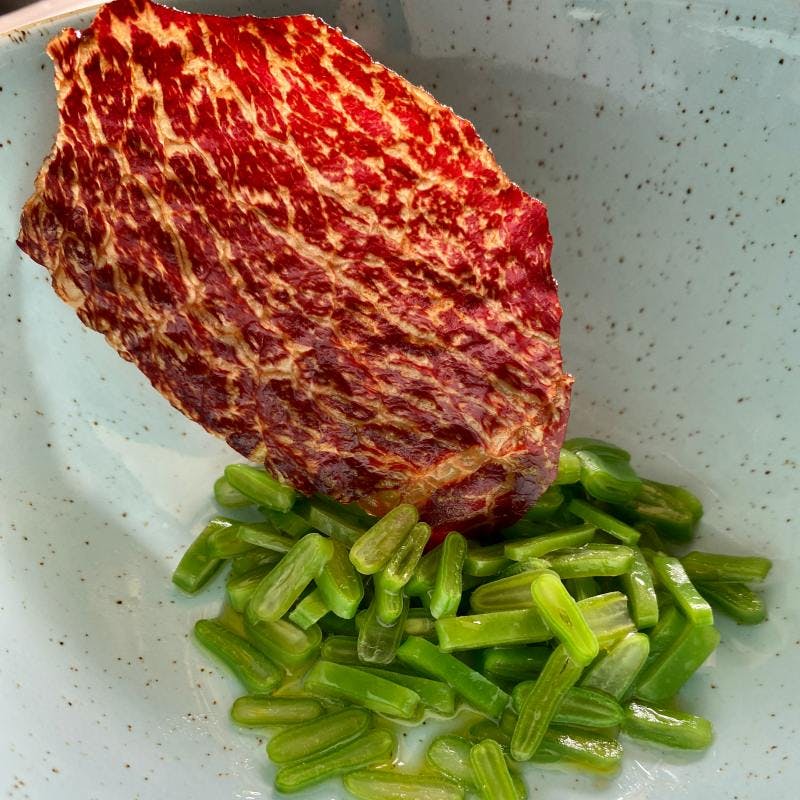 I have to tell you that I had a lot of fun while cooking, but mainly when I ate this tapa. It was delicious.
So now you know if you want to enjoy cooking Spanish recipes and discovering new products, visit me whenever you want.
If you want to get any of this products to cook with them, use this links and visit the their store:
Jerky "Cecina Wagyu" Selectiun
Extra Virgin Olive Oil Guardian de los Trofeos Cornezuelo
‍
Have a tasty day.!