Traditional Cocido, the most famous dish in Madrid
Cocido Madrileño is one of the most emblematic and traditional recipes of Spanish gastronomy. It combines chickpeas, vegetables, and different types of meat and bones, simmered to achieve a tender texture and a unique flavour. It is a very complete and heavy meal, perfect for cold winter days, and it is usually prepared at home on Sundays to share with the whole family.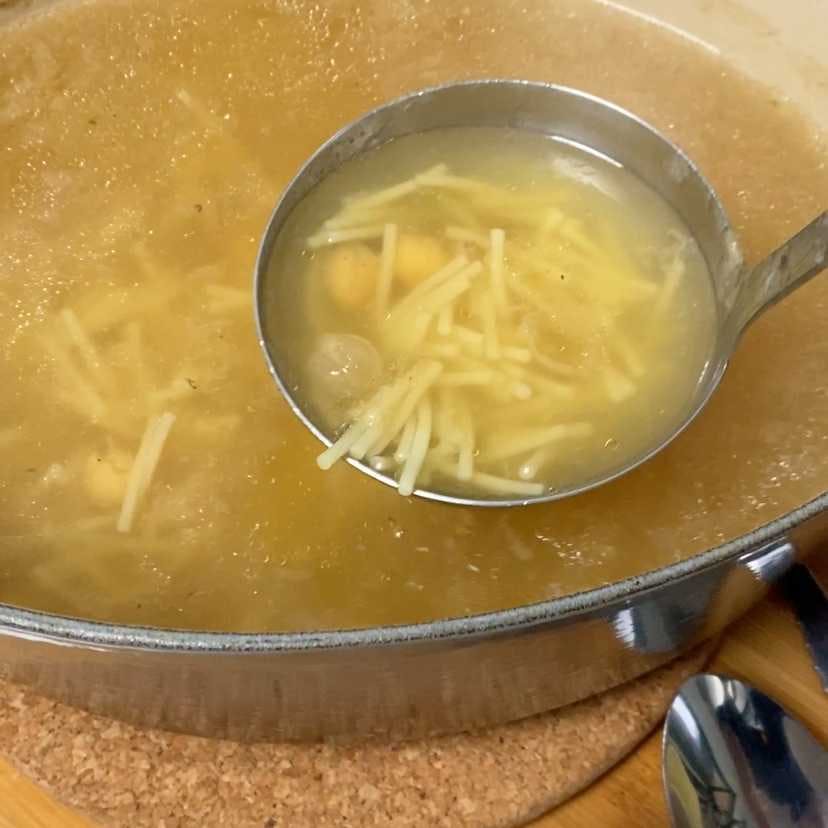 The soup
It is also a dish that can be adapted to the tastes of each diner, as ingredients can be added or subtracted according to personal preference. For me, the one my mother does is the best, and I will show it to you in this article.
Where does the "Cocido Madrileño" recipe come from?
If you think about it, as soon as fire and clay were discovered, the first recipes consisted of putting water and food together in a clay pot and putting it on the fire until the ingredients were soft and edible. It was quite a revolution in prehistoric cooking.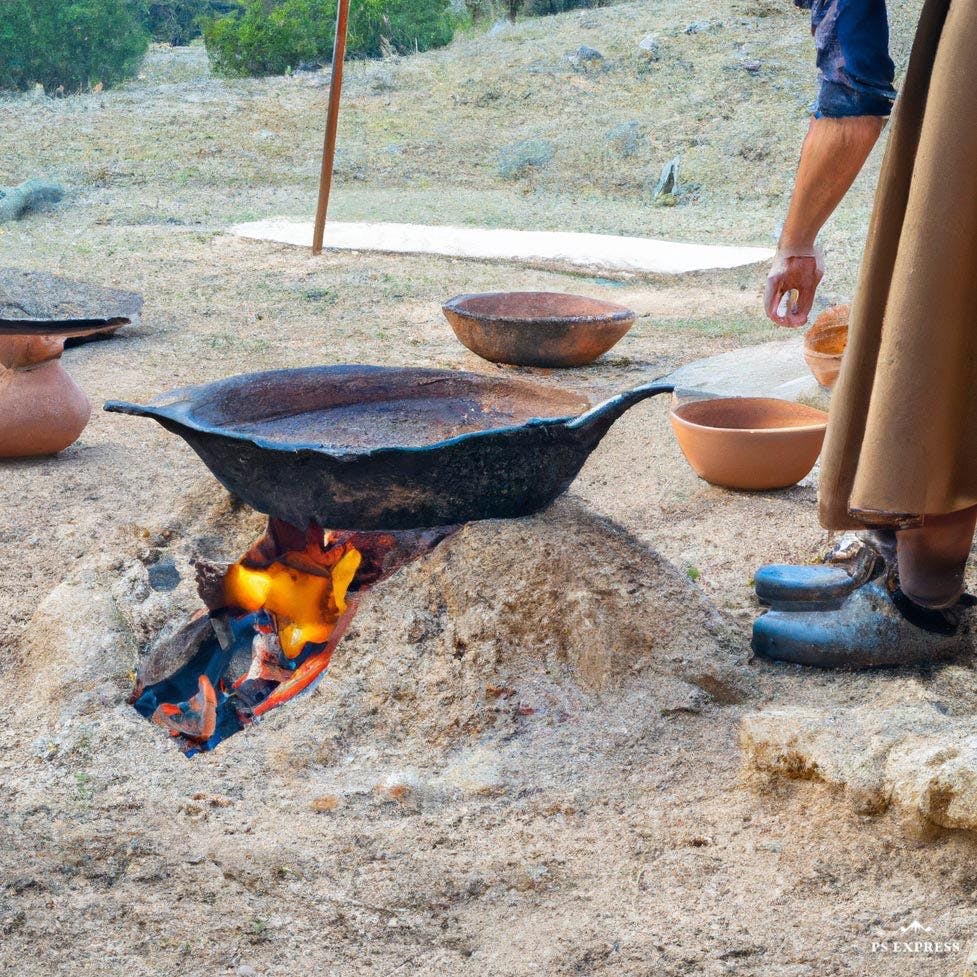 But there are three more recent versions of the origins of the stew. According to some gastronomic historians, the origin of Cocido or its predecessor is to be found in a Jewish dish: "Adafina". Others believe its origin is Arabic, as the word Adafina seems to imply: 'hidden, buried, concealed food'. Some historians consider the "olla podrida" the ancestor of the "Cocido". The Phoenicians possibly introduced this ancient Castilian dish.
And now it is cooking time. I hope you will enjoy my version of Cocido Madrileño.
Cocido Madrileño Recipe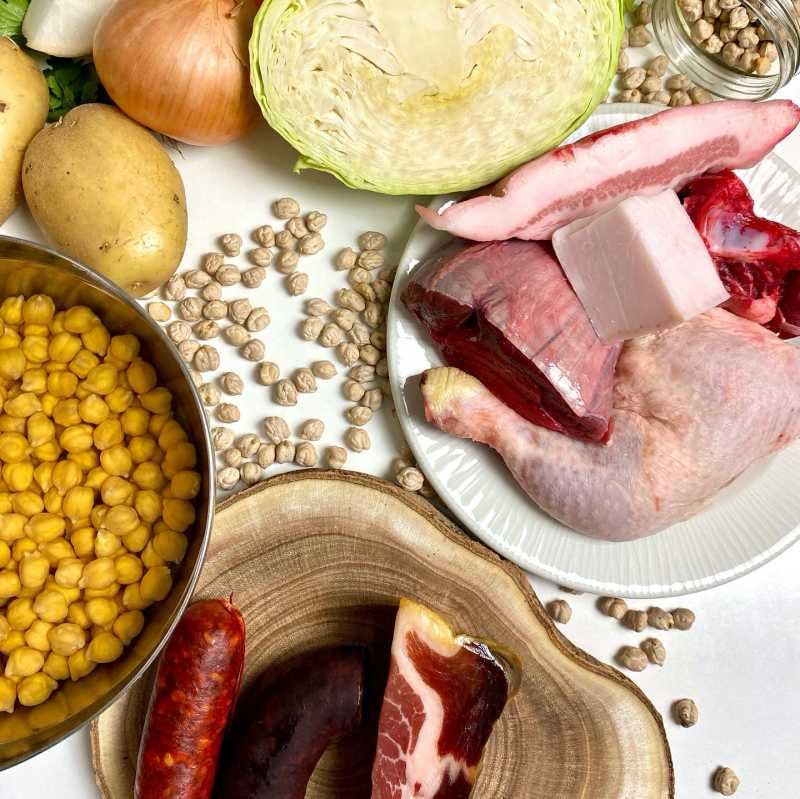 Preparation time 10 min
Cooking time 120 min
Total time 120 min
Ingredients 4 serves
200 g / 0,4 lb / 7 oz Chickpeas
300 g / 0,6 lb / 10 oz Morcillo (Beef)
100 g / 0,2 lb / 3,5 oz Serrano Ham
100 g / 0,2 lb / 3,5 oz Bacon
100 g / 0,2 lb Pork jowl
200 g / 0,4 lb / 7 oz Beef backbone
2 Fresh chorizos
1 Black pudding
150 g / 0,3 lb / 5 oz Noodles (Fideo Cabello de Angel)
150 g / 0,3 lb Hen or chicken leg
2 Potatoes
1/2 cabbage
2 Carrots
One onion
2 or 3 cloves
Water
Salt to taste
Metoth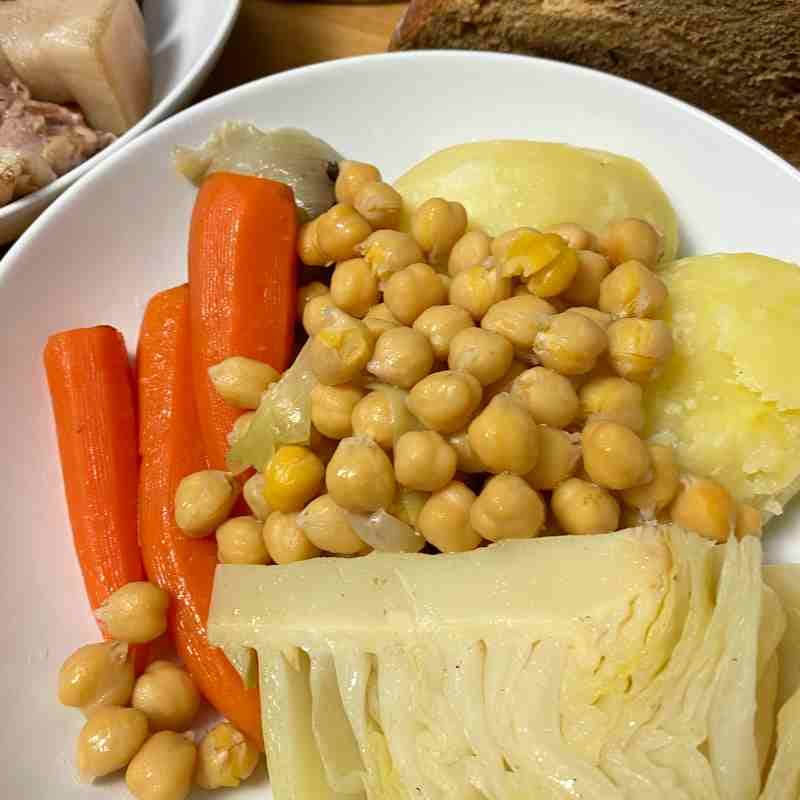 Chickpeas and vegetables
Put all the meat and bones except the chorizo and black pudding sausages in a large Pot. Then, cover them with water and put them over heat until it starts to boil. A foam will appear on the surface, which you have to remove. Cook it for about half an hour.

De-foam again and add the carrots and onion with the cloves to the pot. Add the chickpeas and simmer for about an hour.
Now it's time to add the cabbage and potatoes. Another twenty minutes of cooking will be enough for the potatoes and cabbage.

Taste the chickpeas; if they are tender, you will have everything ready simultaneously. Bear in mind that your chickpeas or some of the meat, for example, may need longer cooking, in which case, you can remove the ready ingredients from the pot and continue cooking until everything is at its point.

Make sure that there is always enough water during the cooking process. While you finish this process, you can cook the chorizo and black pudding in a separate pot for about 20 minutes, although there are versions of this recipe that also cook it in the same pot with the rest of the ingredients.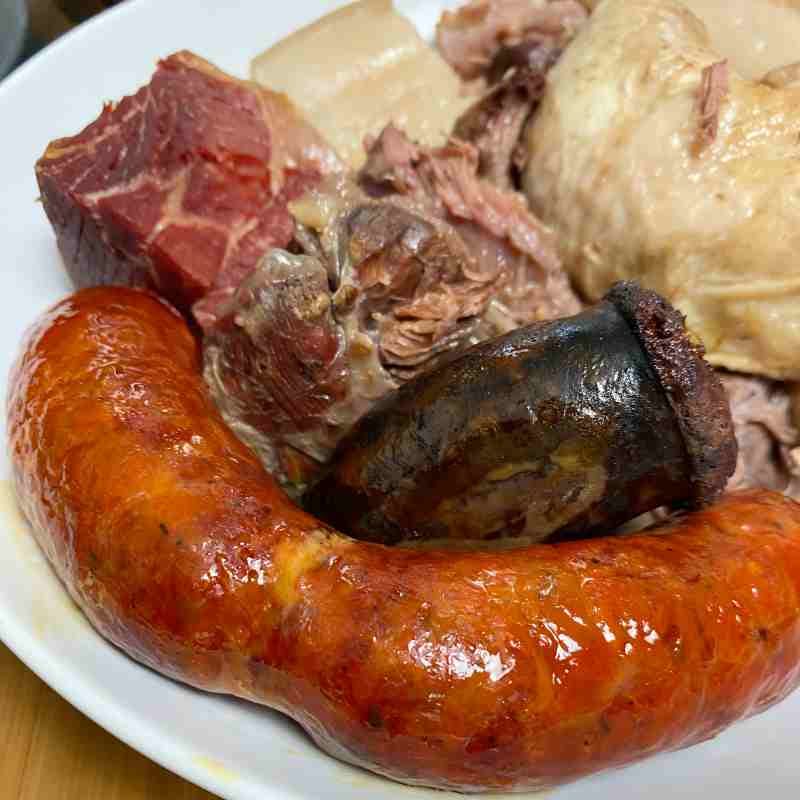 Beef and pork
Now it is time to serve the meat on one side and the vegetables on the other and start making the noodles soup. Bring the broth to a boil with all the ingredients removed. You can leave some chickpeas and small pieces in the broth. Add the noodles and boil them for 5 minutes. Add salt, and you will have all the parts of this amazing meal.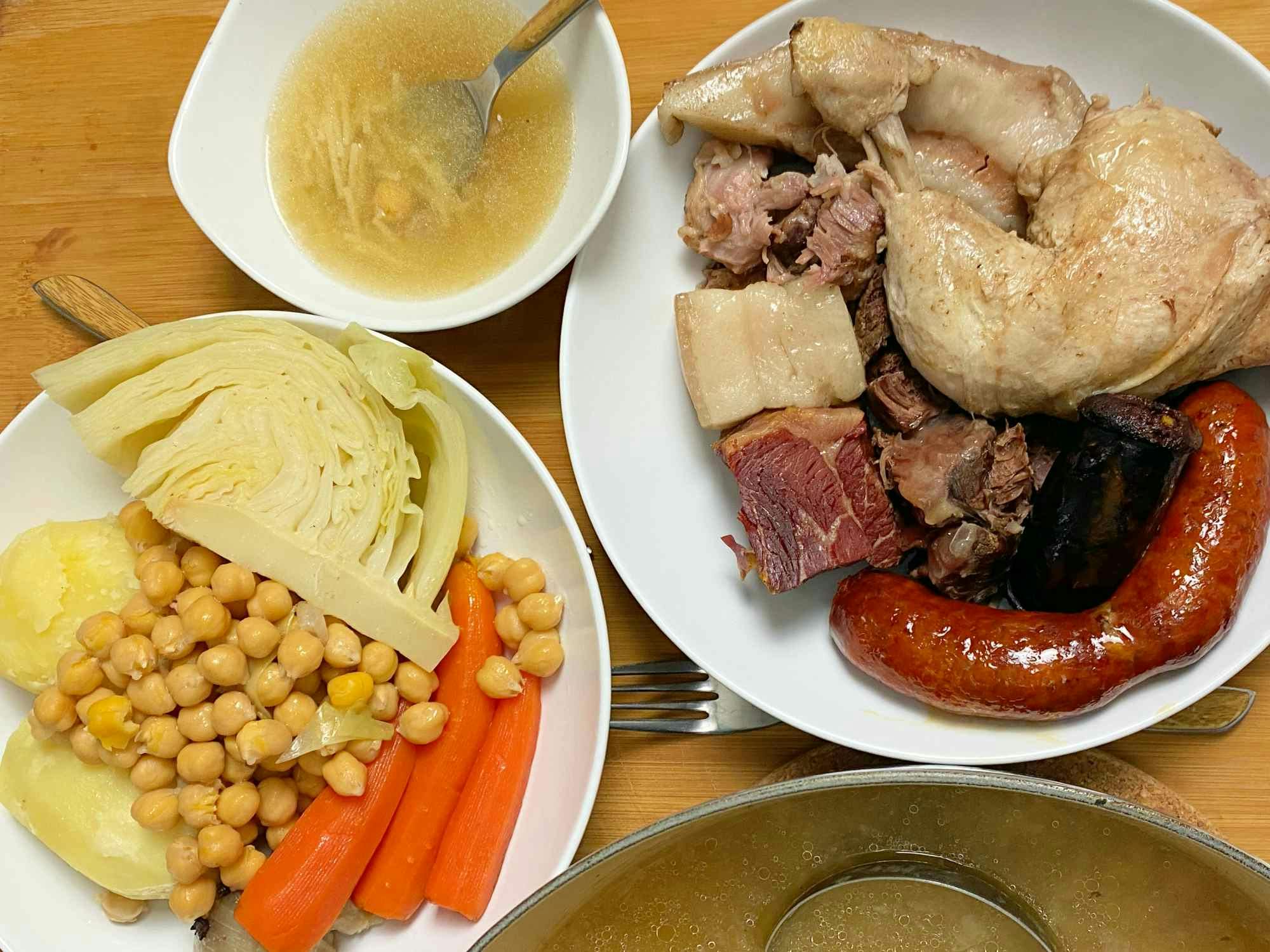 The peculiar way of serving the stew is called "en tres vuelcos" in three times. That refers to how food was distributed among the families in the old houses. The soup and vegetables for the grandparents, children and women and the meat for the man of the house who used to do the most physical work and therefore required the most energy. Nowadays, we will all start by eating noodle soup. And then a plate with chickpeas and vegetables and another with chopped meats.
If you liked this recipe, you would also like Cocido de garbanzos con hinojo and the article on Tips for cooking dried chickpeas. And if you are planning to go to Madrid, I have found some interesting sites that will help you to find the best bars and restaurants where you can eat a good Cocido in Madrid.
https://www.esmadrid.com/en/whats-on/madrid-stew-route
https://www.tasteatlas.com/cocido-madrileno/wheretoeat
https://www.turismomadrid.es/en/featured/17343-cocido-madrile%C3%B1o-stew-route-in-the-region-of-madrid.html
https://m.yelp.com/search?find_desc=Cocido+Madrileno&find_loc=Madrid
Have a tasty day