Sautéed Swiss Chard with Potatoes: A Flavorful Vegan Spanish Dish
Today, I'm presenting you with a simple and healthy recipe that combines Spanish culinary tradition with a vegan option. In the "Acelgas Rehogadas" recipe, you'll discover how to prepare a delicious and nutritious dish that beautifully combines the flavours of chard, garlic, potatoes and sweet paprika " Pimentón".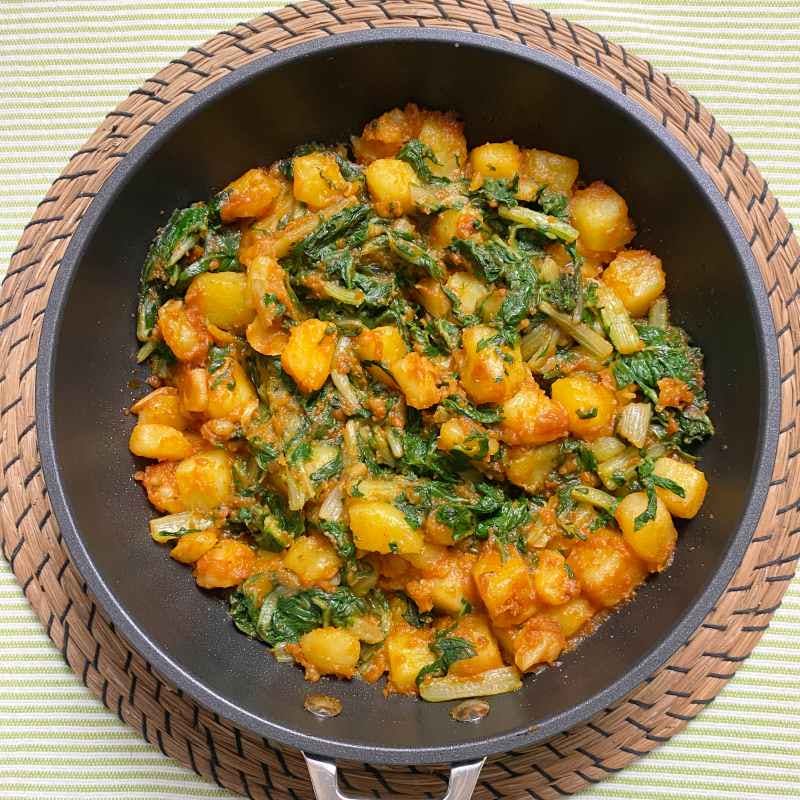 Sautéed Swiss Chard with Potatoes is an example of how local and regional cuisine is enriched with ingredients available in the area. Over the years, this recipe has been adapted in different regions of Spain, and each place can add its own special touch or ingredient such as ham, chickpeas, cod, or boiled egg. The recipe has endured over time thanks to its simplicity and comforting flavour, and it continues to be a delicious example of traditional Spanish cuisine.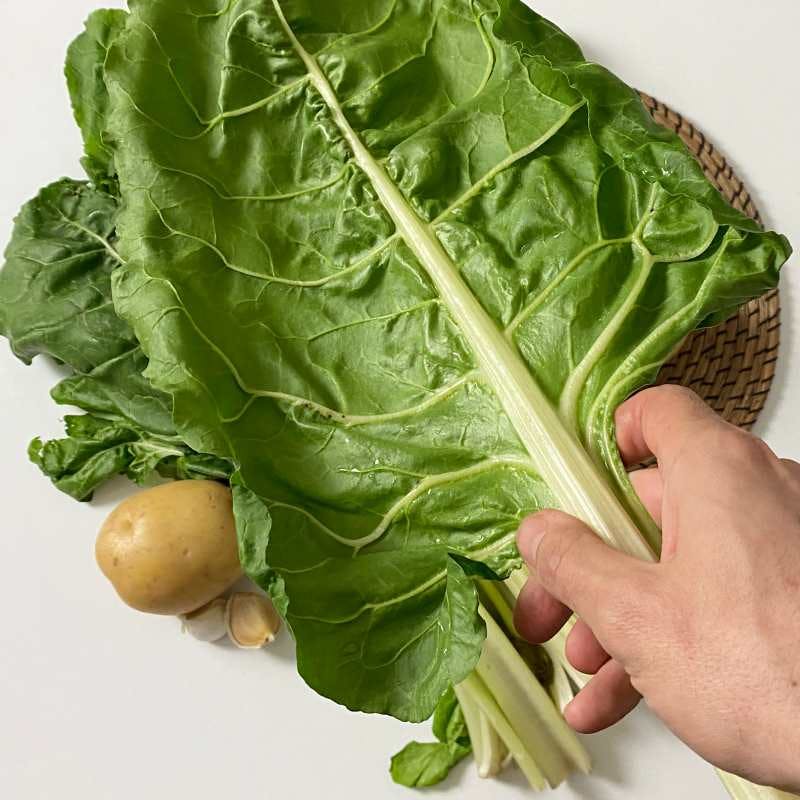 Follow the steps below and treat your palate to this exquisite ingredient fusion.
Swiss Chard and Potatoes Recipe
Preparation time 10 min
Cooking time 30 min
Total time 40 min
Ingredients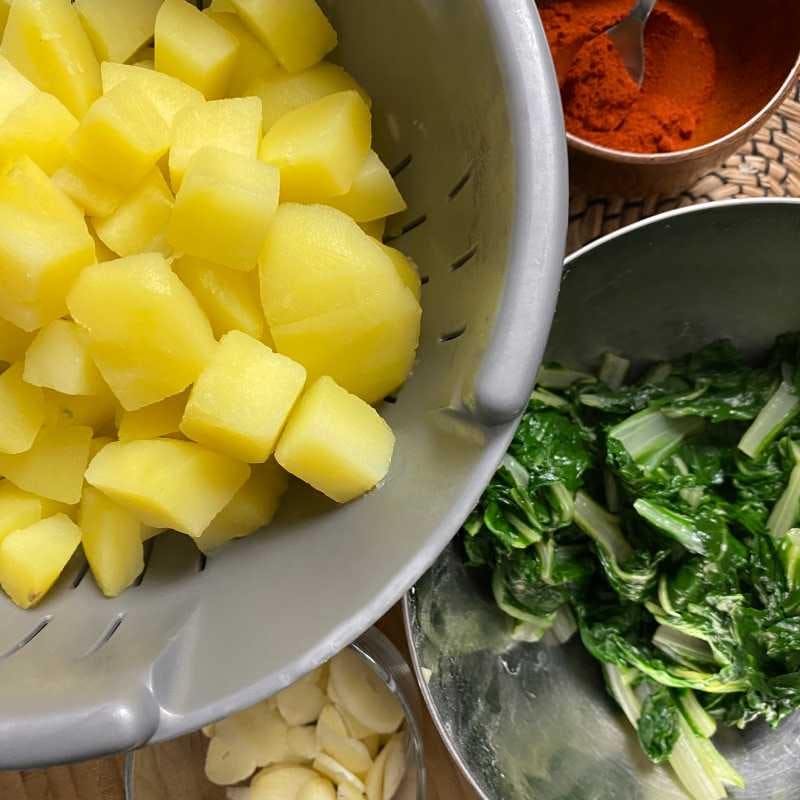 800 g / 1,7 lb / 28 oz of Chard
600 g / 1,3 lb / 21 oz of potatoes
4 cloves of garlic
2 tsp of sweet paprika
150 ml Extra virgin olive oil (EVOO)
Salt to taste
Black pepper to taste
Method
Select the green leaves of the Swiss chard and reserve the stems for another preparation, for example, veg stock or soup.
Cut the leaves in halves and then into large pieces, as shown in the picture.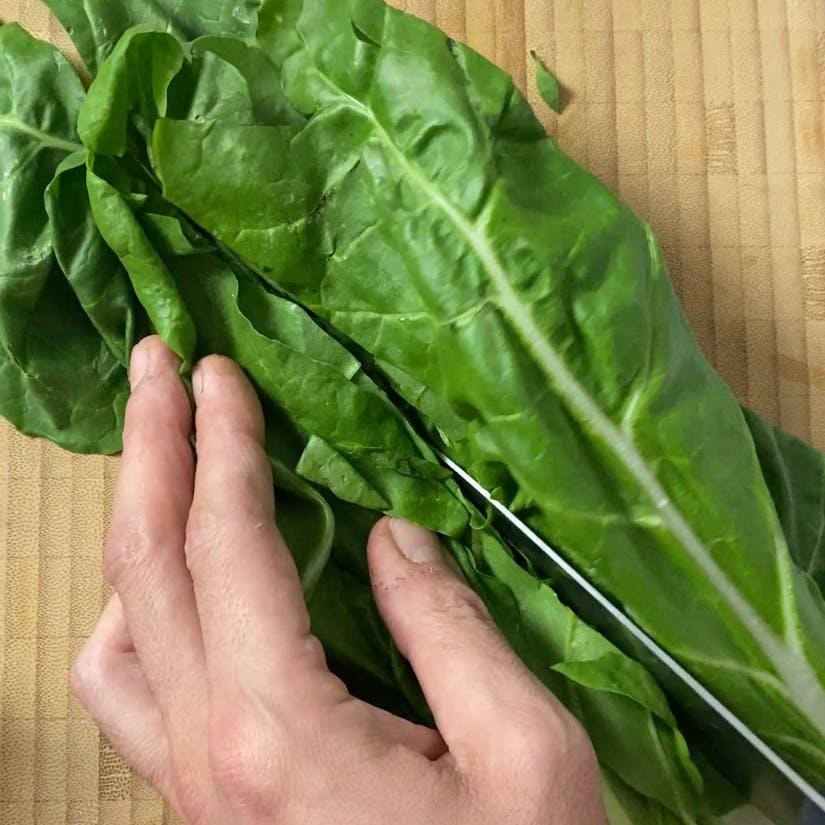 In a large pot, add plenty of water and cook the Swiss chard leaves for approximately 10 minutes.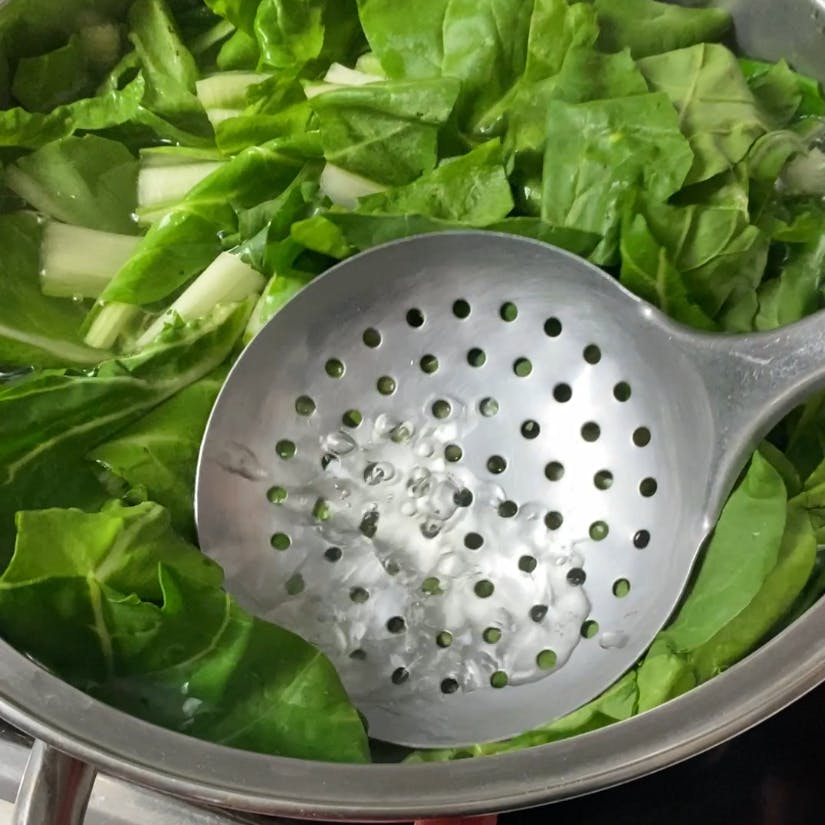 Once cooked, drain them and set them aside.
In the same water you used to cook the Swiss chard, add the diced potatoes and boil them for 10 minutes, or until tender.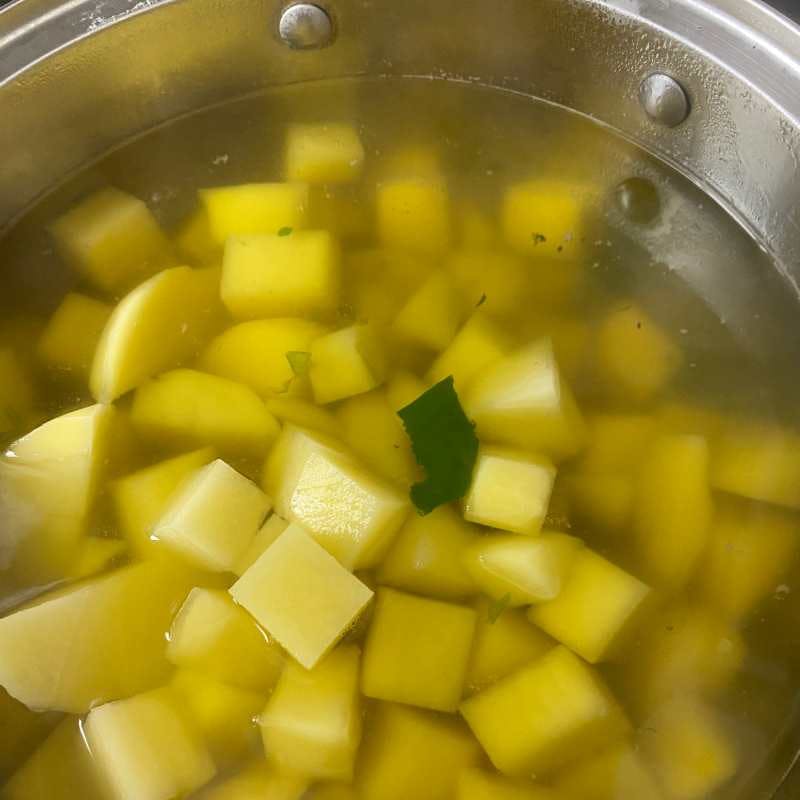 Drain the potatoes and set them aside.
In a large pan, pour half a glass of EVOO and heat it over medium heat.
When the oil is hot, add the garlic sliced and brown them.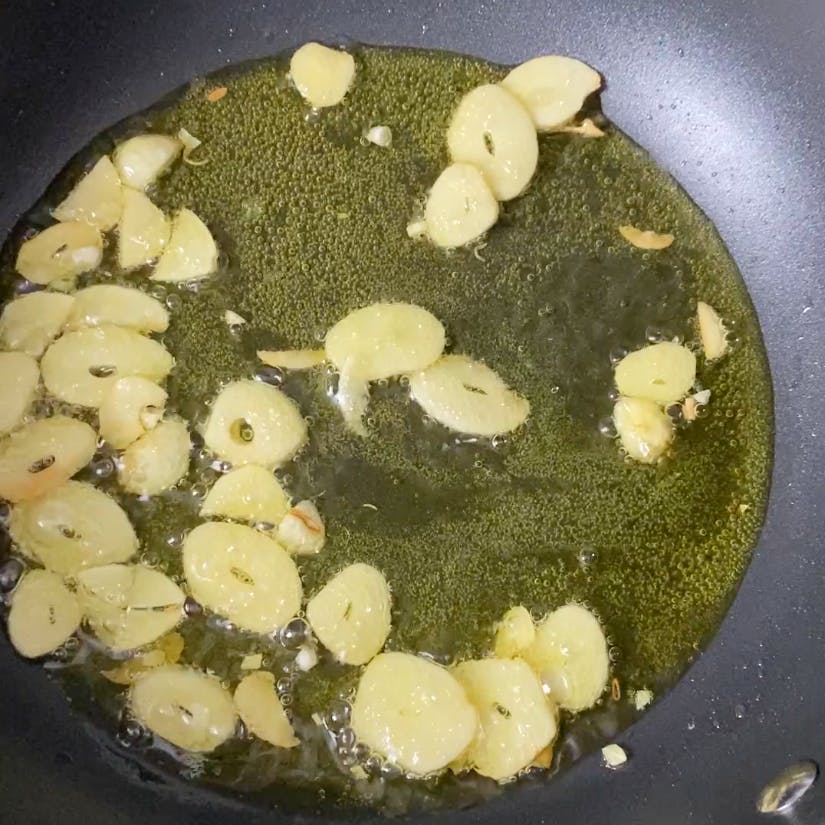 Add the potatoes and sauté for 5 minutes.
Season with salt, pepper, and two teaspoons of sweet paprika " Pimentón".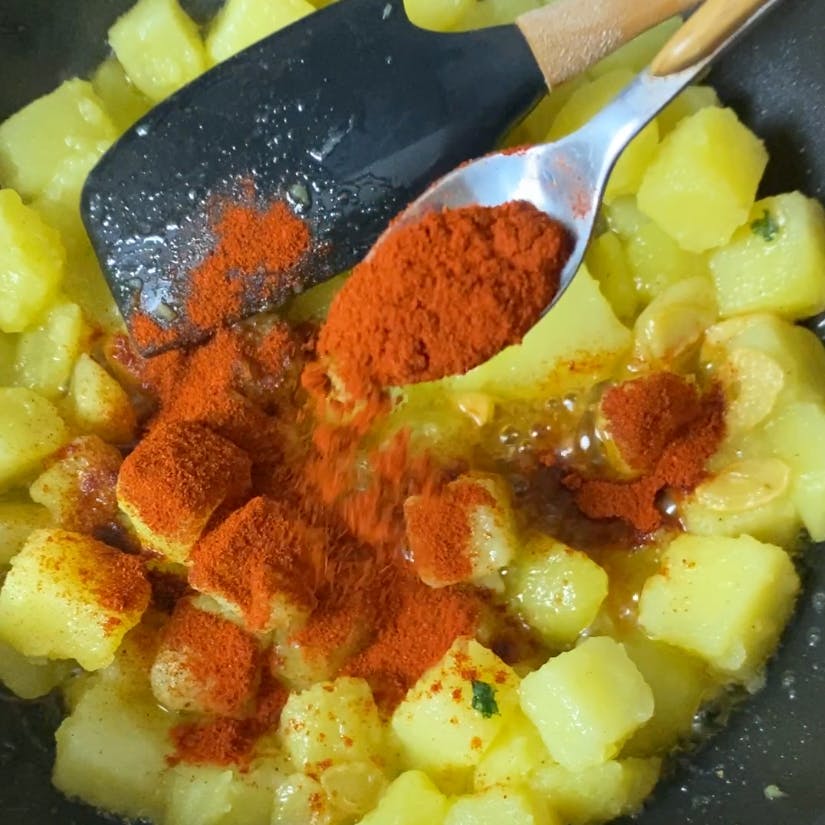 Cook the potatoes with the paprika for another 5 minutes.
Finally, add the cooked Swiss chard and sauté well to combine.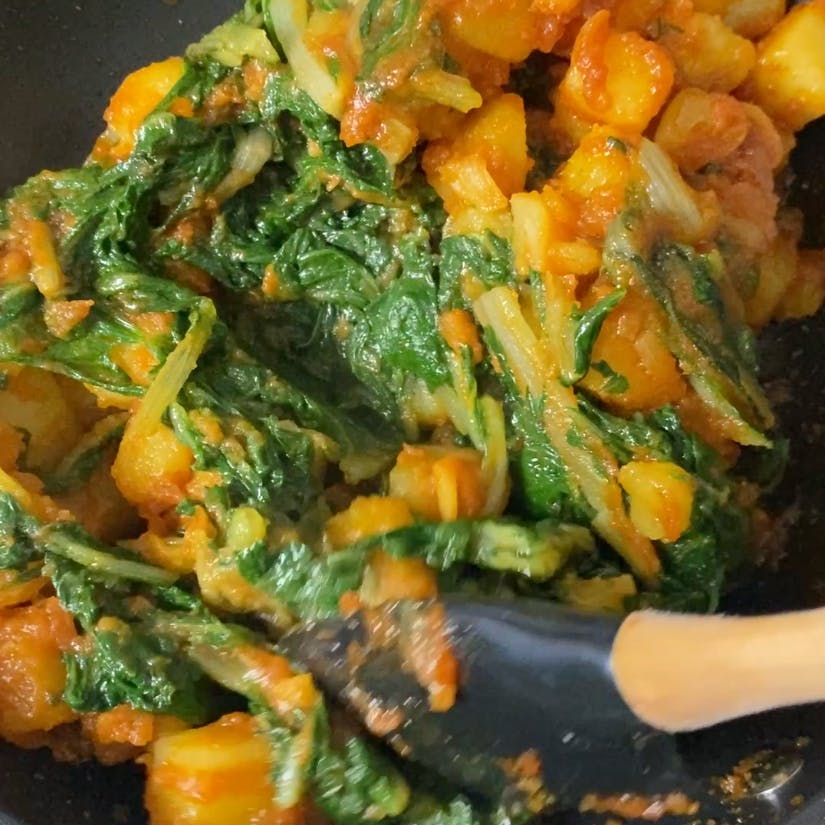 Add a glass of the cooking water from the Swiss chard and cook the mixture for another 5 minutes.
You can present it in a pan and serve it at the table as I have done. It is also an excellent side dish for fish, octopus, or even poached or fried eggs.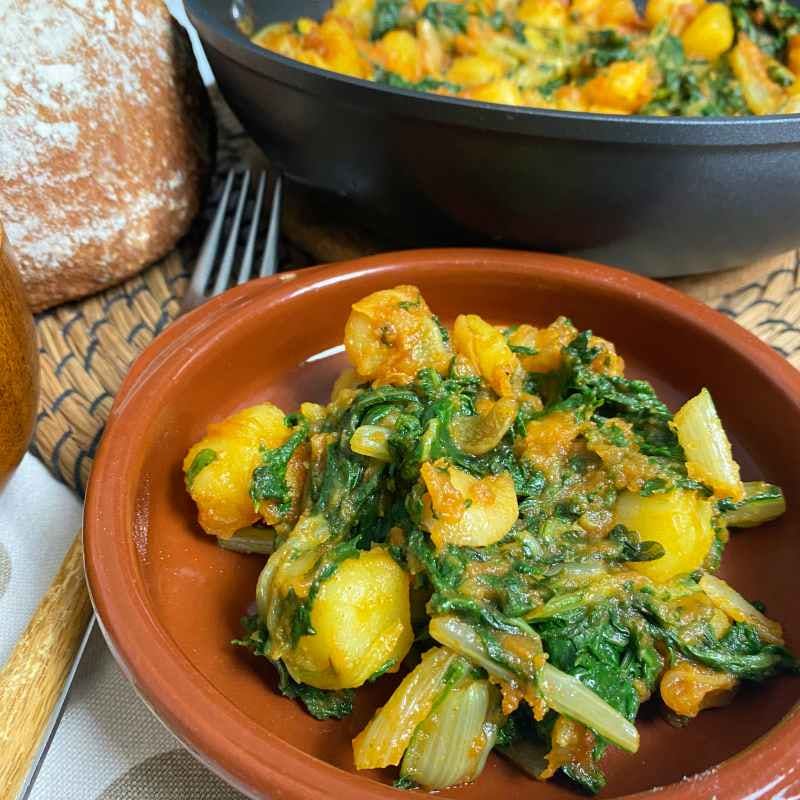 I hope you have liked the recipe and that you are encouraged to try it at home and share this delicacy with your loved ones! It is always a pleasure to share my passion for cooking, and I am sure this recipe will become one of your favourites.
Have a Tasty Day!