Learn How to Cook Goat Shoulder Stuffed with Mushroom and Red Wine Sauce
Today, I'm excited to share a delectable recipe designed especially for meat lovers. This delightful dish combines the traditional flavours of the Malaga region, including garlic, rosemary, wine, and succulent goat, prepared using a slow-cooking method as a many modern culinary establishments.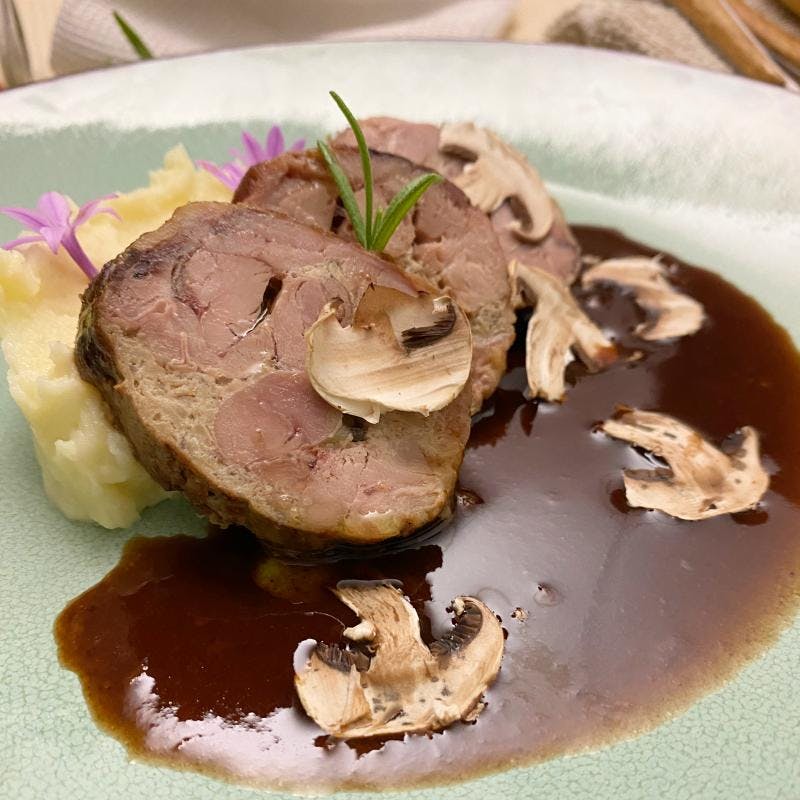 In the heart of Malaga, a region steeped in culinary heritage, goat meat, known locally as "Chivo," holds a revered place. These goats naturally thrive in the Malagueña mountains "Sierra de Malaga", and the meat from young suckling goats is prized for its pale pink hue, tenderness, juiciness, and subtle flavour. This versatility in the kitchen has earned it a cherished spot on the menus of Malaga's finest restaurants.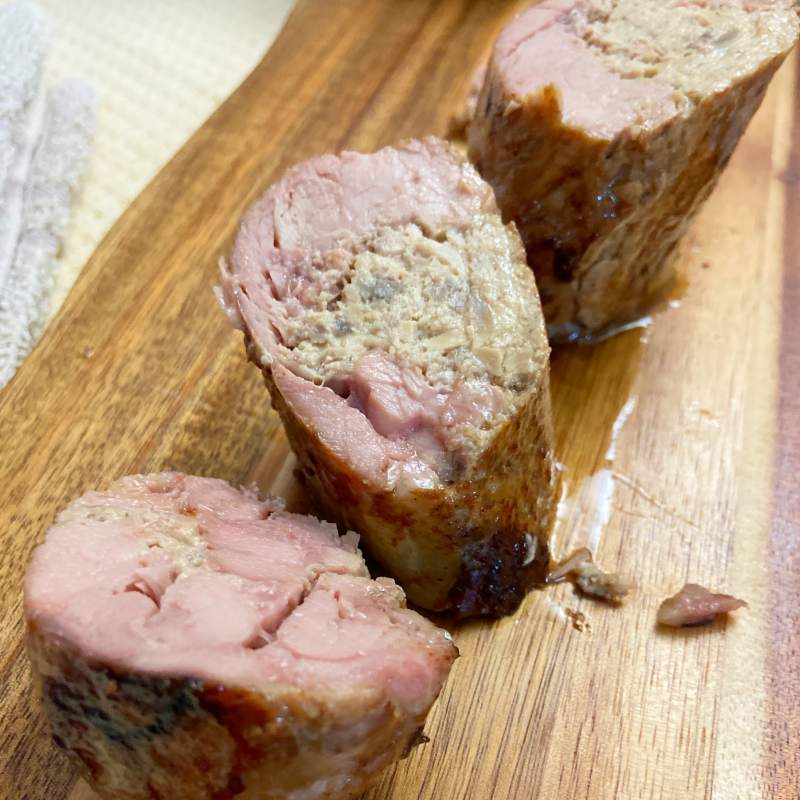 While there are various traditional methods to prepare goat meat, from slow stews to classic roasts, our culinary journey today introduces a more contemporary twist. I've meticulously deboned the shoulder and filled it with a delightful mushroom mixture, subjecting it to a slow-cooking process spanning over 6 hours.
What also makes this recipe truly remarkable is that it doesn't demand any specialized kitchen equipment. So, if you're eager to embark on this gastronomic adventure and learn how to cook this Spanish speciality, read on, and get ready to savor an extraordinary dish!
Slow-cooked goat Shoulder, Stuffed with Mushrooms, Wine Reduction Sauce, and Creamy Mashed Potatoes, Recipe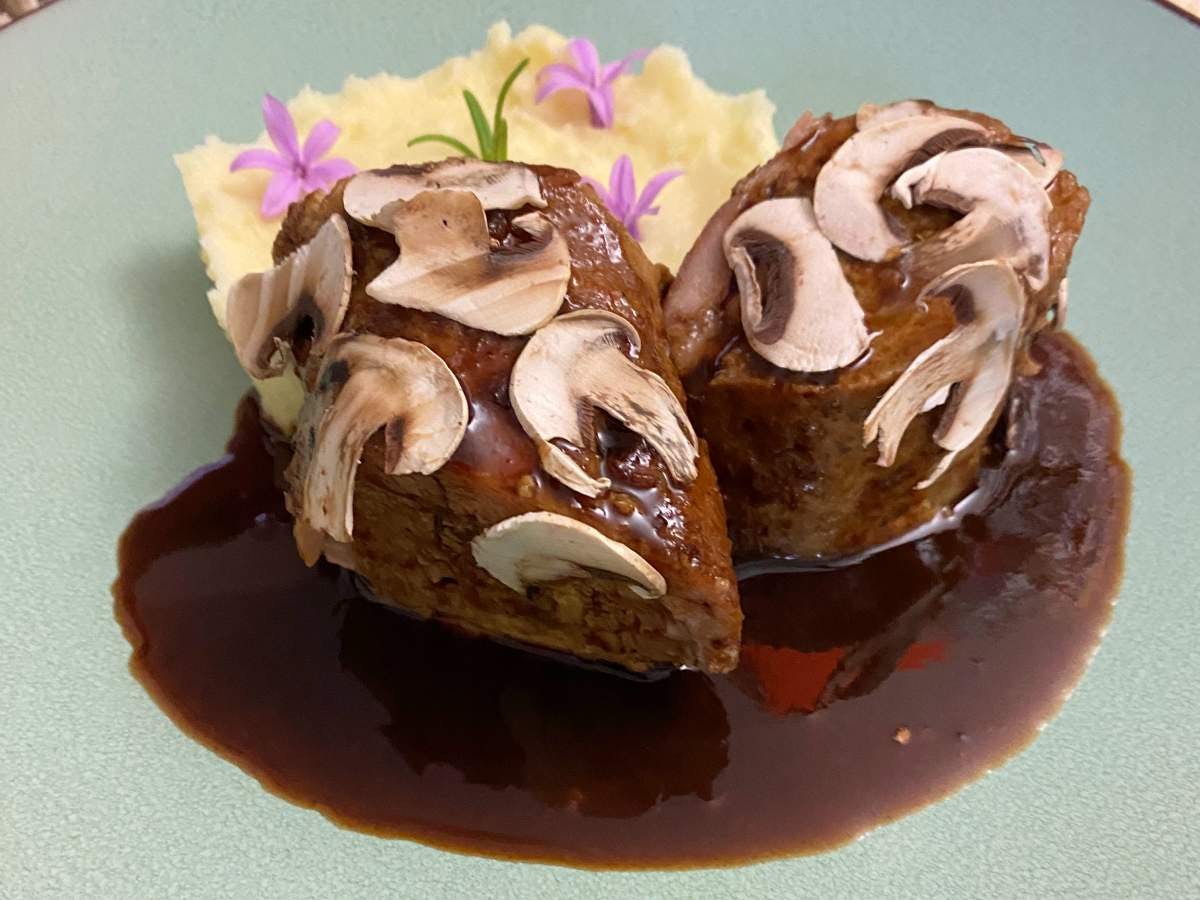 Preparation time 45 min
Cooking time 6 h
Total time 6 h 45 min
Ingredients 4 serves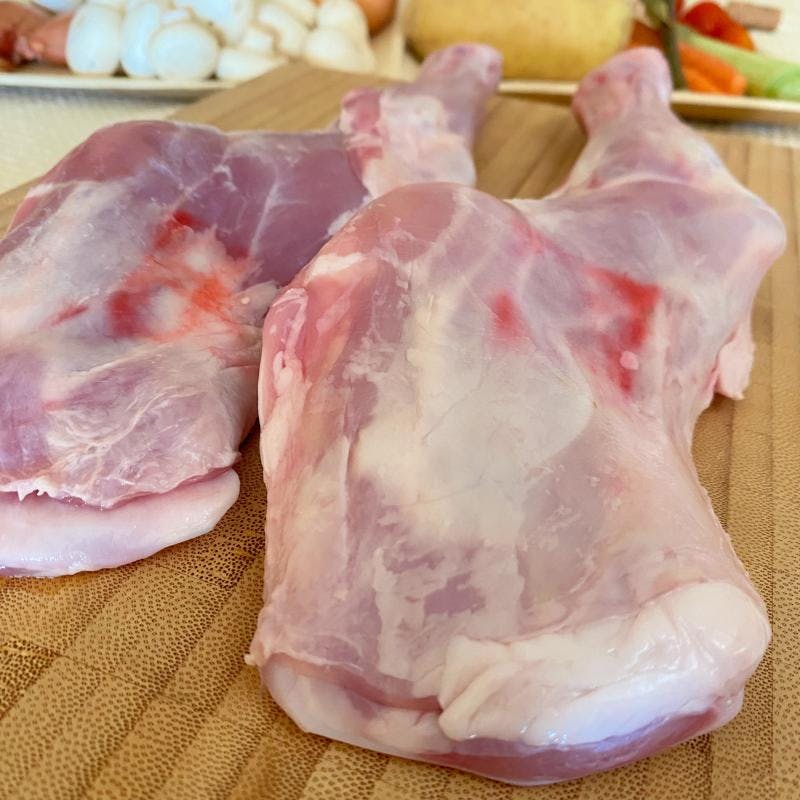 For the mushroom filling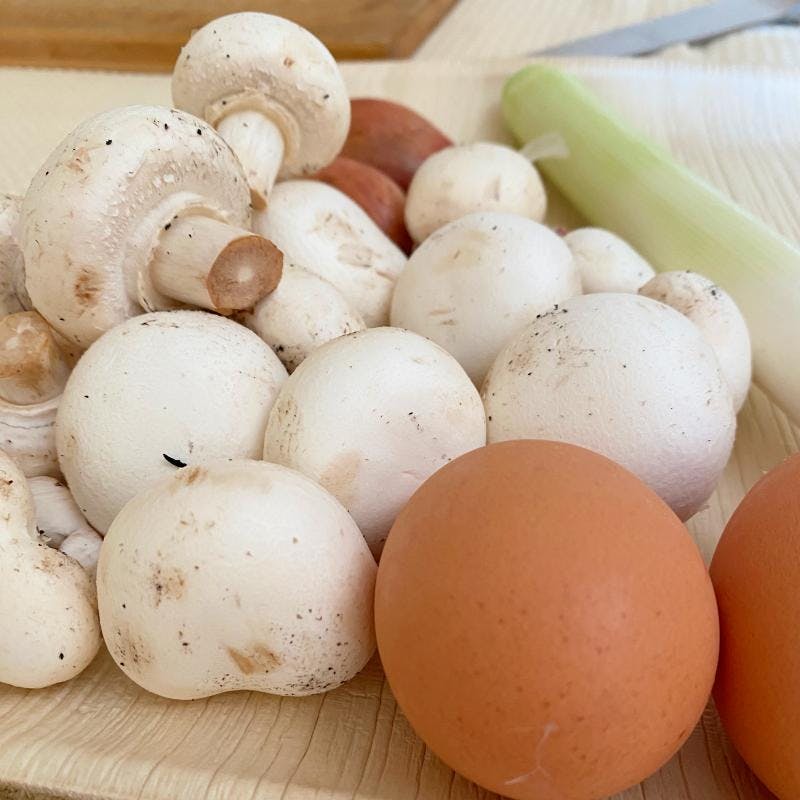 300 g / 10,5 oz / 0,7 lb mushrooms quarters
3 Shallots brunoise
3 chopped cloves of garlic
1/2 onion brunoise
100 ml / 6 tbsp cream
2 eggs
100 ml / 6 tbsp white wine
80 ml / 4 tbsp Extra virgin olive oil
Salt to taste
Pepper to taste
For the wine sauce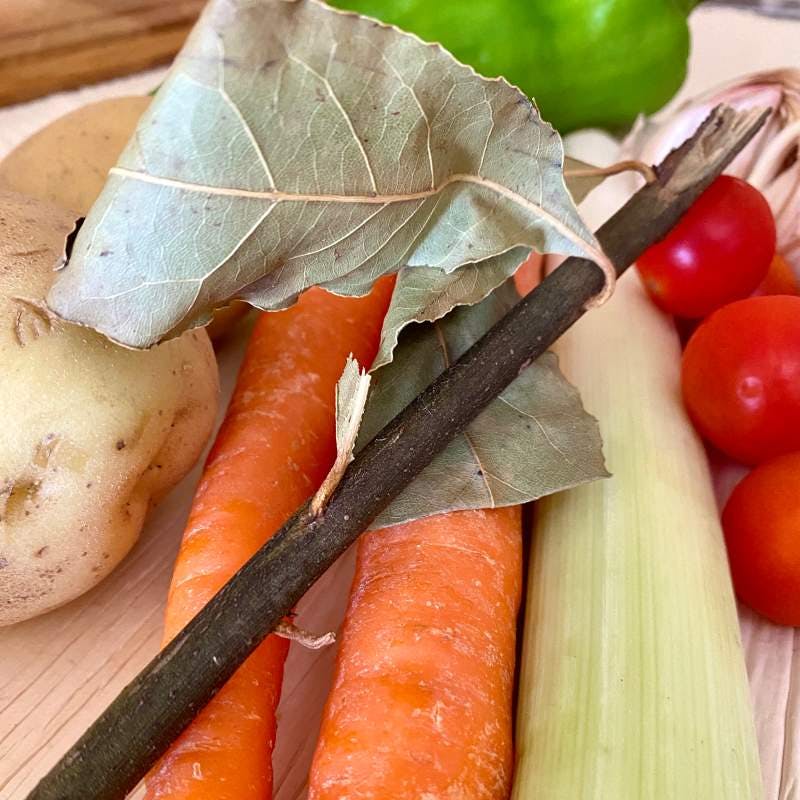 Shoulder bones
2 chopped carrots
6 crushed garlic cloves
1 chopped leek
1/2 chopped onion
2 bay leaves
1/2 litre red wine
2 litre water
1 tbsp of butter
1 tbsp of flour
1 rosemary sprig
Salt to taste
For the Mashed Potatoes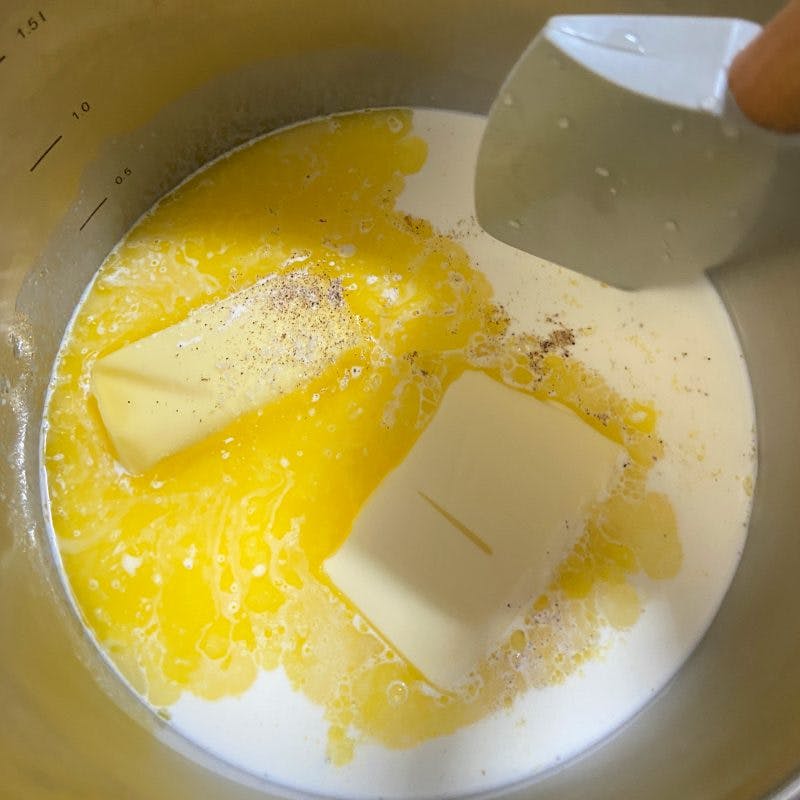 300 g / 10,5 oz / 0,7 lb potatoes
150 g / 5,2 oz / 0,3 lb butter
100 ml / 6 tbsp cream
Salt to taste
Pepper to taste
For decoration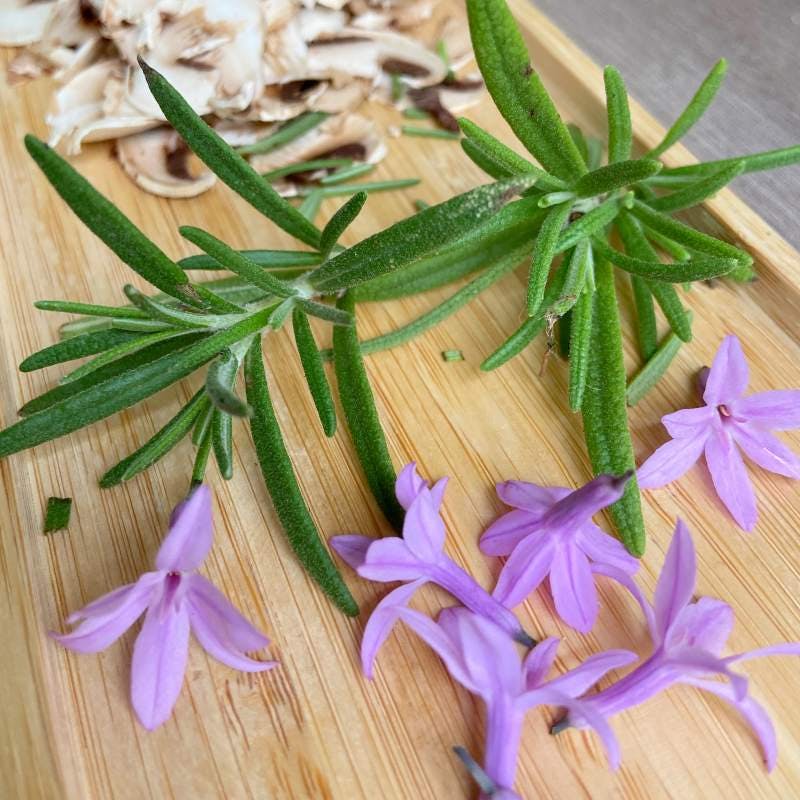 4 Mushrooms in tiny slices
12 Wild garlic flowers
4 rosemary fresh leaves
Method
For the mushroom filling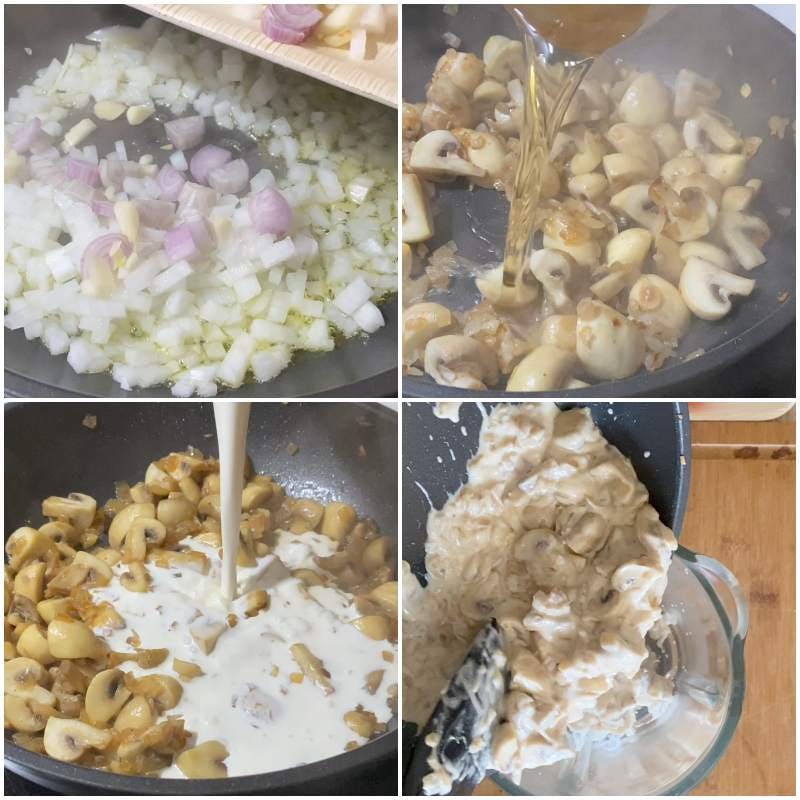 In a large skillet, heat the extra virgin olive oil over medium fire.
Add the garlic, onions and shallots, and cook them until they are golden.
Add the quartered mushrooms and sauté them along with the vegetables. Season with salt and pepper and cook until the mushrooms release their liquid and start to brown.
Deglaze the skillet with white wine and reduce it until almost dry.
Pour in the cream and reduce it again to a minimum. Taste and adjust the seasoning if necessary.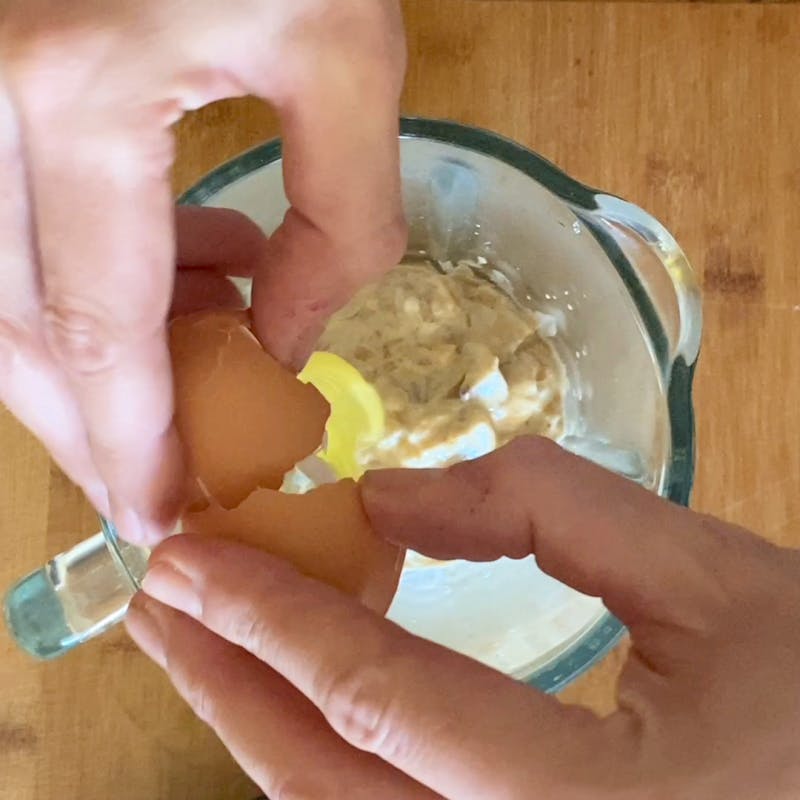 Transfer the mixture to a food processor and blend it while adding the two eggs. Be careful not to overblend to maintain some texture in the mushroom filling.
Store the mixture in a bowl or piping bag and chill it in the refrigerator for later use.
For deboning and cooking the goat´s shoulder
Debone the shoulder cuts, a step that can be a challenge. You can also ask your butcher to do this for you and provide you with the bones for the sauce. Here's how I did it.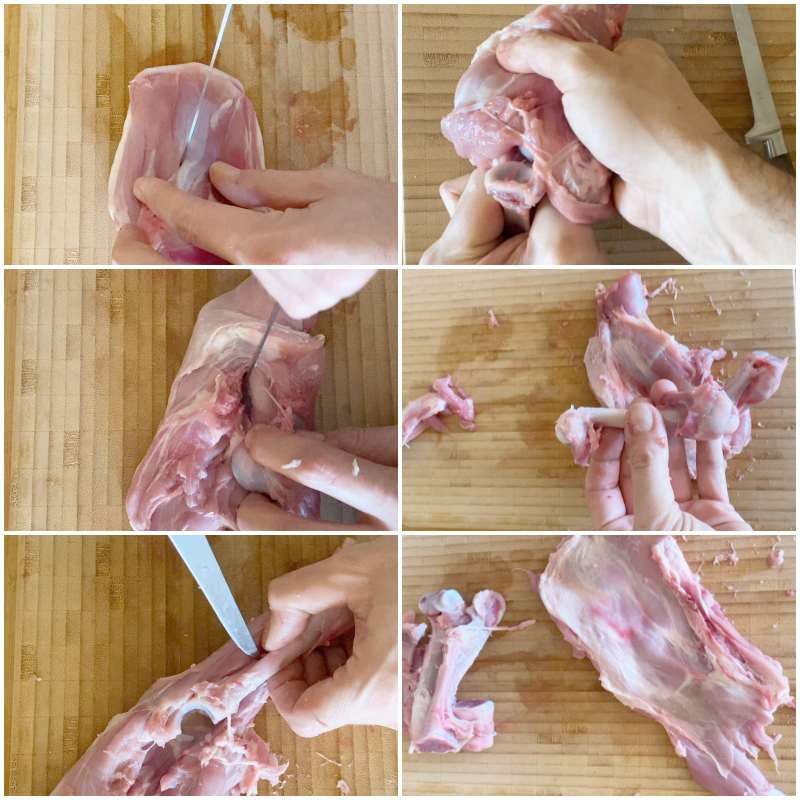 Once deboned, try to flatten them to get more even meat and make it easier to roll.
Place each shoulder in plastic wrap, skin side down, and add the mushroom mixture with the help of a spoon. Spread it evenly in the centre and close the shoulder by rolling it up with the plastic wrap, like you're making a "Shushi."
Secure the ends of the roll tightly with the plastic wrap, and give a few more turns, applying pressure to ensure it's firm and the goat is not going to take water in the slow cooking process.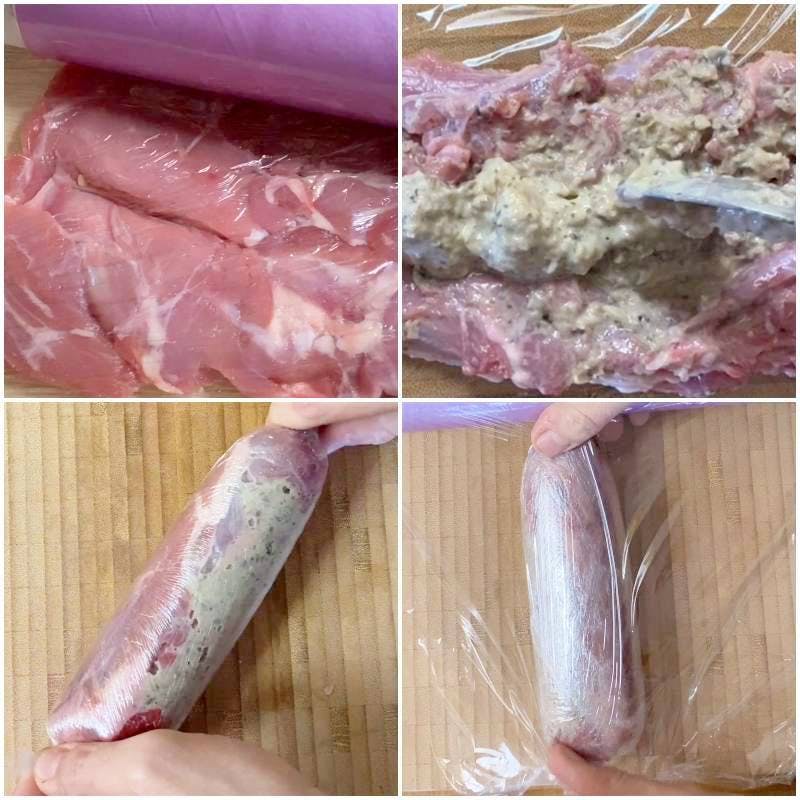 Place both rolls in a pot and cover them with hot water. Set them with a double lid to make sure are always covered in hot water.
Cook the rolls at low temperature for 6 hours at around 70º degrees (158 Fº). Ideally, a sous-vide machine would work, but if you don't have one, you can try cooking them more traditionally. In my kitchen, setting it to number 1 keeps the water at 70 degrees (158 F) without any issues, so you can experiment to see if your stove has a similar setting.
After the cooking time, cool the rolls and reserve them for later use.
Preparing the sauce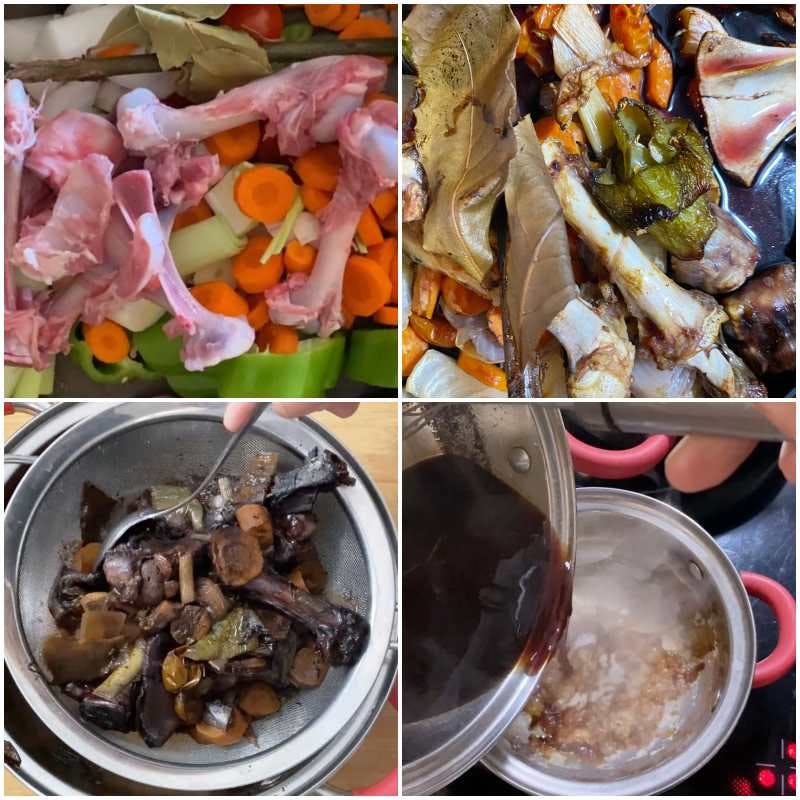 In a roasting tray, place the vegetables and the bones and roast them at 200º degrees (392 Fº) for about 40 minutes.
Then, add a bit of red wine to the pan to deglaze, and pour everything into a pot along with the remaining wine and water.
Cook all the ingredients together for two hours. Strain the sauce and continue reducing it until it reaches the desired consistency. Adjust the seasoning, give a perfect texture adding the roux and finish it by emulsifying with a small spoon of butter just before serving.
Preparing the Mashed Potatoes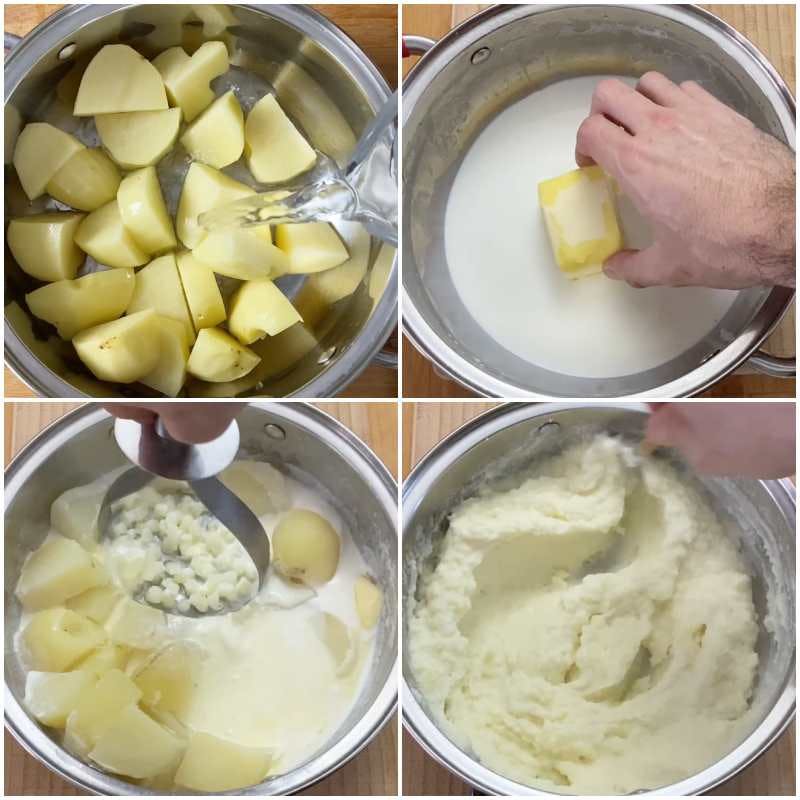 Boil the potatoes, cut into medium-sized pieces, in abundant water for about 15 minutes.
Drain and mash them with a potato masher.
Mix the mashed potato with the cream and melted butter. Adjust the seasoning with salt and pepper.
Serving time
Remove the plastic wrap from the shoulder rolls, and sear them in a pan with butter, sauce and thyme before slicing.
Then place them in an oven tray and cook them for 3 minutes at 180º degrees (356 Fº) to make sure will be hot in the centre.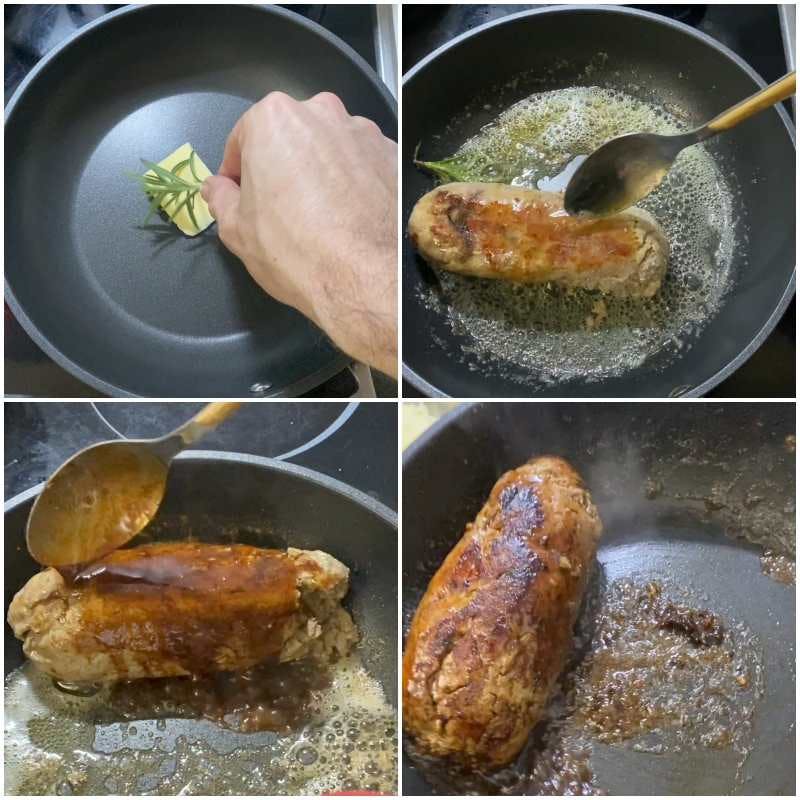 Cut the lamb in the shape that you want, you can do slices, big pieces fillet style, or with a bit of angle as y did.
Serve the mashed potatoes on the plate as a bed, then place the piece of goat and drizzle it with the wine reduction sauce.
Garnish the plate with thin slices of raw mushrooms, wild garlic flowers and the rosemary leaves for a fresh touch.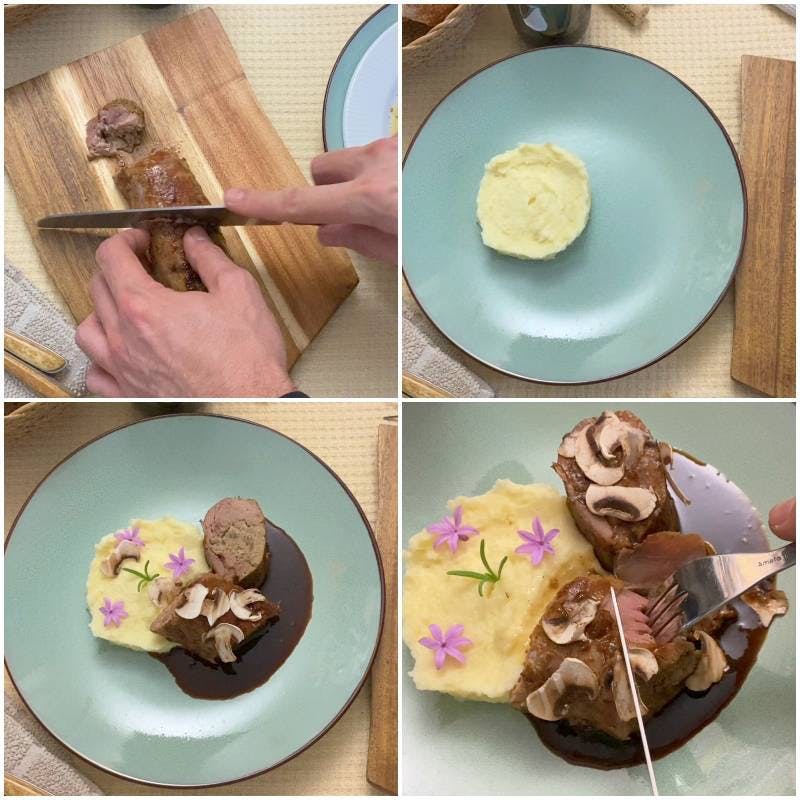 I hope you feel inspired to cook this dish. Although the recipe may seem a bit complex, with good organization, patience, and following the recipe steps, I'm confident you'll achieve astonishing results. And remember, if you need assistance or have any questions about the recipe, don't hesitate to reach out to me via Facebook, Instagram, or email. It will be my pleasure to assist you. Happy cooking!