A tasty salad with very Andalusian ingredients, "Ensalada Malagueña"
This week I bring you another of my favourite salads. This tasty tapa of humble origin perfectly portrays the ingredients sourced from the beautiful region of Malaga. Olives, oranges and olive oils symbolise Andalusian gastronomy and the Mediterranean diet. Even the dry cod was one of the products you could find in the first food markets and the ultramarine shops in the city.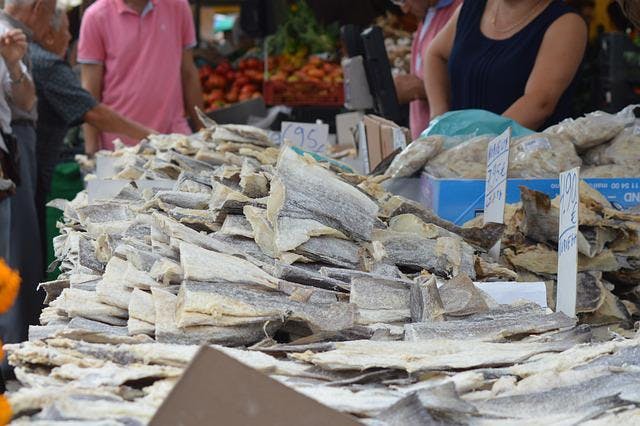 According to the locals, we can find many versions of this salad, also called "Ensalada Cateta". Tuna can replace the cod, and the olives can be any variety you like. You can also find versions of this salad with eggs and fresh spring onions.
Please take a look and discover how easy it is to make and how tasty is this healthy dish.
Ingredients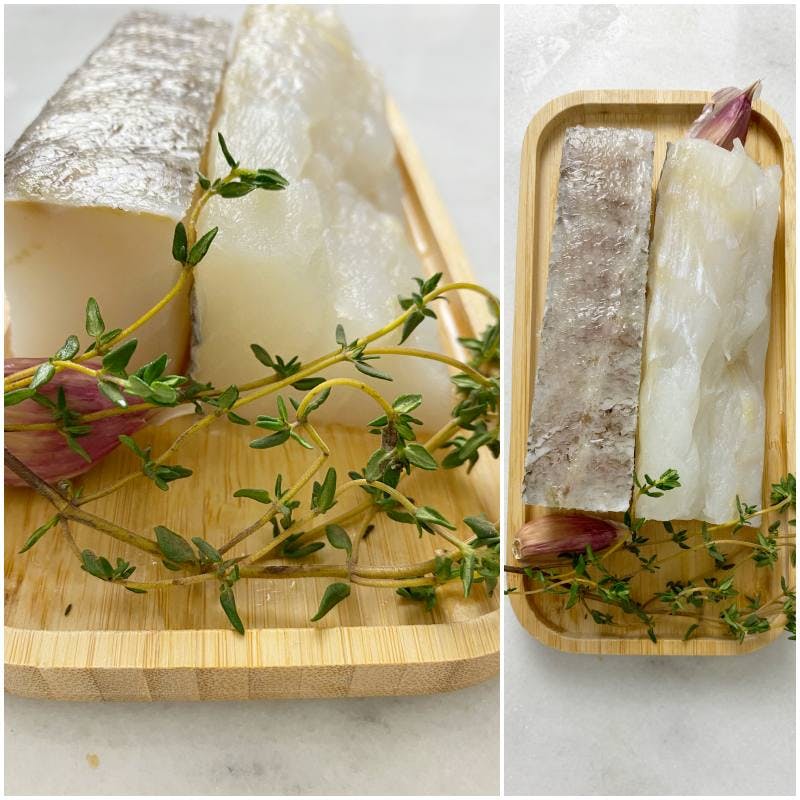 250g / 9 oz / 1/2 lb of fresh or dried salted cod
3 medium potatoes
2 table oranges
100g / 3,5 oz / 1/4 lb sliced black olives
1 medium onion
A bunch of chopped parsley leaves
A sprig of thyme
2 cloves of garlic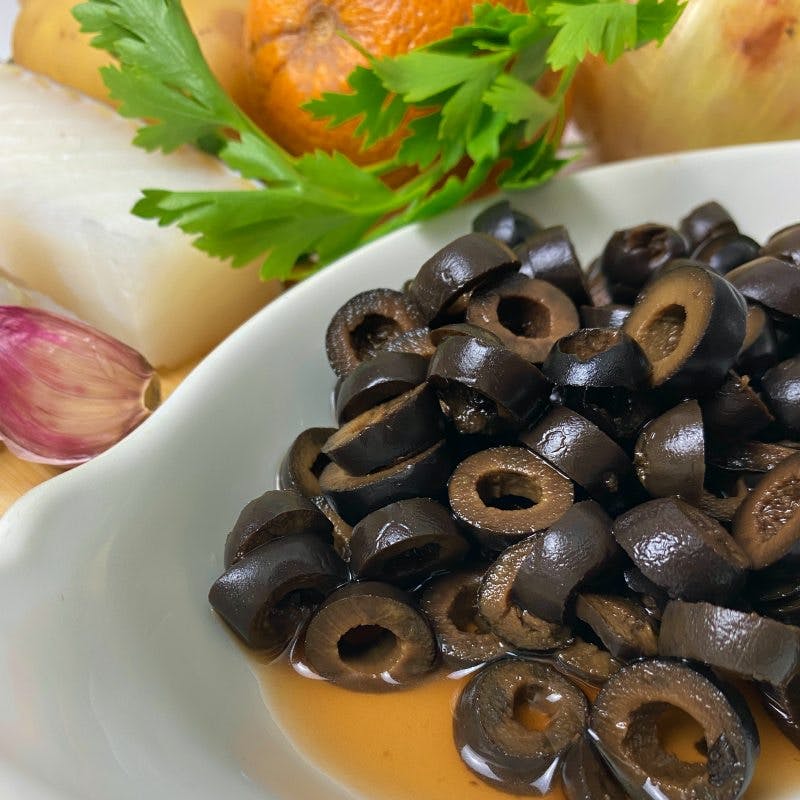 For the vinaigrette
Orange juice 
100 ml / 1/2 cup EVOO
50 ml / 1/4 cup of Sherry vinegar
Salt and white pepper to taste
2 tablespoons of oil from confit the cod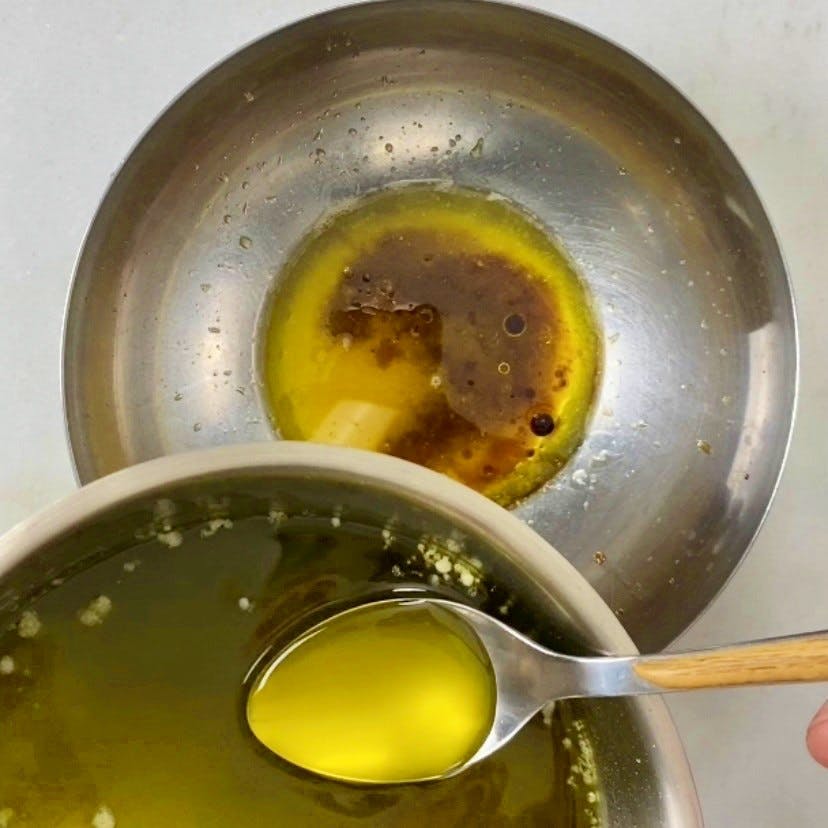 Preparation time 10 min
Cooking time 17 min

Method
Peel and wash the potatoes, then dice them into approximately 1,5 cm sides. Boil them in a pot with salted water for about 10 minutes or until they are tender inside.
Remove the potatoes from the pot and stop the cooking by putting them in cold water for one minute. Then drain them well from the water and store them in the fridge for later use.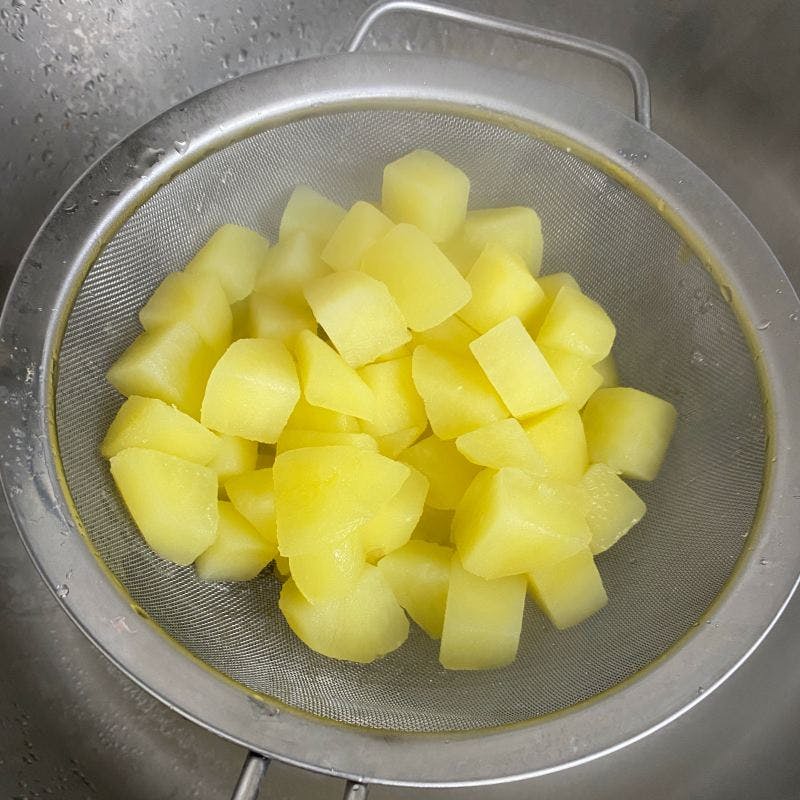 Now it is time to confit the cod. If you have opted for dried salted cod, you must soak it in plenty of water for 24 hours before confit.
Place it in a casserole with a branch of thyme and garlic cloves. Cover it with EVOO, and over low heat, confit it for about 7 minutes at 65 degrees.
Then take it out of the oil and leave it to cool on kitchen paper to absorb the excess oil.
When it is lukewarm, remove the skin and cut it into slices, you will see how easy it is. Keep it in the fridge to use later.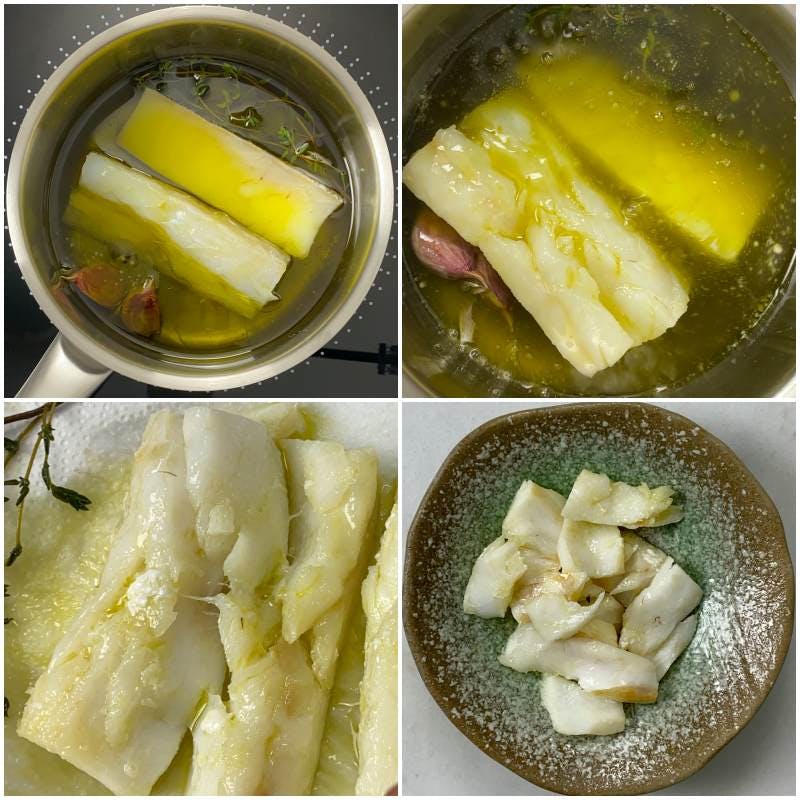 Now peel the oranges and remove the wedges with a knife, as shown in the photo.
Reserve the orange wedges in the fridge, and squeeze the juice out for later use in the vinaigrette.
Cut the onion into fine julienne and chop the parsley leaves.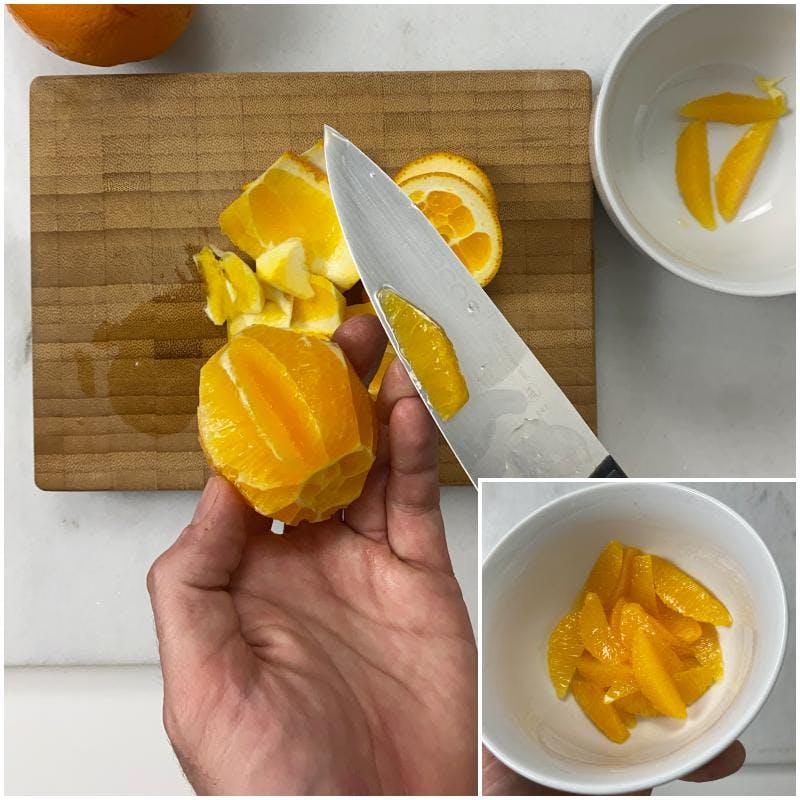 For the orange vinaigrette
Put the ingredients in a bowl and mix with a whisk until emulsified. 
Reserve it to finish the dish.
Now it is time to mix all the ingredients and finish the salad. But first, set aside some pieces of cod, some orange segments, some slices of olives, and some chopped parsley to decorate the salad at the end.
In a bowl, put the potatoes, the julienned onion, the cod, the orange segments, the sliced black olives, and the chopped parsley.
Add salt and pepper, a good dash of extra virgin olive oil, and a dash of sherry vinegar. Remember that we will add more vinaigrette later, so be careful not to overdo it with salt and vinegar.
Stir everything well and taste it.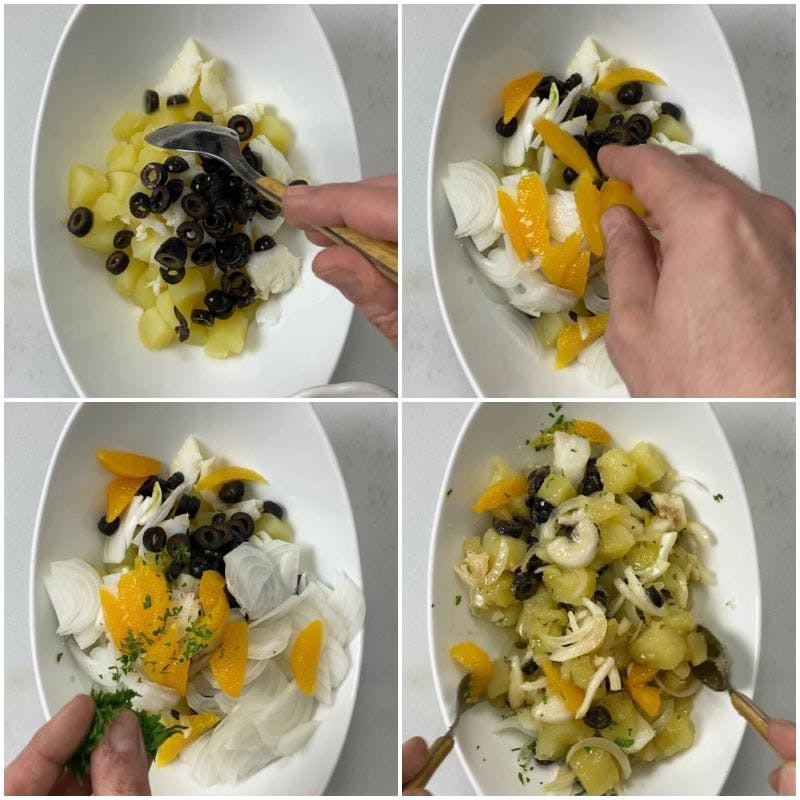 Leave to stand for 1 hour in the fridge to allow the flavours to settle.
When presenting this salad, I have opted for the tapa version. A small portion could use to start an excellent Spanish tapas menu or accompany a beer or wine.
Put the salad on a plate as a base, and then with the cod, oranges, olives, and parsley that we had saved, decorate your plate as you like.
Don't forget to finish it with two or three spoonfuls of orange vinaigrette to give it shine and flavour.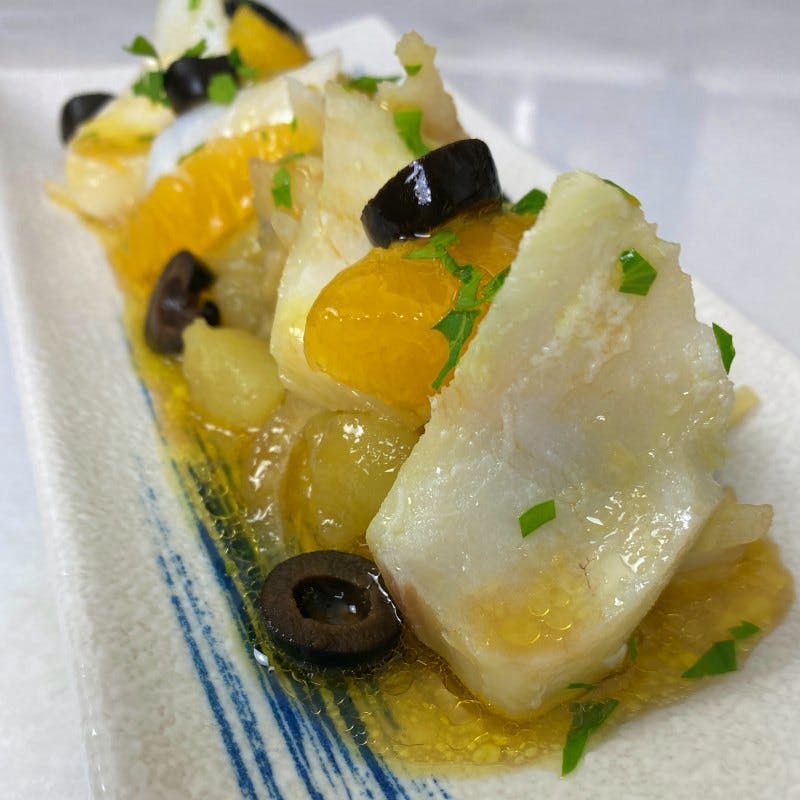 Thanks for reading this recipe; I hope you enjoy cooking and eating this delicious Spanish recipe.
Have a Tasty Week!