Raspberry Gazpacho, a version of the traditional recipe
Hola everybody!
We started the summer in a healthy way. This week I bring you one of my favorite version of gazpacho. A classic Spanish recipe ideal for the summer, I have added these delicious raspberries, and I have given it my personal touch.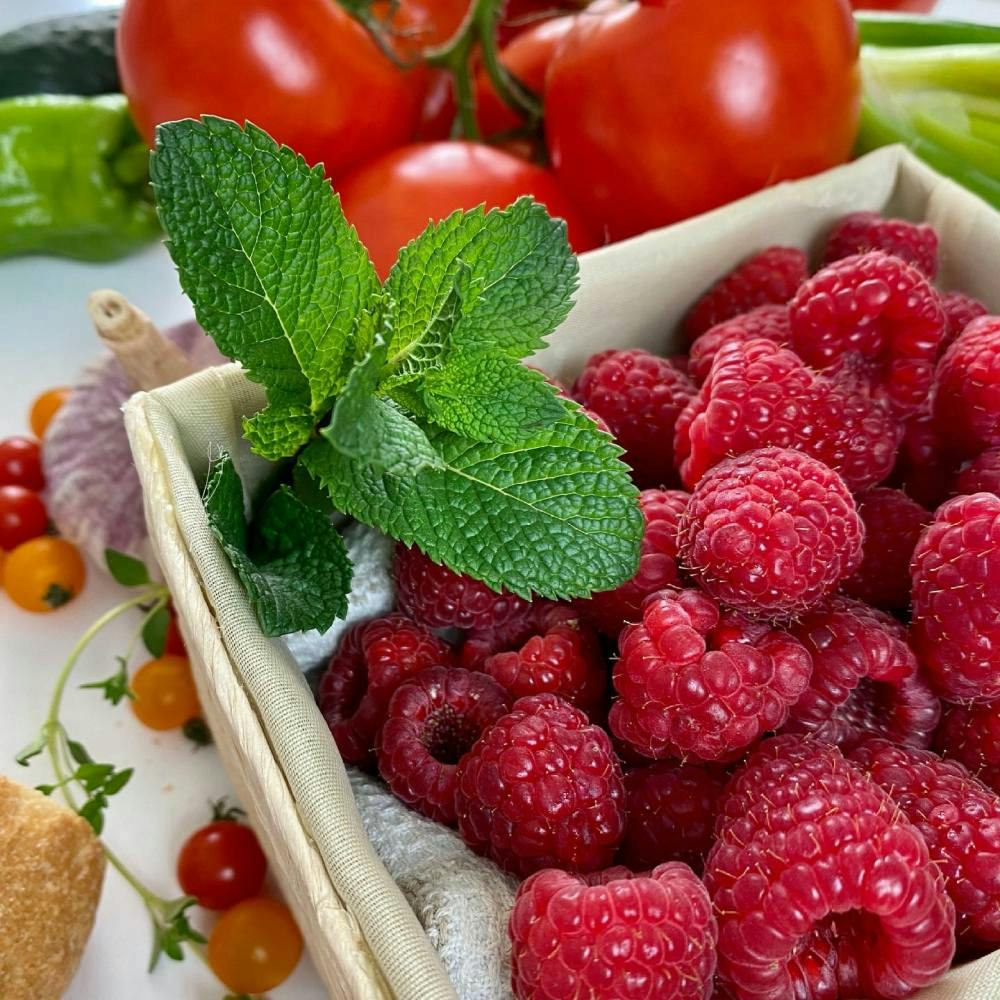 ‍
Ingredients (4 serves)

For the gazpacho
‍‍Raspberries 200 g
1 clove of Garlic
Tomato 1 kg
Cucumber 70 g
Green pepper 30 g
Onion 50g
Bread 10 g
Virgin olive oil 100ml
Sherry grape vinegar 30 ml
Mint 2 leaves
Salt to taste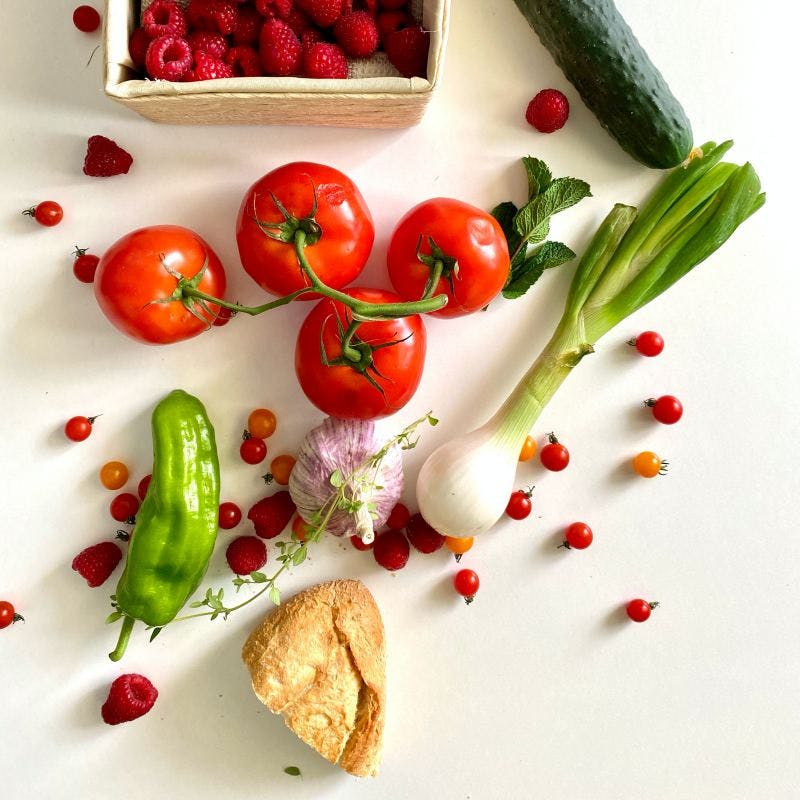 For garnish and decoration
‍‍Bread
Thyme
One garlic clove
Virgin olive oil one tablespoon
Baby rocket
Salt
Currant tomatoes 200 g.

Elaboration
Wash the raspberries. Freeze 5 of them; you will use them to decorate the plate.
Put the rest of the raspberries in a blender or food processor, where you will blend all the ingredients.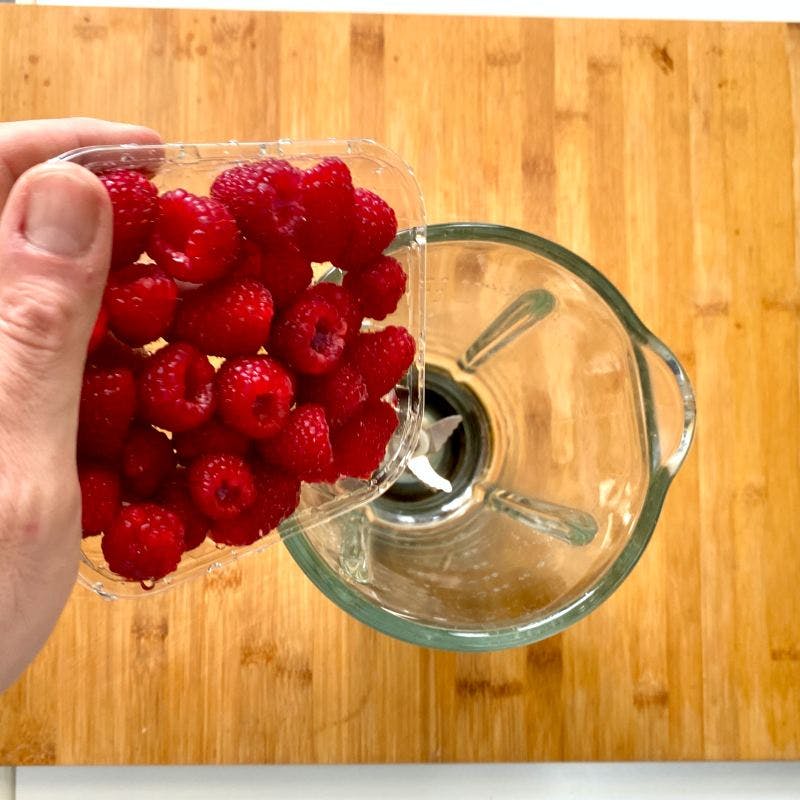 Wash the tomatoes, chop them and add them to the jar.
Do the same with the green pepper and onion.
Peel the cucumber and add it too.
Add it half garlic, a few mint leaves, salt, and a couple of tablespoons of virgin olive oil.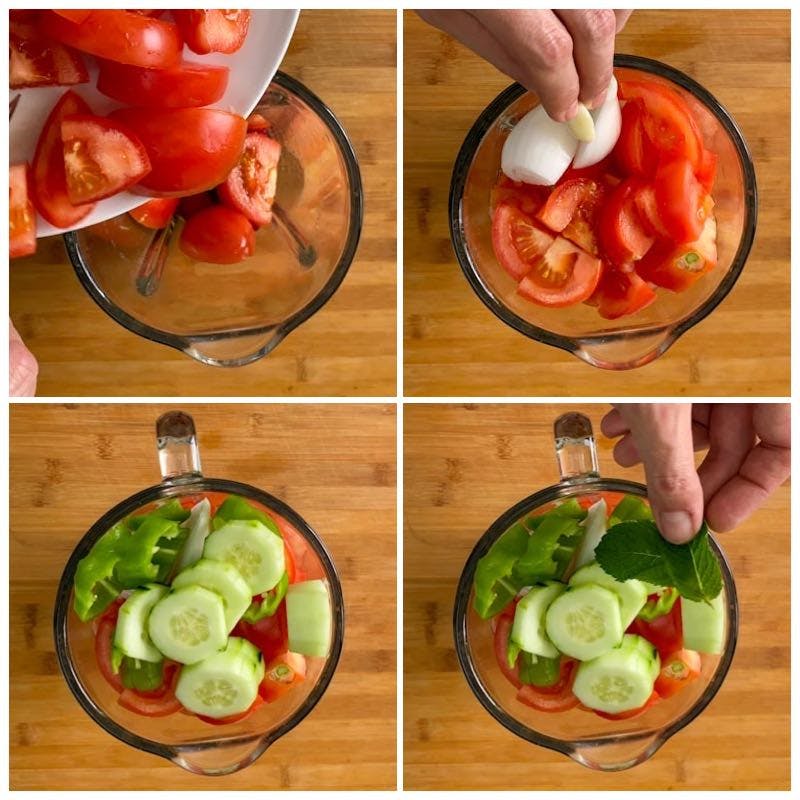 Let's blend everything for the first time.
Halfway through, when you have a little more room in the jar, add the bread.
Blend everything for about a minute.
Filter the juice obtained by passing it through a drainer to remove the seeds.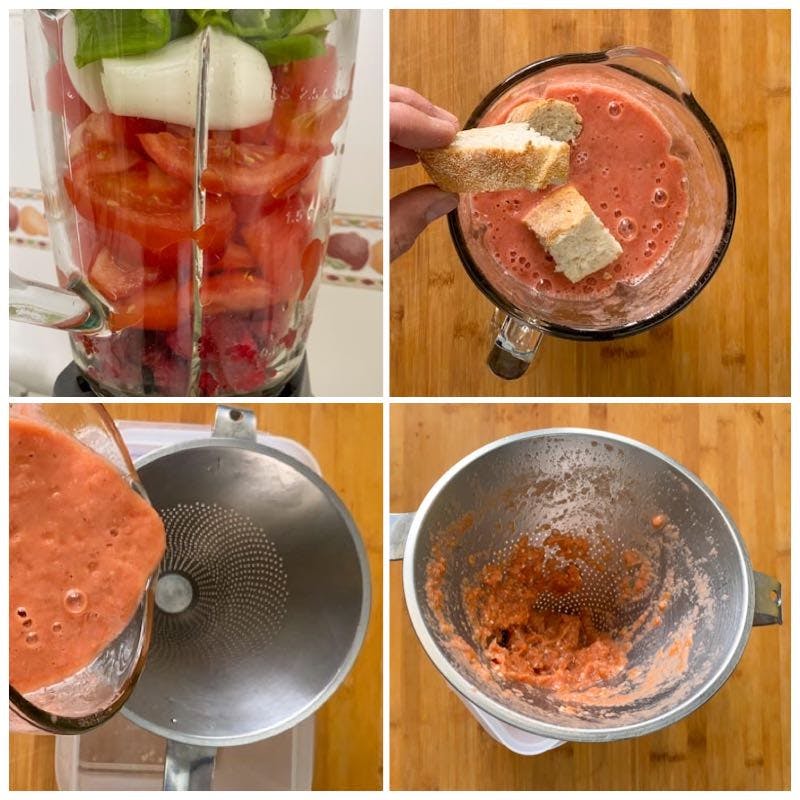 Put the filtered juice back into the clean jar .
Add the vinegar and correct the salt.
Blend again but this time, add the rest of the olive oil in a thread to help its emulsion. With this, we will achieve a silkier texture.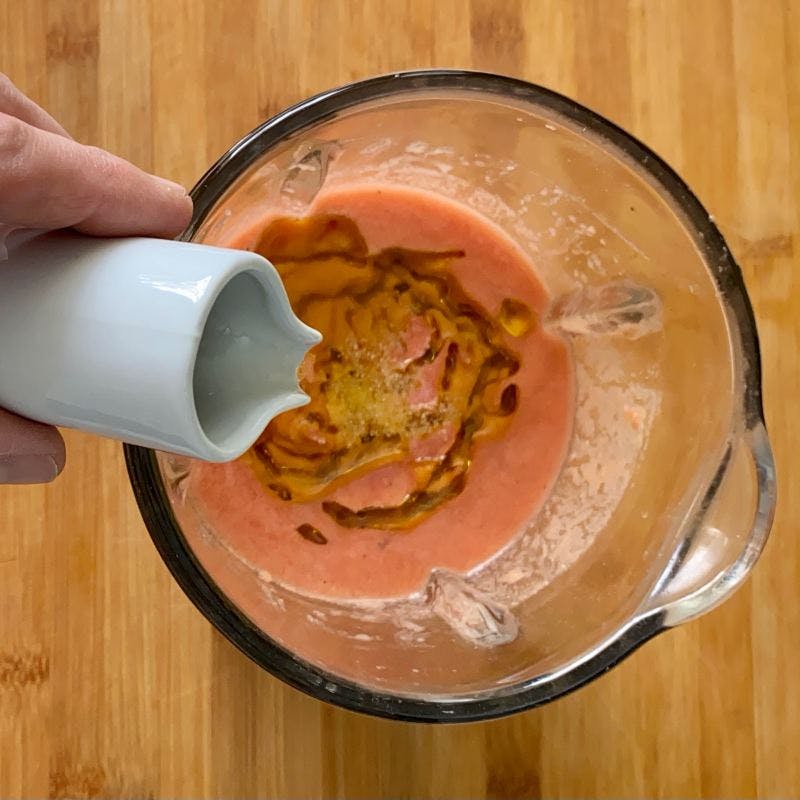 If you want to get a more liquid texture, add water and correct it with salt and vinegar.
In total, keep it another two minutes blending.
We have our raspberry gazpacho ready.
Store it in the fridge to serve it very cold.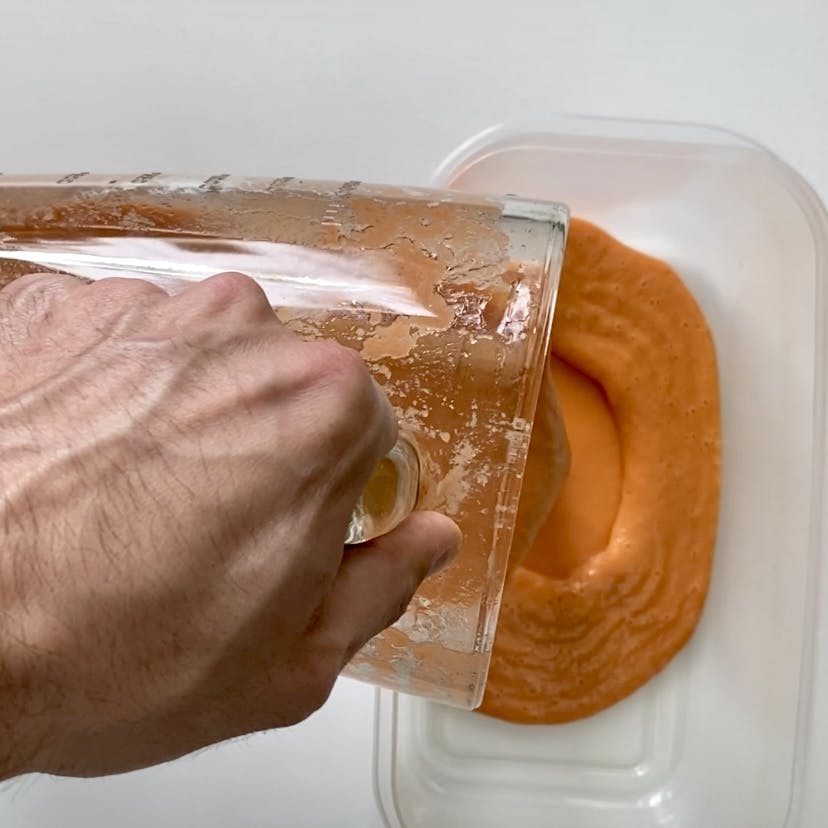 But if you want it to be a starter to a lunch or dinner, here I show you how I have presented it.
Cut some bread cubes and toast them in the oven with thyme, garlic and a little oil.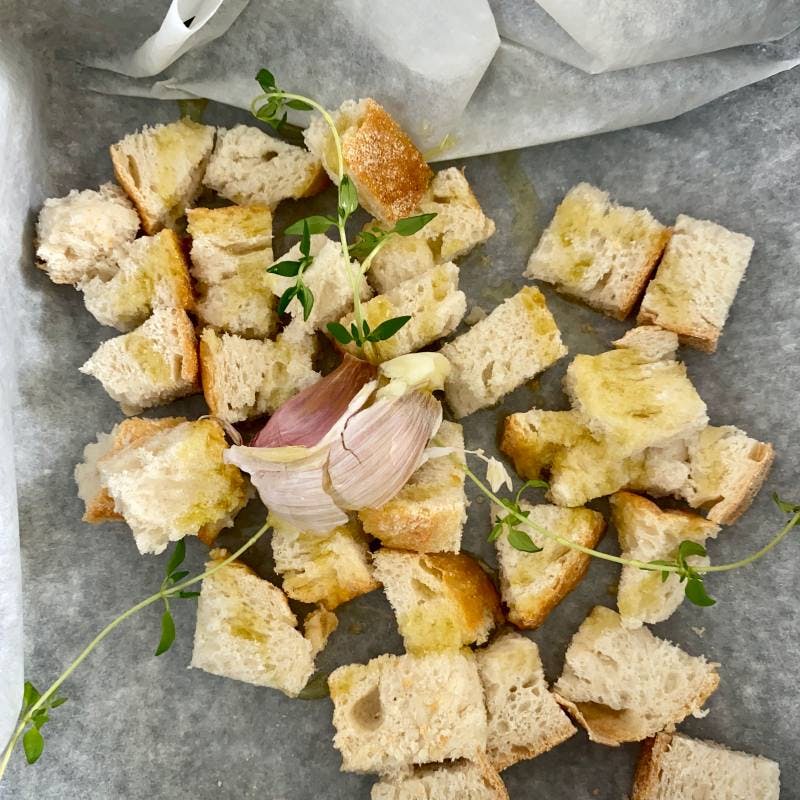 I have also bought some tomatoes that surprised me while purchasing the ingredients for this recipe. They are called "groseille tomato", currant tomato, and I have just slowly roasted them, which has been a perfect result. This tomato becomes a lovely contrast for our recipe.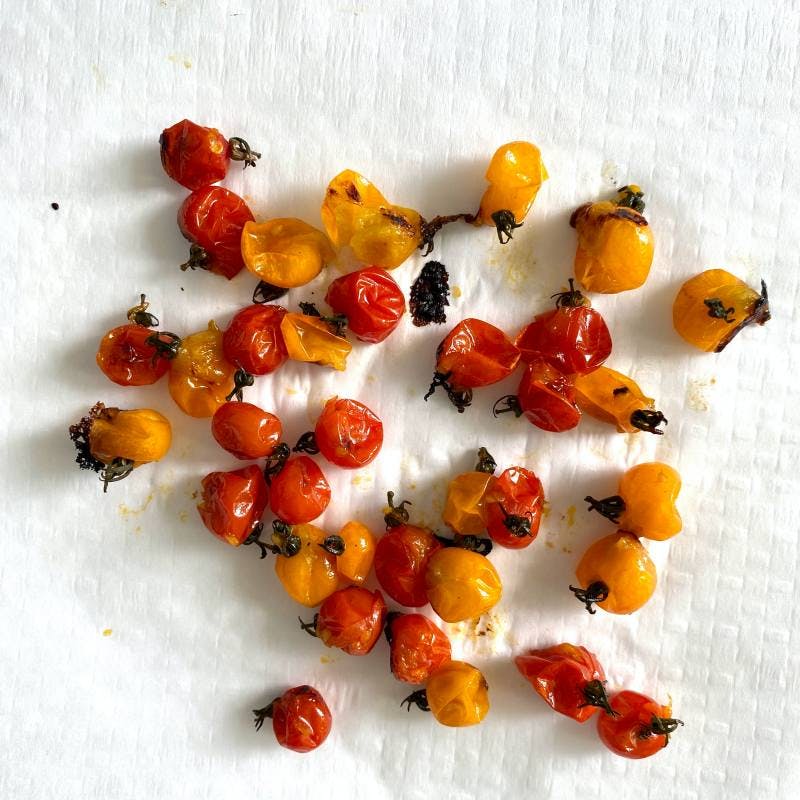 And finally, I have crushed the frozen raspberries and select some baby leaves as the last touch.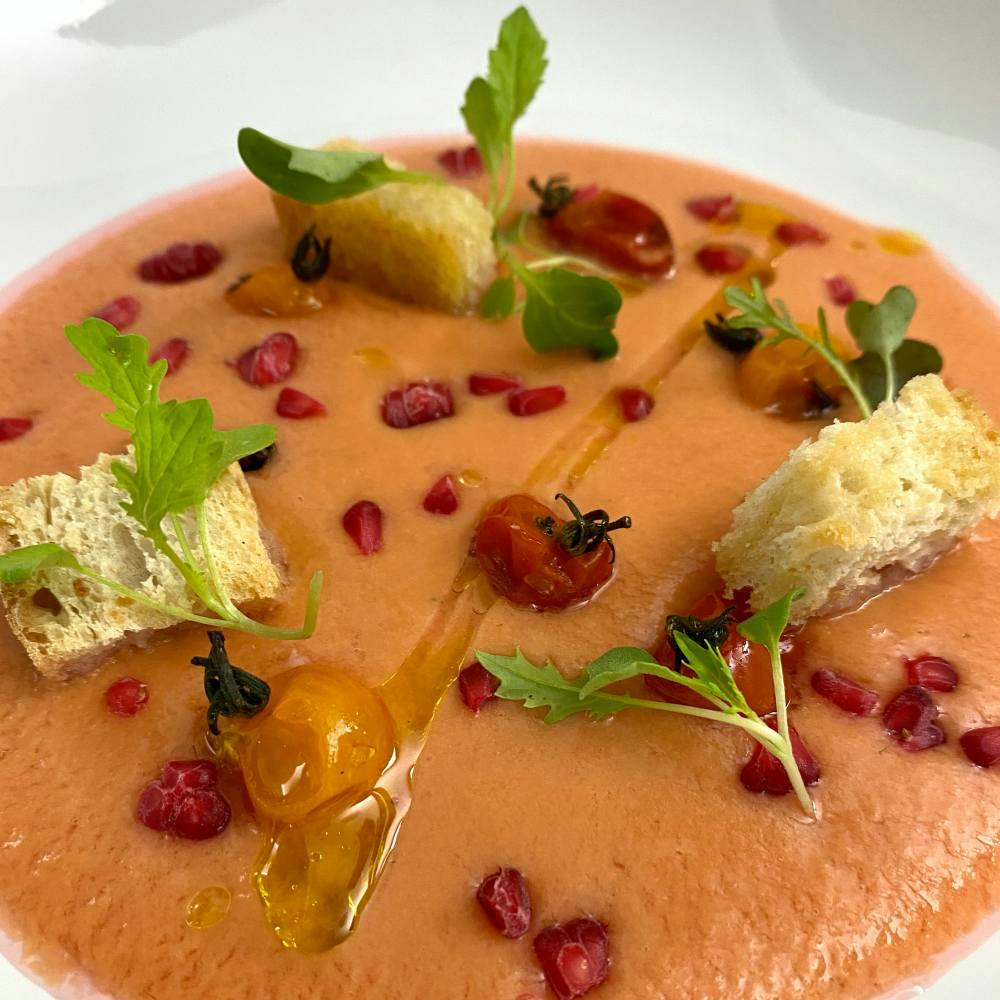 ‍
You can keep it for four or five days in your fridge, thanks to its high content of natural antioxidants.
Well, I think the combination has been delicious. In addition to being a refreshing vegan tapa dish, it is super nutritious. I encourage you to try it; you will see how easy it is to make.
There is nothing better on a summery day when you go to the fridge and find a bottle ready.
Have a Tasty Day!