Discover the benefits of eating Broccoli and two original ways to cook it
Hola everyone!
This week I have chosen Broccoli as the main ingredient of my new recipes. I will tell you about its properties and benefits. And then, I will show you how I cooked this eatable flower in the shape of a small tree in two different ways.
‍
Broccoli belongs to the cruciferous family and is very rich in vitamins and minerals. It is a natural nutritional treasure that provides multiple benefits to our organism. Originally from the Mediterranean, this spring vegetable has been present in Italian cuisine since the Roman Empire.
On these days of spring, the Broccoli is in season, and its taste is delicious. So I want to show you two different ways to eat Broccoli, two very easy to do recipes.
‍‍
But first, as I said, let's learn a little more about the properties and benefits of this beautiful and medicinal vegetable.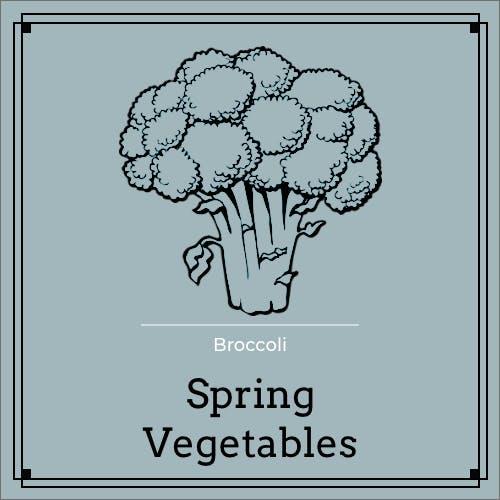 ‍
Properties and benefits
Its high iron, chlorophyll and folic acid content make Broccoli a highly recommended food for people with iron deficiency anaemia.
It helps to eliminate bad cholesterol from the body, which protects heart health and prevents cardiovascular diseases. The presence of chromium, a mineral responsible for regulating blood glucose, also helps prevent high blood pressure.
Eating broccoli benefits the liver and helps detoxify the body.
Eating Broccoli is excellent for keeping bones healthy and strong, given its calcium, phosphorus, magnesium and zinc content.‍
‍Its nutrients, such as zeaxanthin and beta-carotene, and vitamin A makes Broccoli a protector of eye health. It prevents muscle degeneration, cataracts and UV damage.
Broccoli's antioxidant qualities benefit our skin's appearance, making it more attractive thanks to vitamin C, which produces collagen and keeps the skin healthy and supple.
Thanks to its fibre content, Broccoli helps to combat constipation.
The Recipes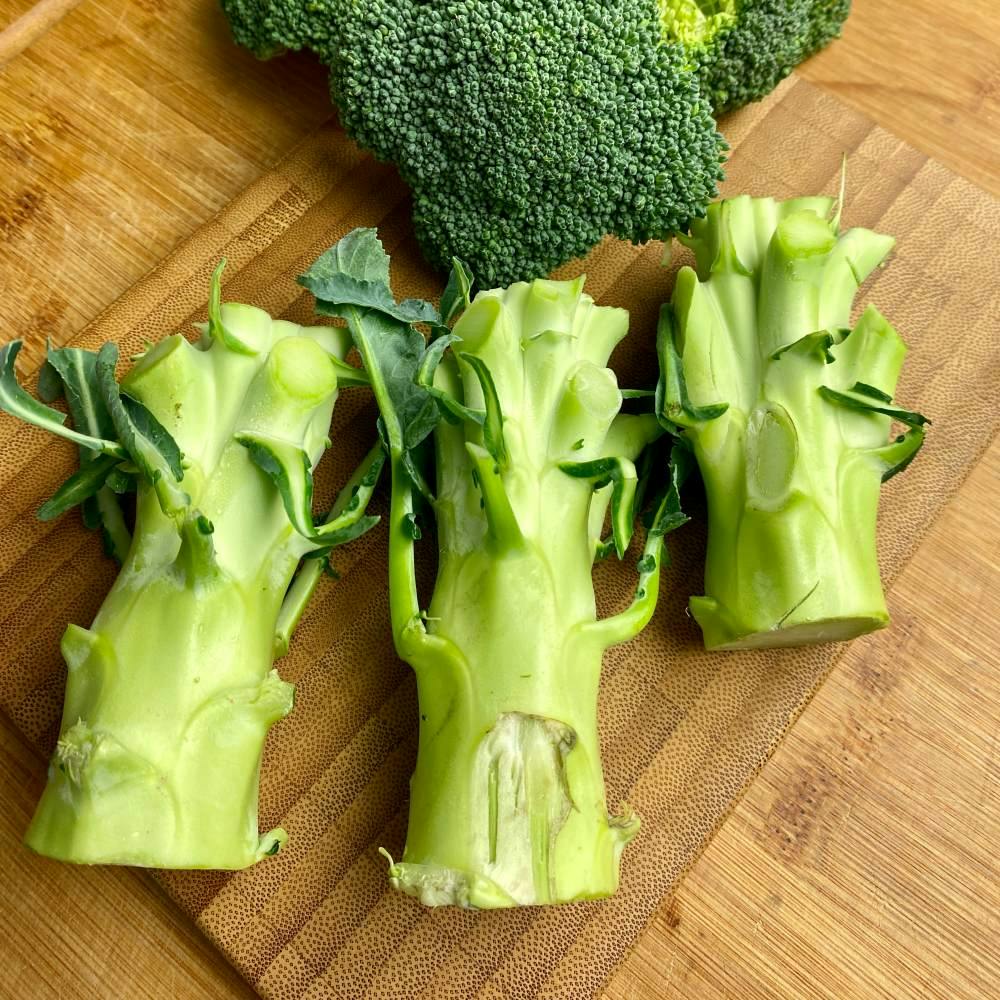 In these two recipes that I bring you today, I will cook Broccoli in its entirety without any waste.
First, I have used the stems to make a tribute to the "banderillas" or "Toreras" so typical of Spain, and I have prepared a pickle with them that will surprise you.
On the other hand, and also with a Spanish flavour, I bring you another easy-to-make recipe. I have finished this delicious Broccoli with a bit of Iberian ham and toasted garlic.
Here are the two complete recipes. I hope you have fun cooking these two dishes with a Spanish flavour.
Pickled Broccoli Stems Brochette
‍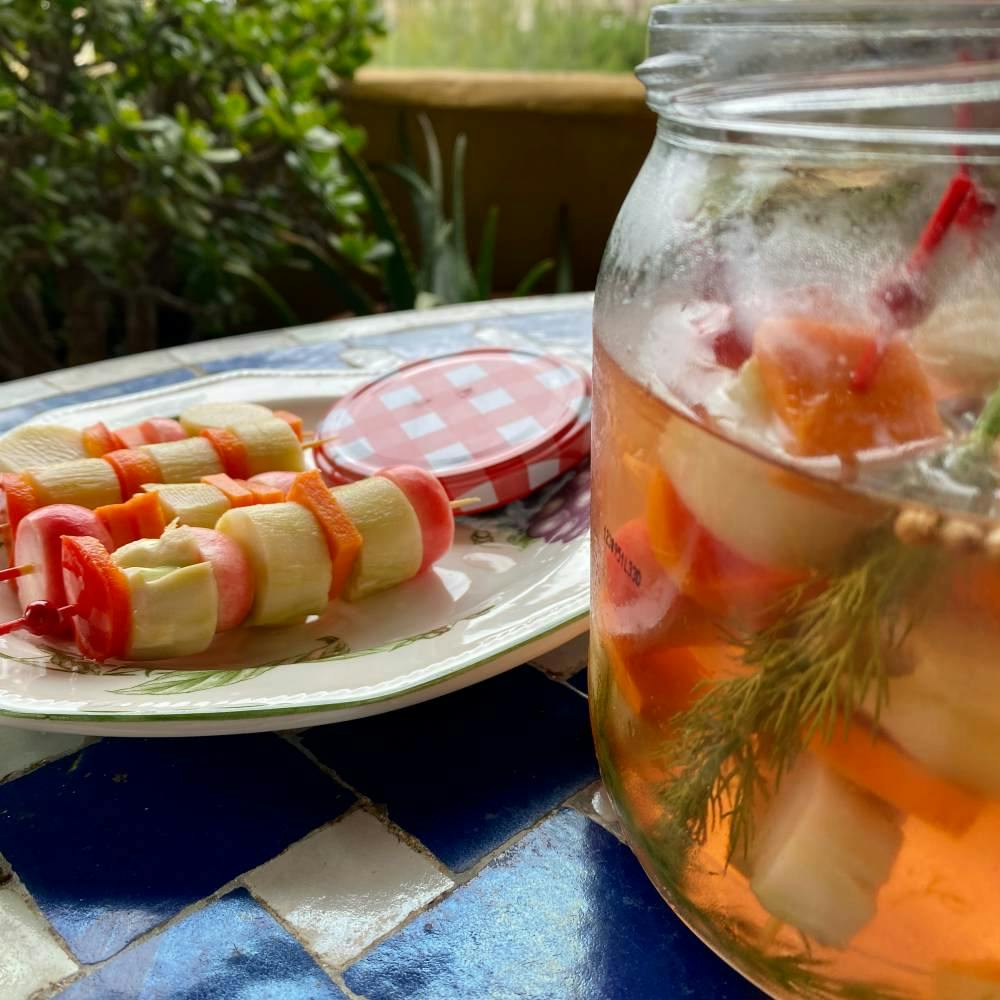 Ingredients
Broccoli stems 3 u.
Red pepper 1 u.
Carrot 1 u.
Radish 6 u.
Coriander seed 10 u.
Dill
Ginger
A Bay leaf.
A clove of garlic
For the pickle.
Water 250 ml.
White grape vinegar 400 ml.
Salt 20 g.
Sugar 20 g.
A Bay leaf.
Black peppercorn 10 un.
Preparation
For the vegetables.
First, cut the flowers of the broccoli leaving the stems clean. Keep the flowers for the next recipe.
Peel the stems of the broccoli and cut them into slices of about 3 cm. Shape them in any way you like, but they must be the same size so that the vinegar cooking process is the same.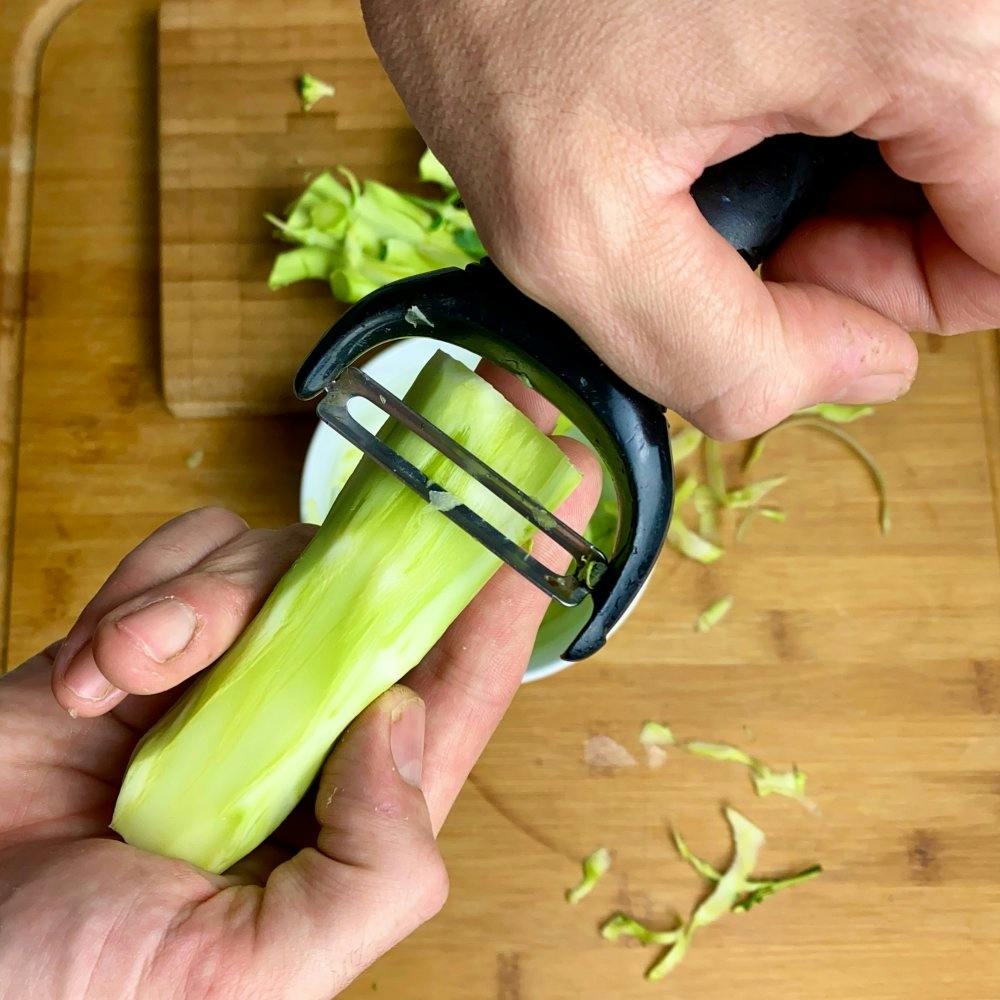 I have used a pastry cutter to give them a round shape.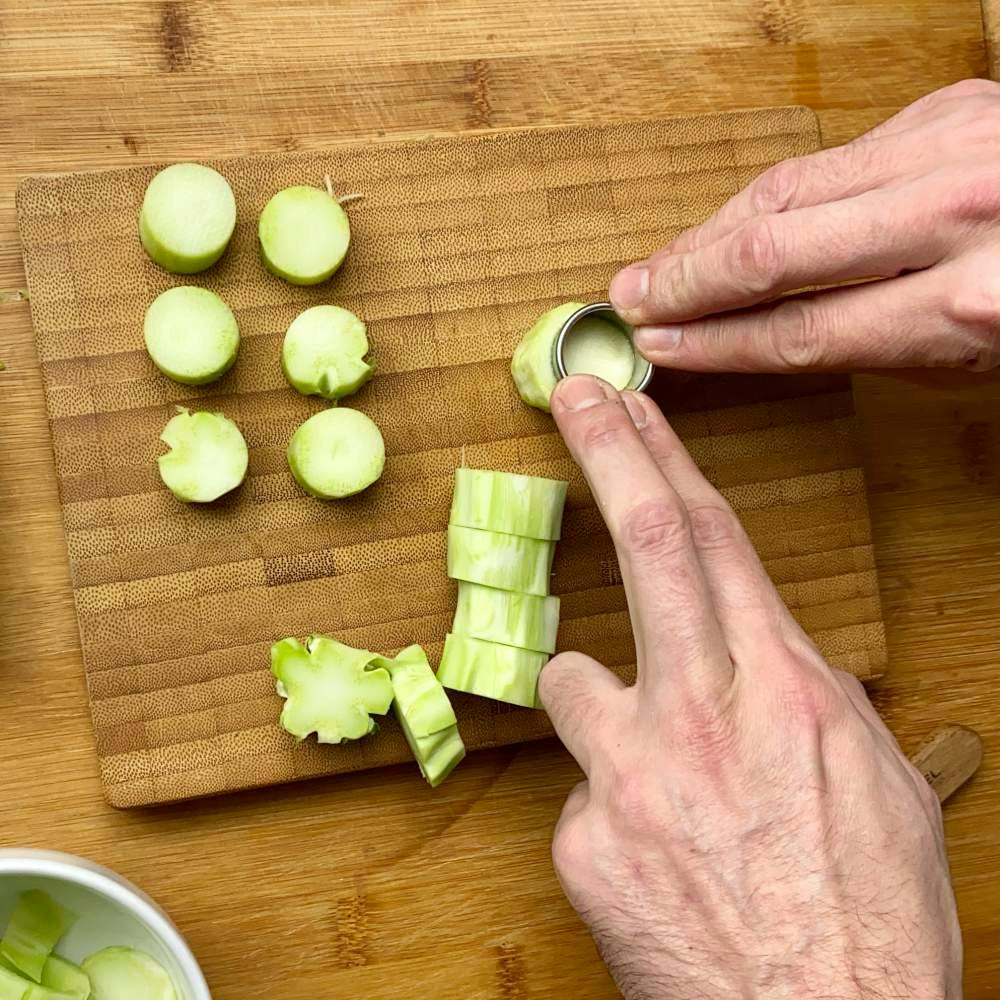 Then do the same with the pepper, the radish and finally the carrot, which I have cut into squares to make the skewers  with different shapes and colours.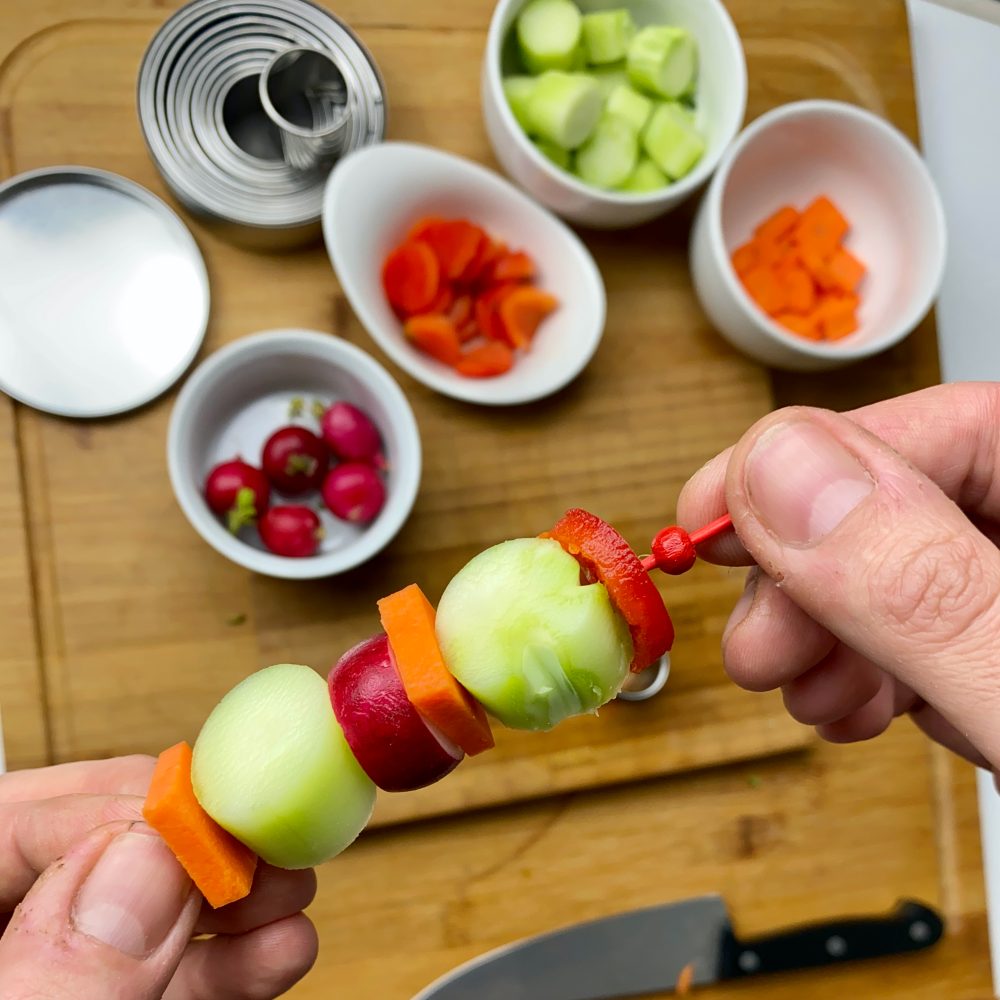 Now it is time to insert the vegetables on the skewer and put them inside a sterilised glass jar with the ginger, the clove of garlic and the coriander seeds.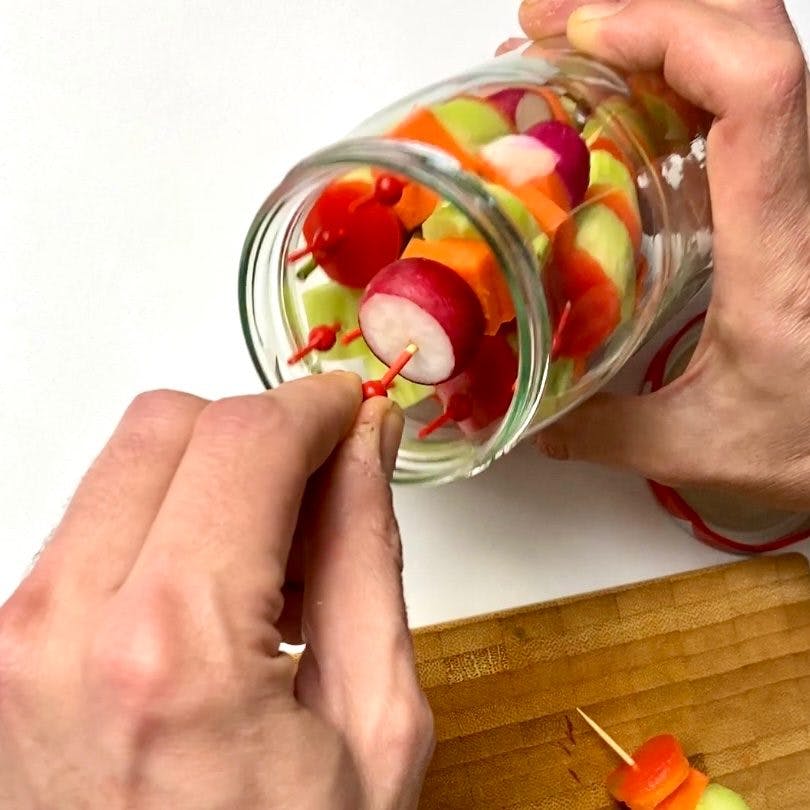 On the other hand, put the water, vinegar, sugar, salt, bay leaf and peppercorns in a pot.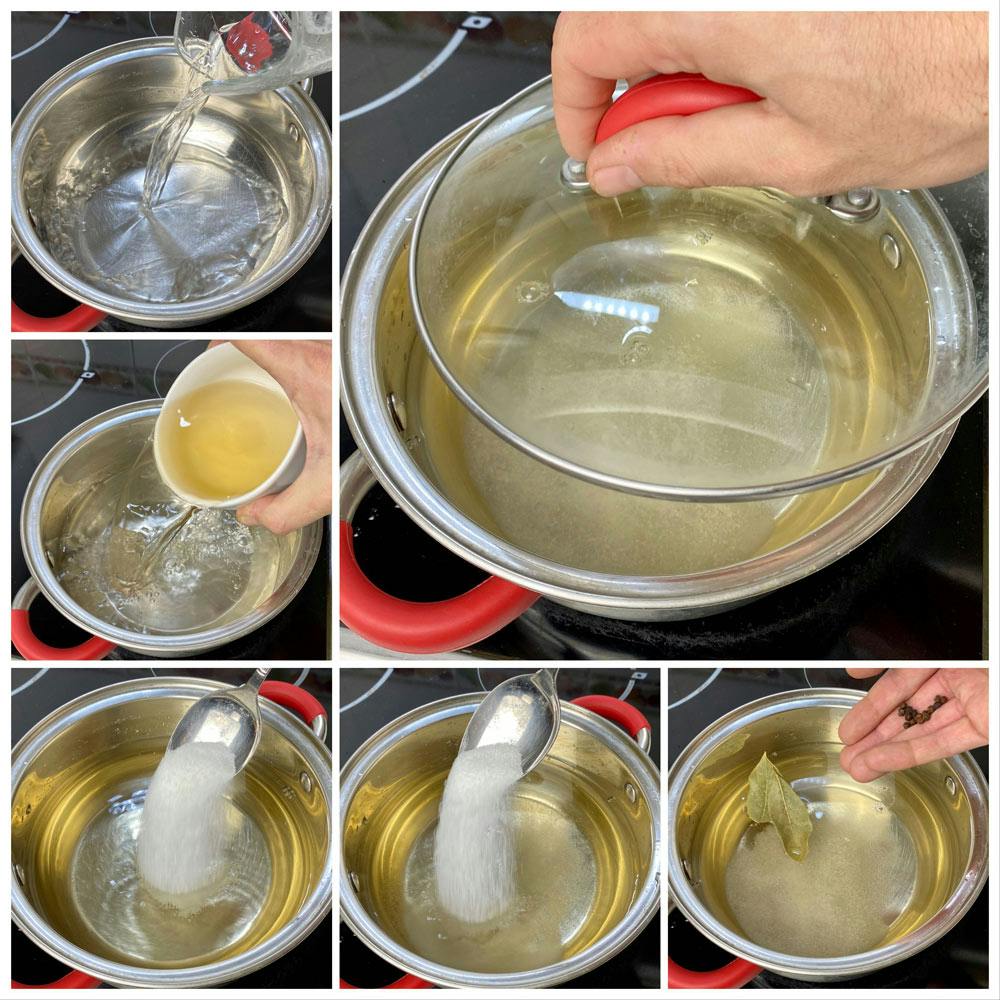 Pickles Collage
Bring it to the boil, making sure that the sugar and salt are perfectly diluted.
Pour the hot contents of your pot into the glass jar making sure that the liquid covers the brochettes well.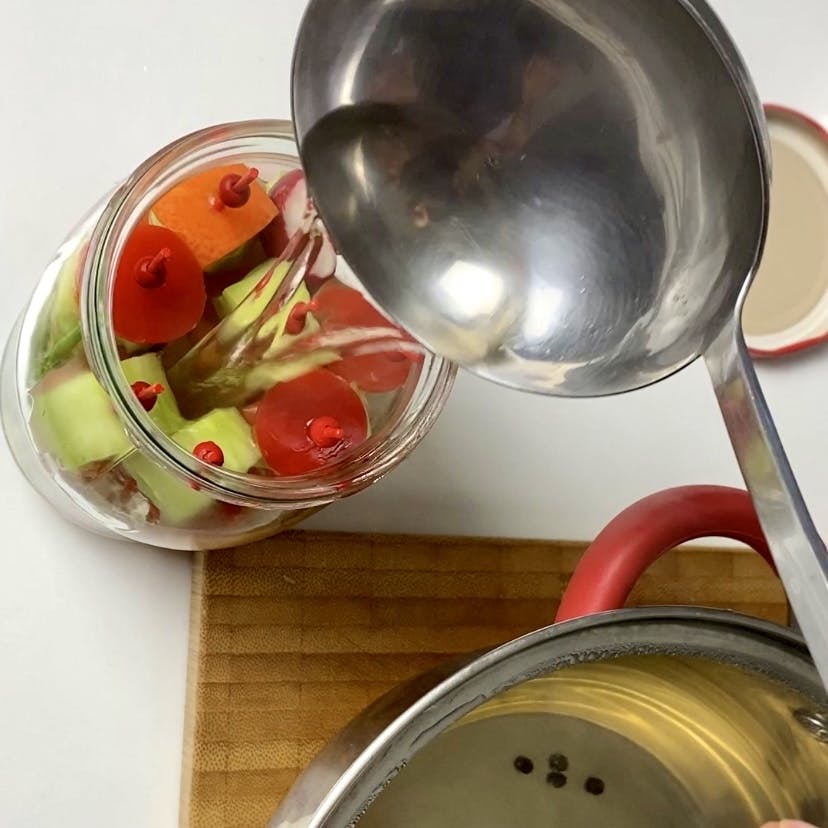 Cooking Pickles
Close the jar with the lid. Let it stand for a day in the dark at room temperature.
Then put it into the refrigerator.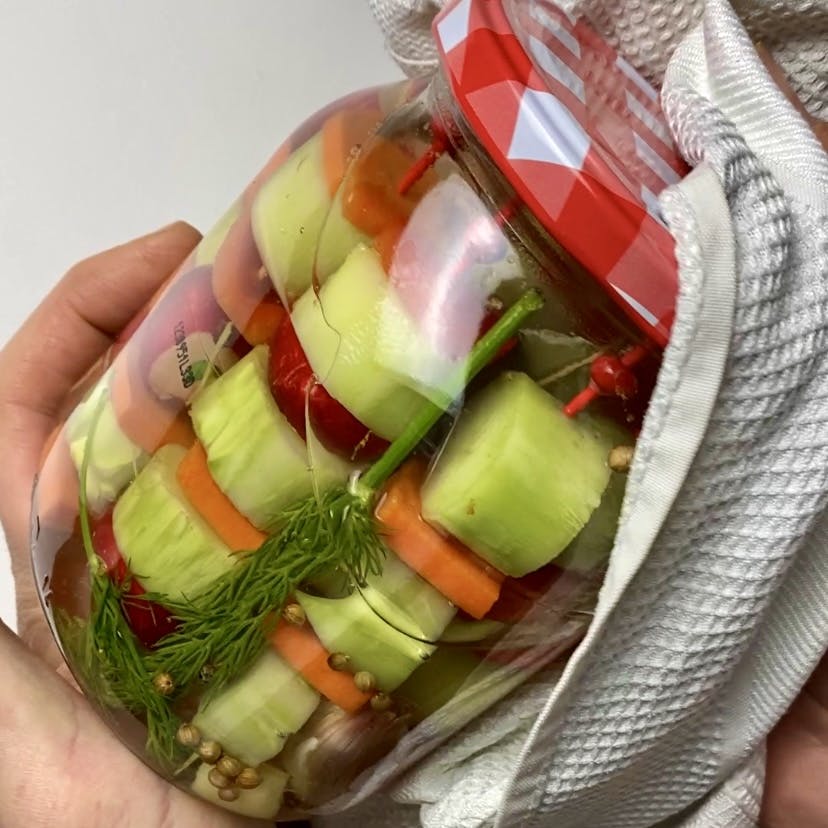 Jar of Pickles
The Broccoli stems skewers are ready to eat any time you want.
I recommend you keep it no longer than 15 days, then colour and taste lose strength.
You can serve them as an appetiser like crudités, as part of a salad or accompaniment to any main dish.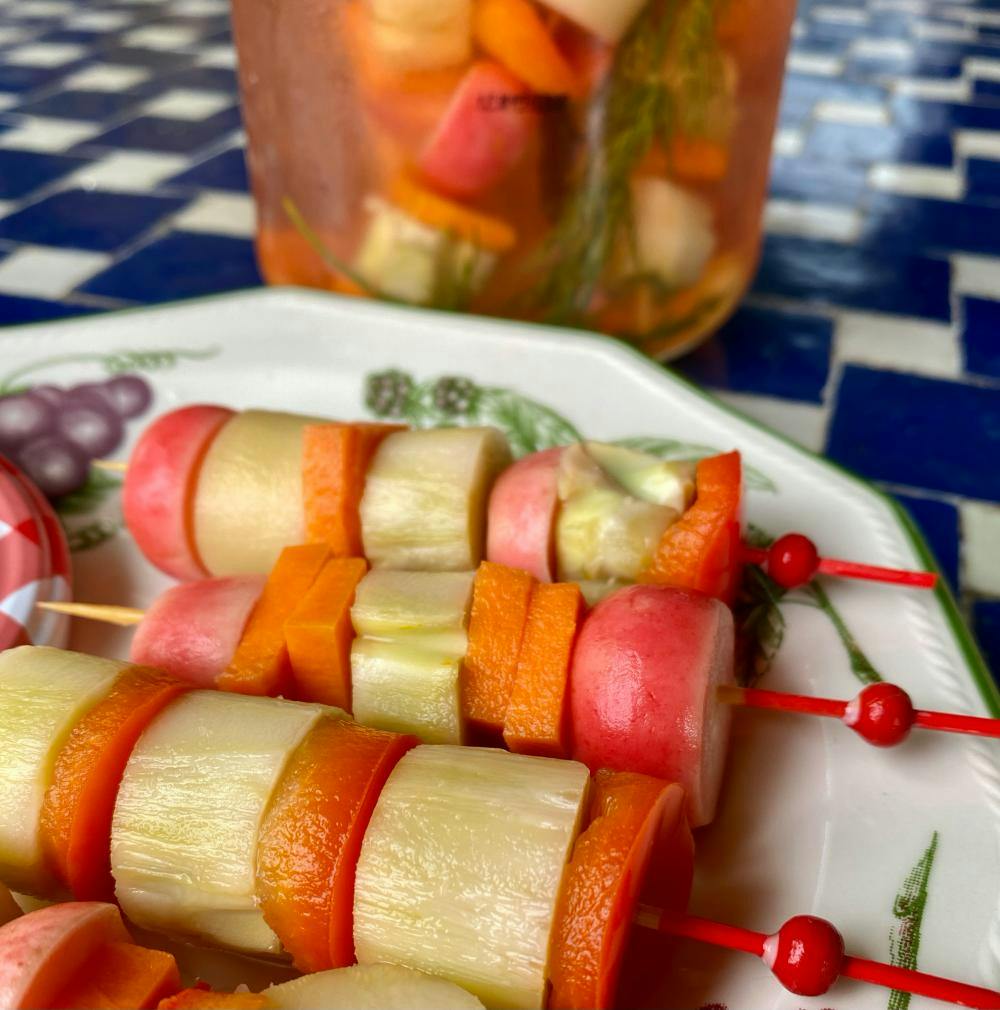 ‍
Broccoli with Iberian Ham.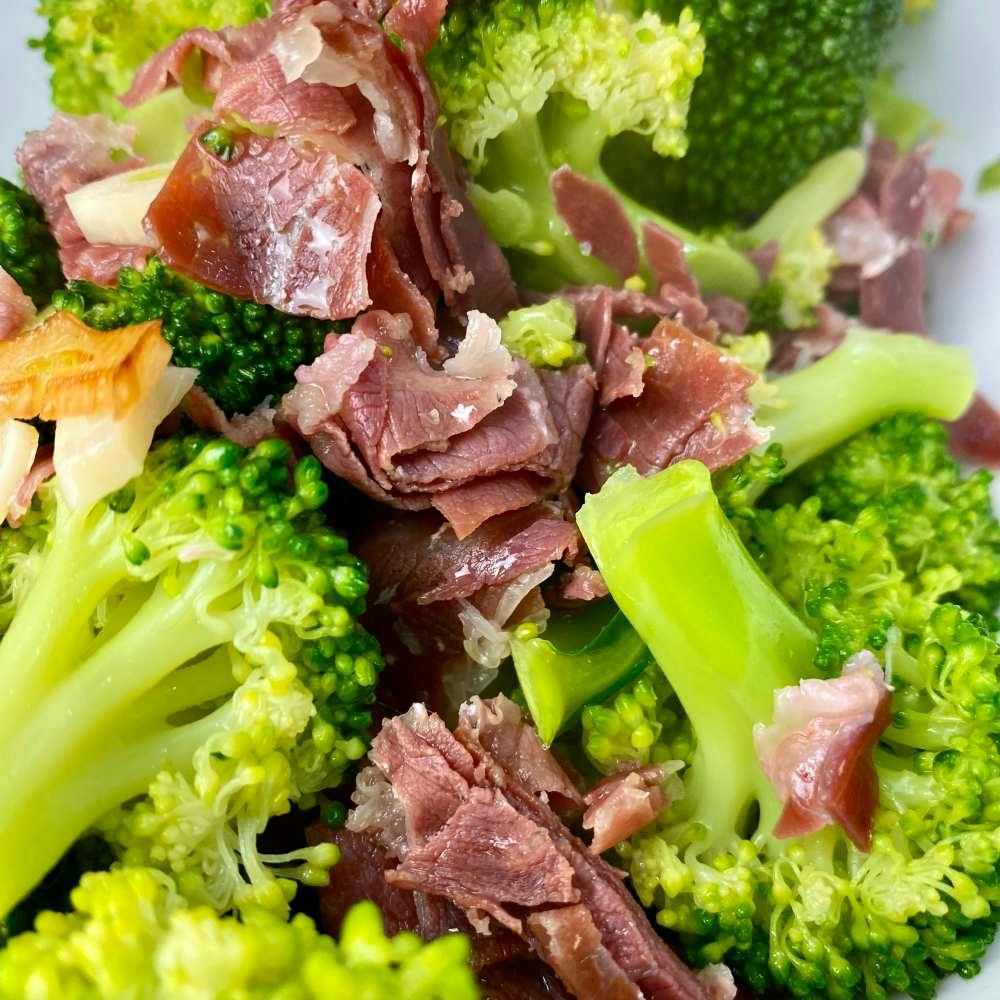 Ingredients
Broccoli 800 g.
Three cloves of garlic
Iberian ham 200 g.
Virgin olive oil
Salt
Preparation
Select the green parts of broccoli. In this case I used the stems to prepare the pickled brochettes.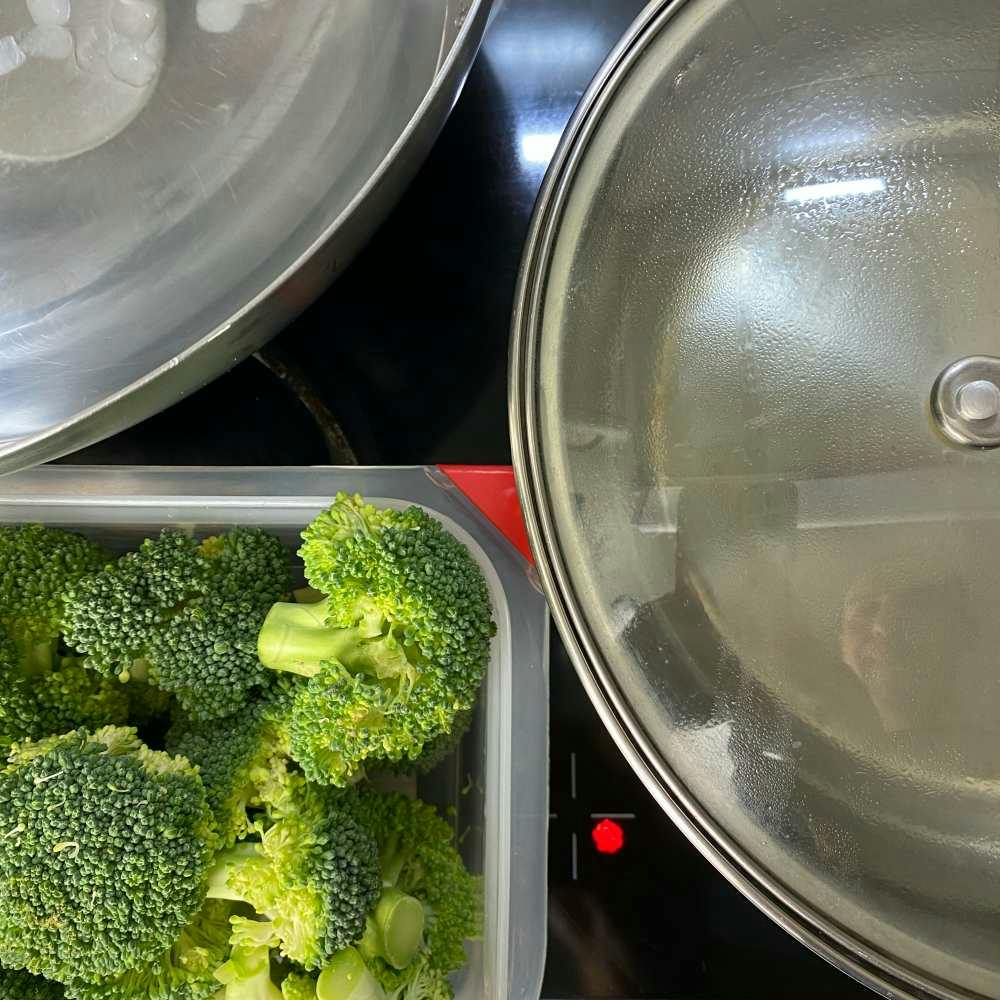 Blanch the broccoli and cool it in water with ice to preserve a bright green colour.
Drain and save for the next step.
Cover the base of a frying pan with olive oil and put it over medium heat.
Add the sliced garlic and brown it.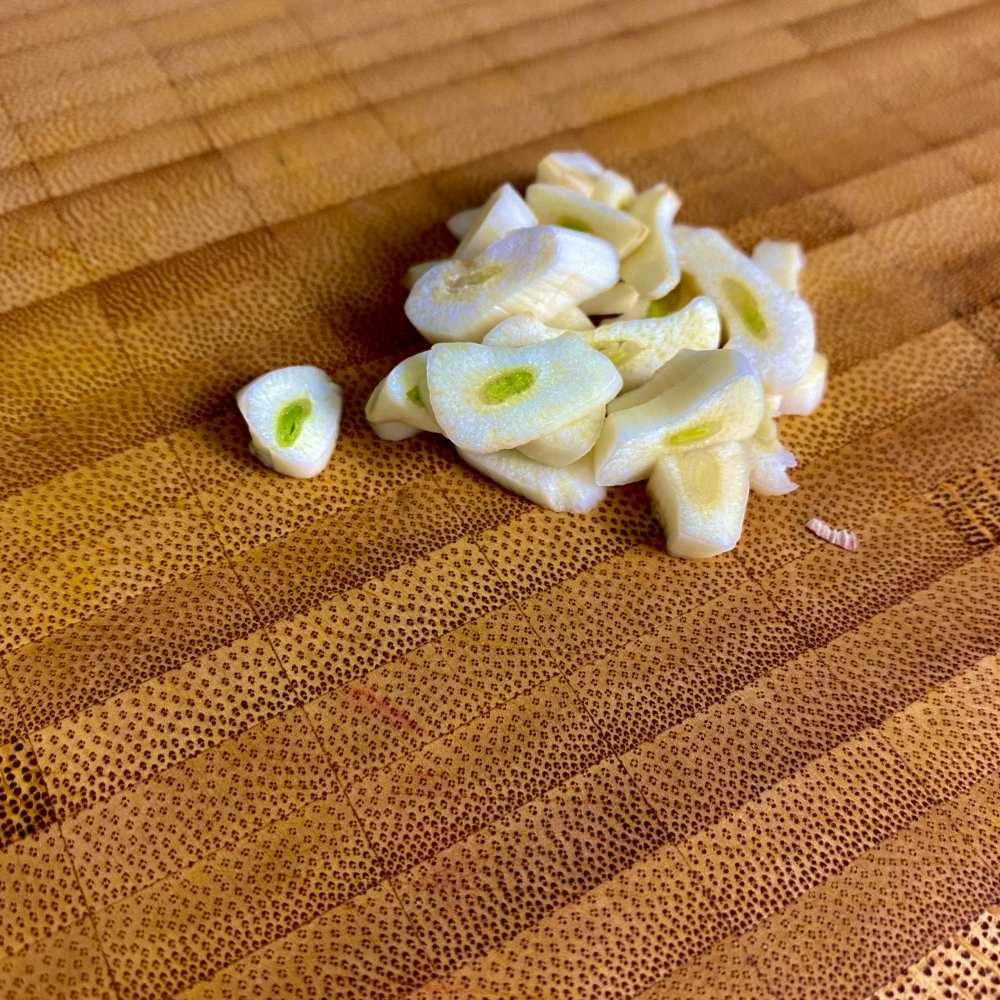 Add the blanched broccoli and the ham cut into julienne strips.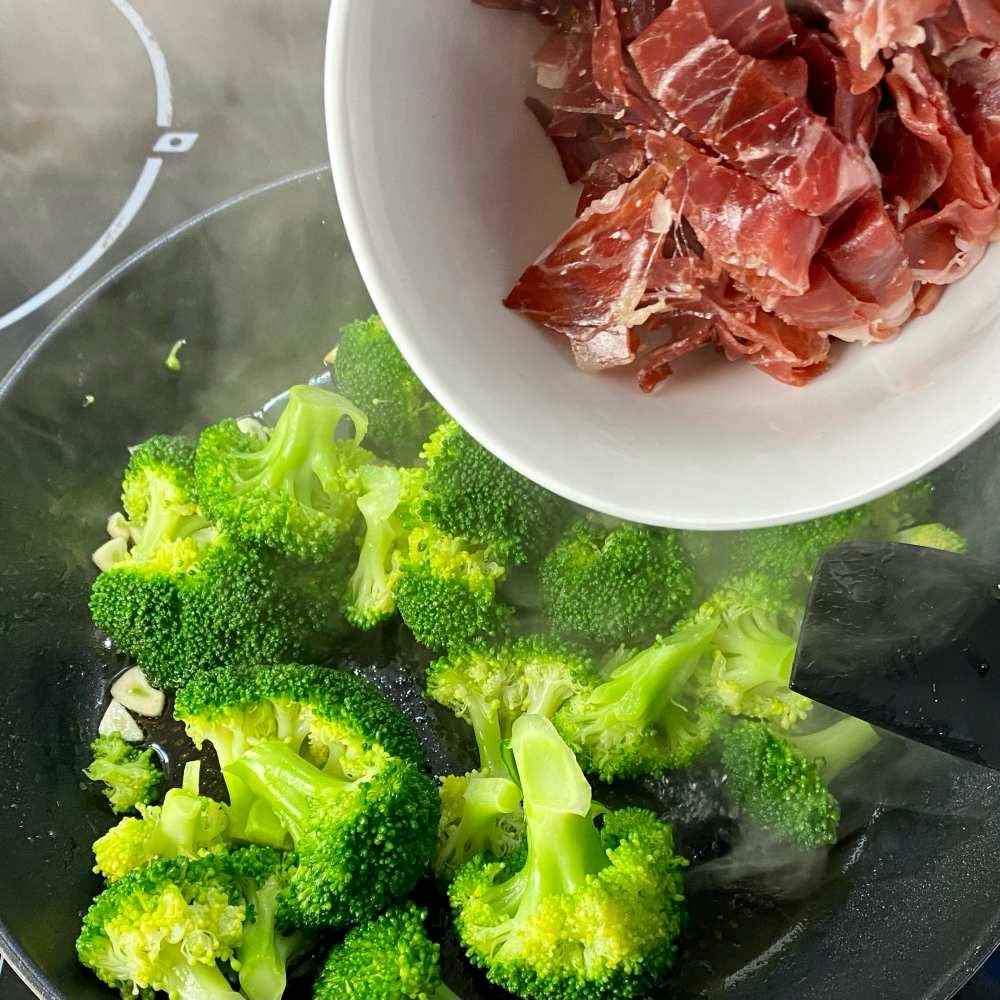 Turn up the heat, add salt and pepper, and sauté it for about five minutes to acquire the flavours of the garlic and ham.
Finally, serve it in a bowl, and it's ready to eat.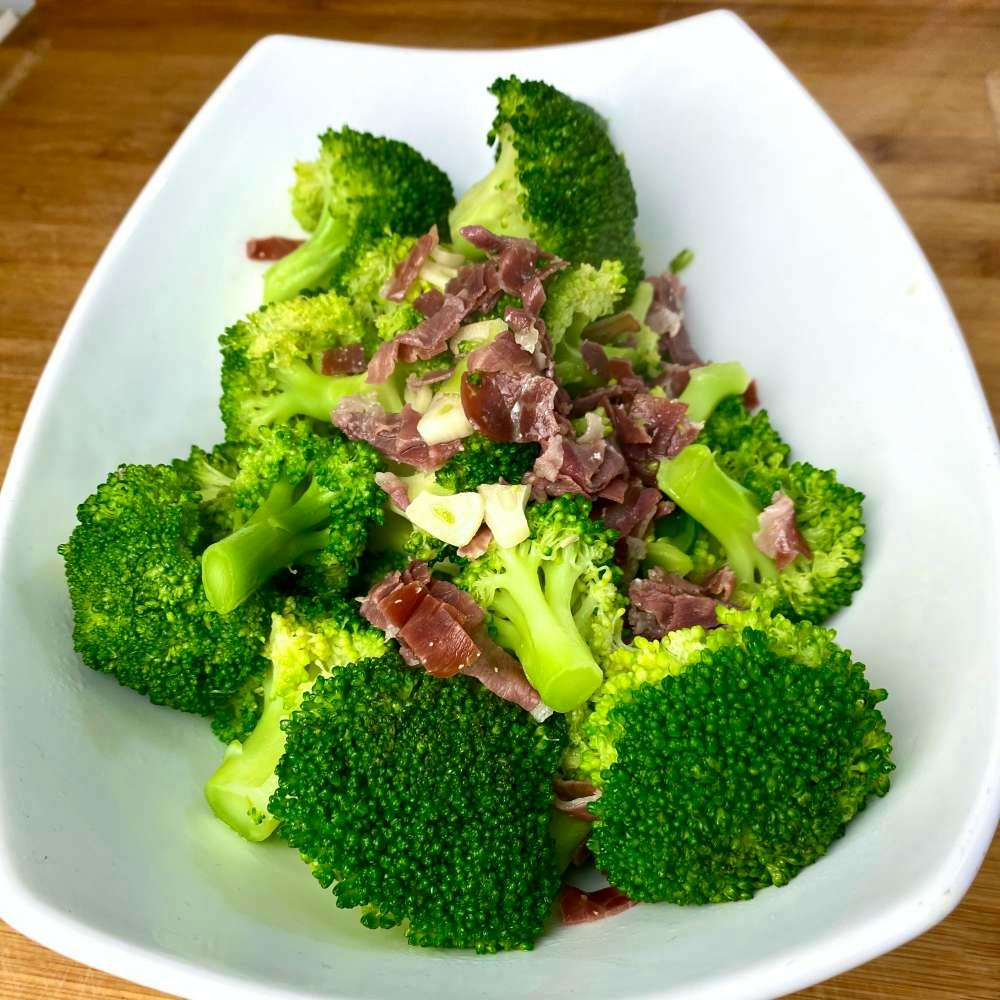 ‍
I think this version of Broccoli with garlic and ham is my favourite. This is how my mother got me to start eating this healthy vegetable.
‍
Well, I hope you have enjoyed these two recipes that maybe you have not known before, and I encourage you to practice them and have fun cooking them.
Have a Tasty Day!